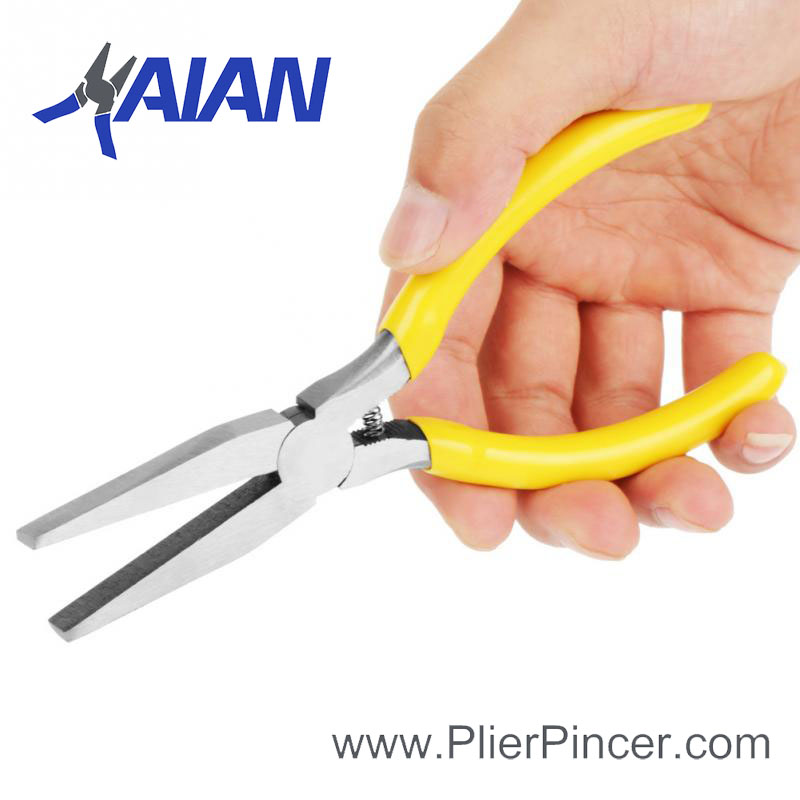 Item No.: CS210181
Size:6″
Material: Carbon Steel, Chromium-vandium Steel
Surface Finishing: Fine Polished, Blacked, Chrome Plated, Nickel Plated, Peal Nickel Plated, Blacked Nickel Plated, etc.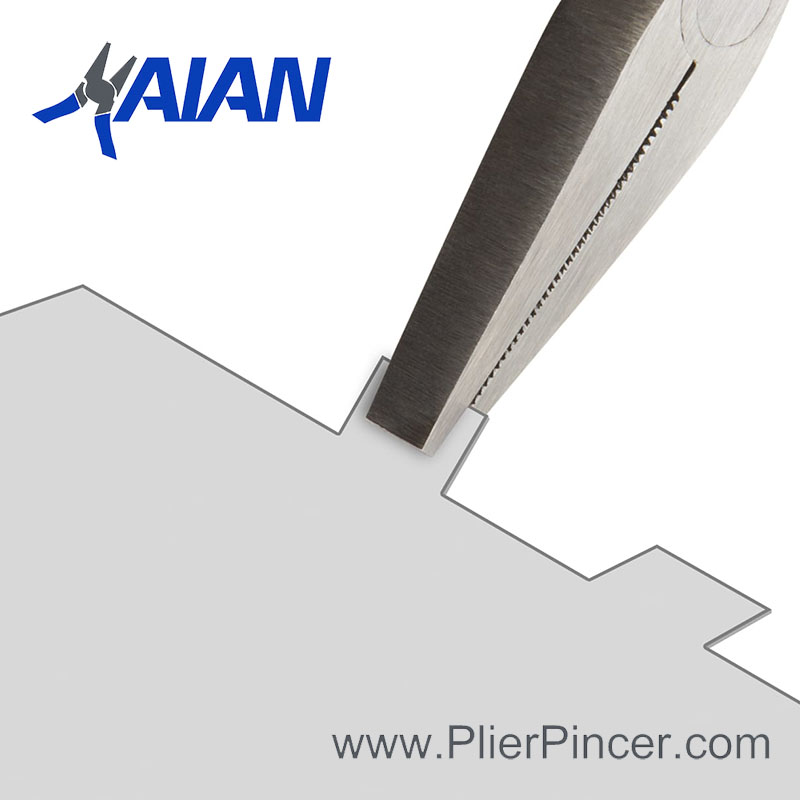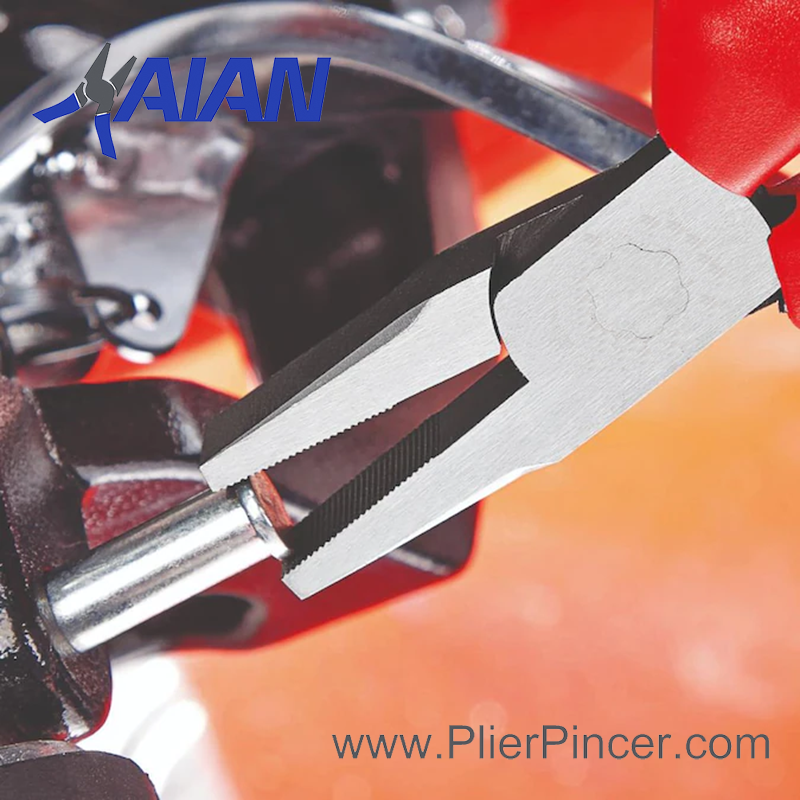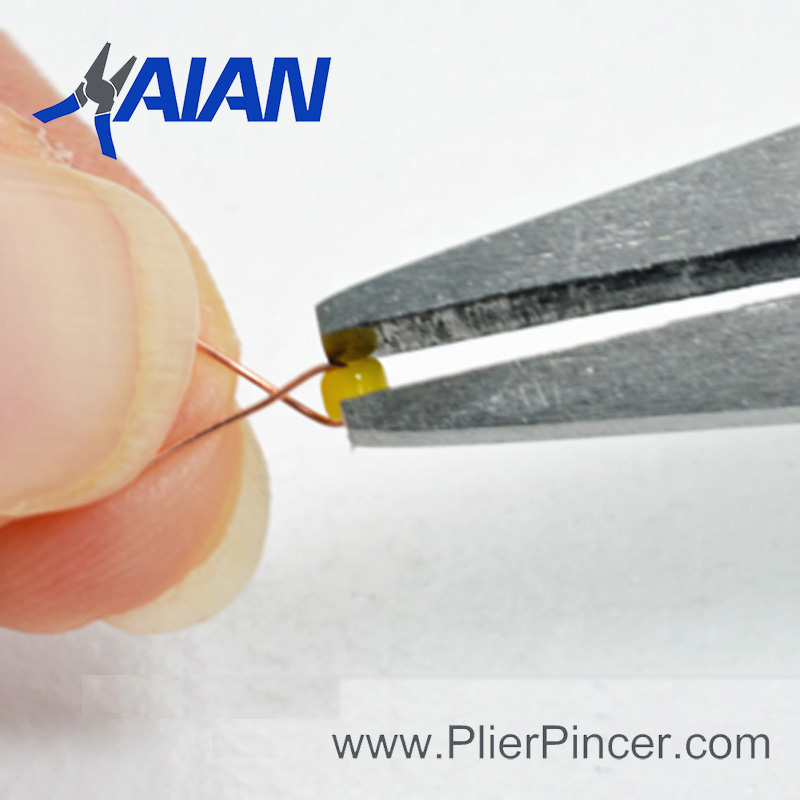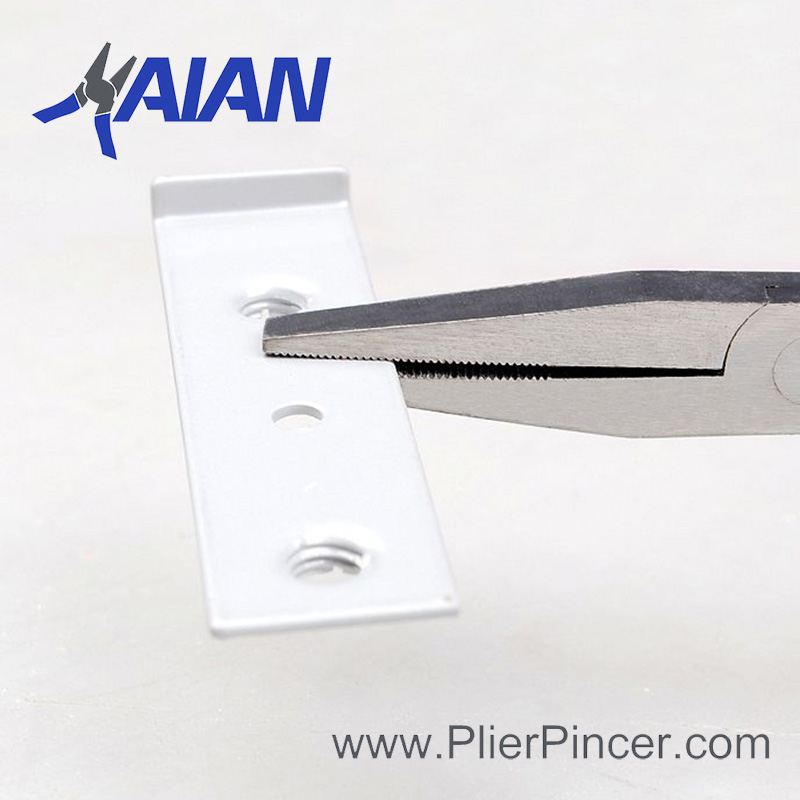 Ergonomic handles
With ergonomic handles and a specially designed grip, the pliers provide maximum comfort at work and high efficiency with minimum strain.
Surface protection
The pliers are made of excellent steel with special improved composition. Several models come with additional chrome surface protection.
High precision
With their perfect design and technological superiority, the pliers ensure a high precision hold in any instance of general or dedicated use.
Tips almost twice as wide as those of standard long-nose pliers give you a better grip on your work. These stainless steel tools are good for environments where moisture and other contaminants are present. They resist corrosion that can hinder joint movement, but the jaws will wear more quickly than a steel tool. Also known as duckbill and flat-nose pliers, use to grip, bend, and twist wire and other small workpieces. Pliers have static-dissipative plastic grips that drain static from your application, preventing buildup from electrostatic discharge (ESD) that can damage sensitive equipment. The jaws are spring assisted to open automatically when you release the handles.
Flat, short and wide jaws with serrated gripping surfaces
Special tool steel, forged and oil-hardened for longer life
Great for gripping wire and working with wire around electronics; also great for jewelry work due to the wide flat jaws
Plastic coated handles
Flat-Nosed Pliers is a hand tool with tapered jaws that are serrated on their flat inner surfaces. Mechanics and electricians use flat-nosed pliers to grip and bend small metal parts and to twist together leads and other wires.
• Available in Selected Carbon Steel and chrome Vanadium Steel.
• Suitable for Electronic industrial Use.
• Fine serrations diagonally opposed enables Gripping of Thinnest Wires & Components.
Spring for easy one hand operation
• Duly Hardened with Sleeves.
• Finish : Polished or chrome Plated.
Max Jaw Opening: 25mm
Extra long flat knurled nose pliers bi-material handles
Drop forged
High carbon steel
Induction hardened jaws
Heavy duty PVC sleeve for additional comfort
Best for twisting and forming thin wire and metal
Also good for gripping small objects in confined spaces
For industrial and home use
These special flat nose pliers feature wider, shortened tips which have been induction heat treated for additional strength. They are often used in jewellery making for chain maille. This pliers feature a bearing ring lap joint for superior performance & safe cushion grips.
What are flat nose pliers?
Once you understand that the 'nose' of a pair of pliers refers to the metal section, or the jaw, this question answers itself! So, on flat nose pliers, the metal section is fairly wide and flat.
Take a look at the photo. You may feel these look familiar. They are a jewellery-making tool, but you will also find them in electrical supplies. Is there any difference? No, not really. So, if you have a partner, family member or friend who already has a lot of DIY or electrical tools, you may be able to borrow theirs!
Why do you need flat nose pliers?
I've already mentioned jewellery making. Well, you are most commonly going to use flat nose pliers for this craft.
They are great for gripping, basically. So, you may find Flat nose pliers yourself gripping findings, like jump rings.
Think of these pliers as being like an extension of your hands. While your fingers may find it fiddly to grip a small piece of wire, the pliers do the job more easily.
So, you will use the pliers to hold an object firmly and allow you to manipulate it. I sometimes use them to help me hold small beads as well – just be careful not to squeeze hard and break the bead!
How to Use Flat Nose Pliers
Flat nose pliers are one of the most necessary and useful tools to have in a jewelers toolbox. Closely related to the chain nose pliers, flat nose pliers have smooth inside jaws and are handy for manipulating and handling your jewelry components and wire.
3 Uses for Flat Nose Pliers
1. Holding onto wire.
Tightly secure your wire with a flat nose pliers as you wire wrap with the other hand or turn your piece around to attach additional components.
2. Opening and closing chain and jump rings.
This can require an additional flat nose pliers or option of a chain nose pliers. Securely hold your chain or jump ring and twist to open or close.
3. Bending wire.
Perfect for securing eye pins, bending wire for forming shapes and wire wrapping, or just aiding in giving you more control as you are assembling your piece.
Directions
1. Align the open jaw of the flat nose pliers over the area you will like to grab.
2. Squeeze the handle down tightly until the pliers has secured itself.
3. With the other hand use the chain nose or round nose to open or manipulate the wire.
4. Secure your component and close.
5. Release your grip