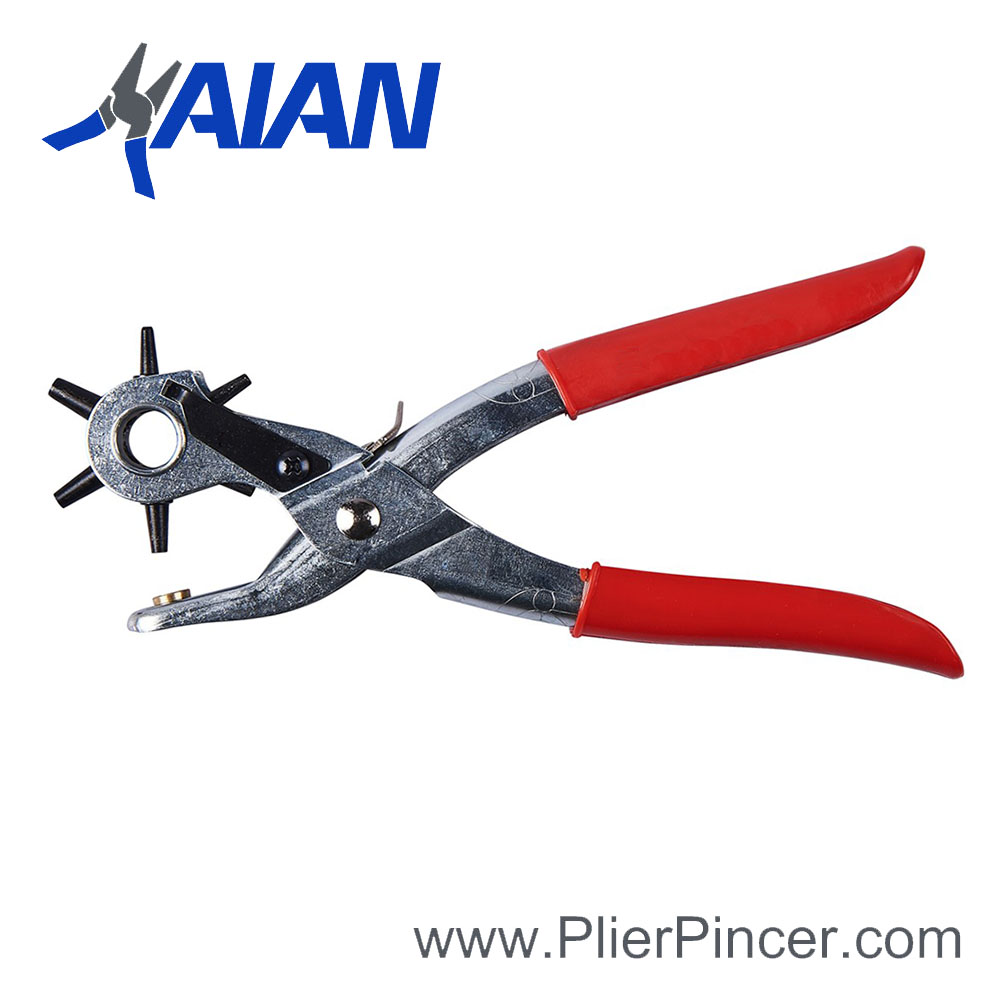 Artical No.: HA210130
Size: 10″
Material: 65# Manganese Steel
Surface Finishing: Chrome Plated and Blacked
Punch Hole Sizes: 2mm, 2.5mm, 3mm, 3.5mm, 4mm, 4.5mm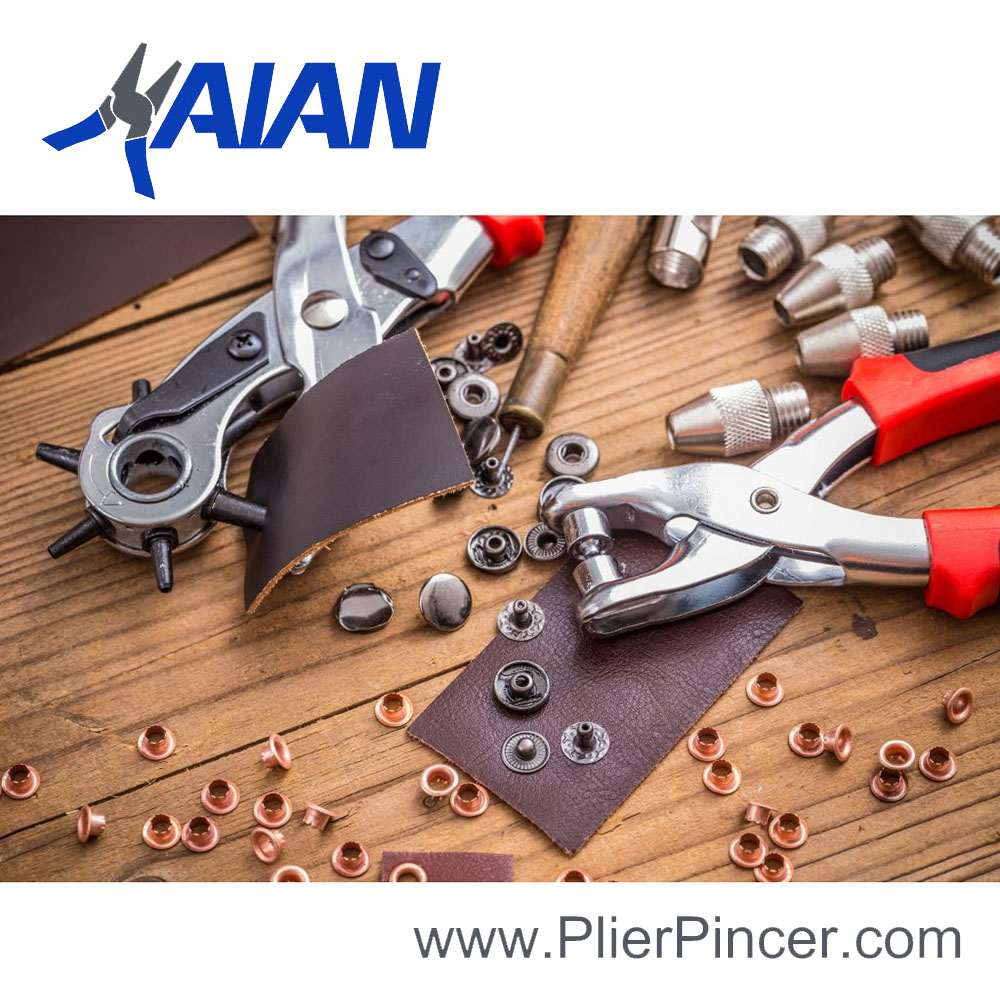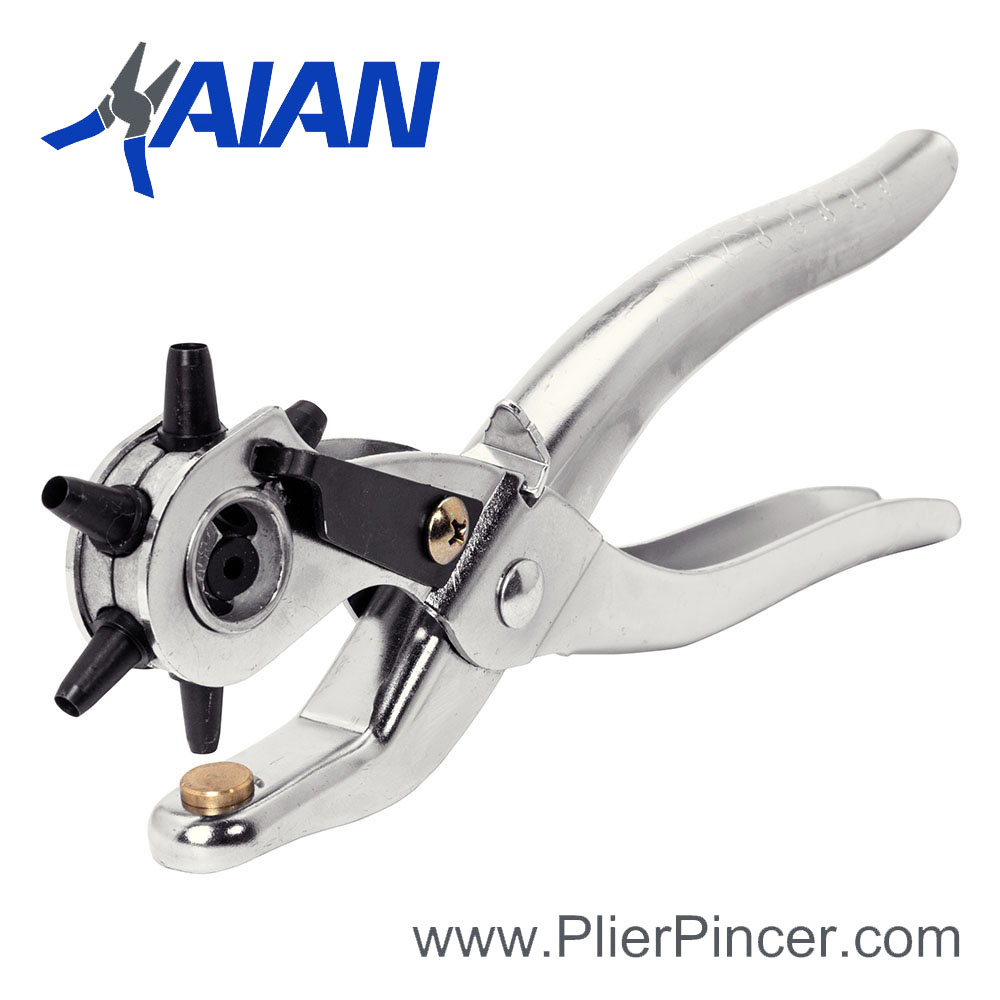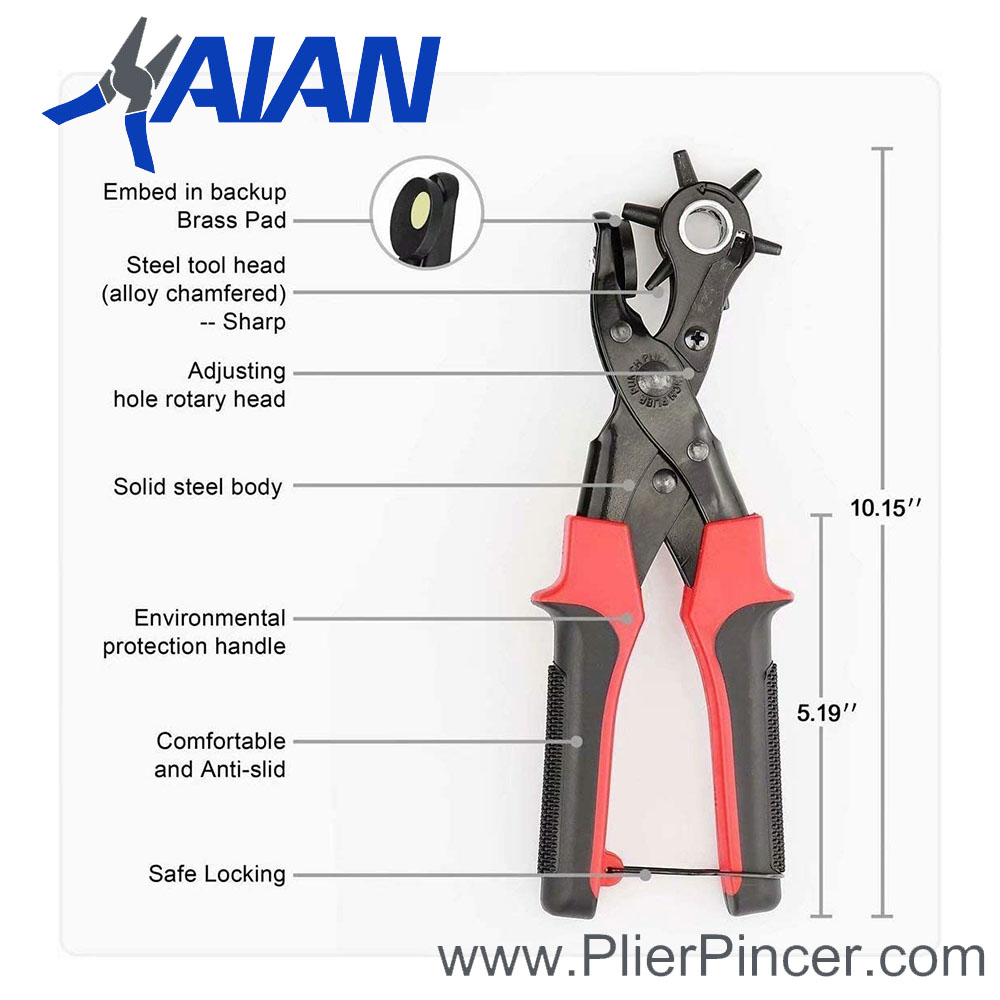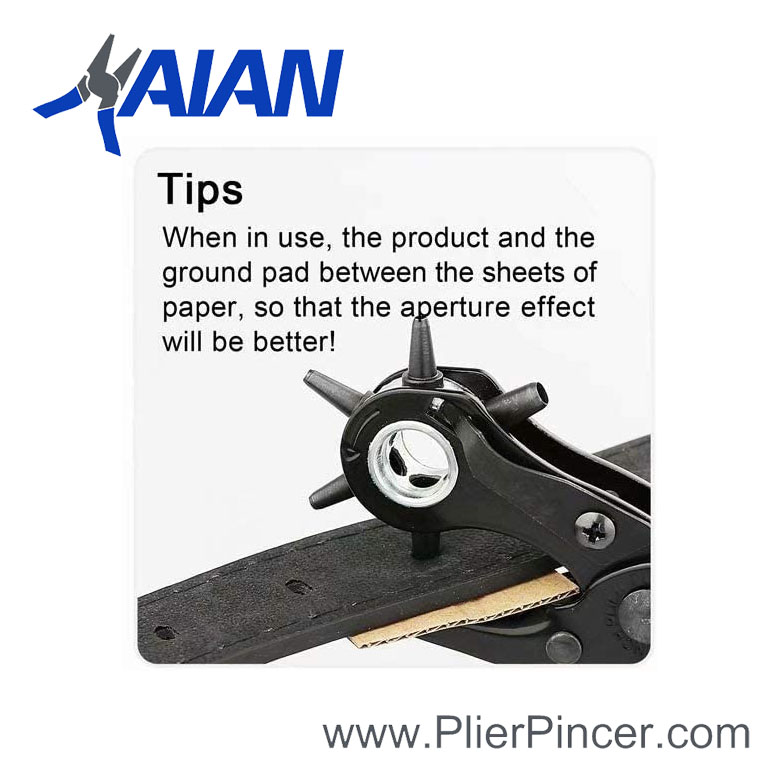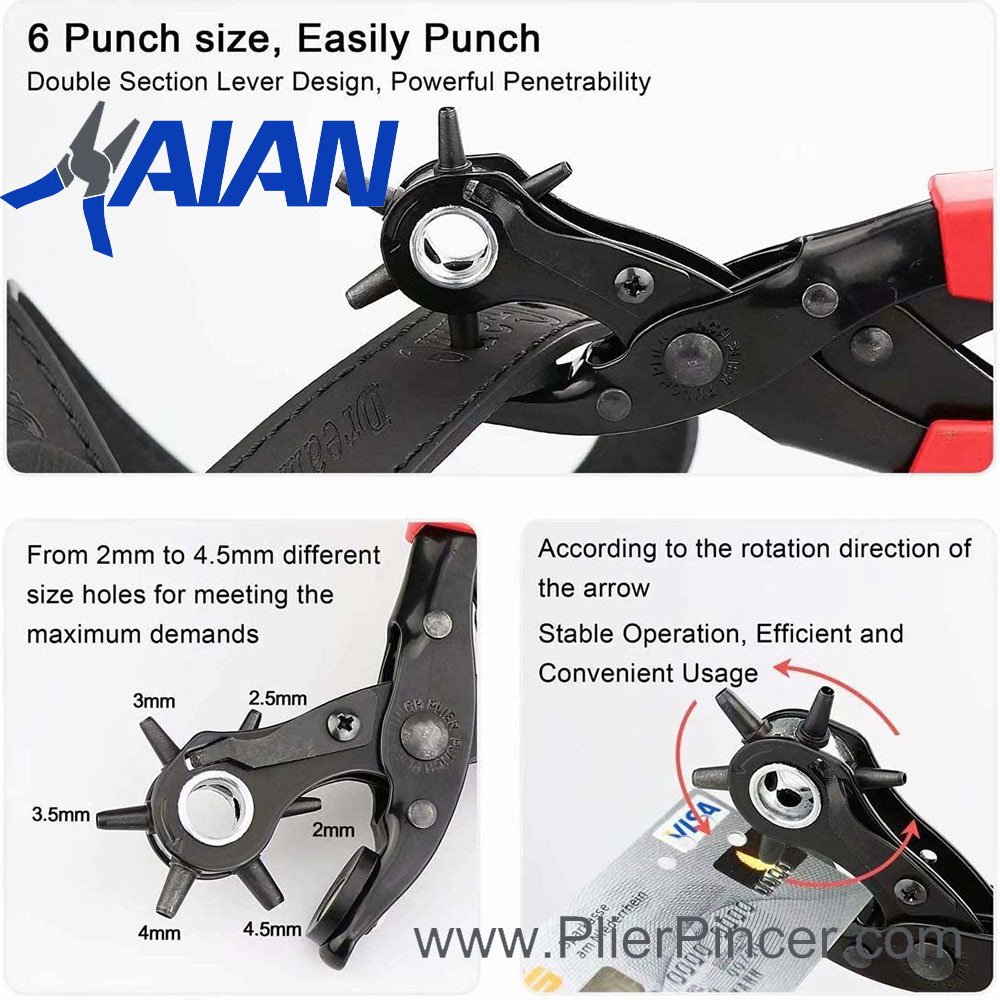 Sizes for Cutting Tubes
Size No.
0
1
2
3
4
5
Diameter [mm]
2mm
2.5mm
3mm
3.5mm
4mm
4.5mm
Diameter [inch]
5/64″
3/32″
1/8″
9/64″
5/32″
11/16″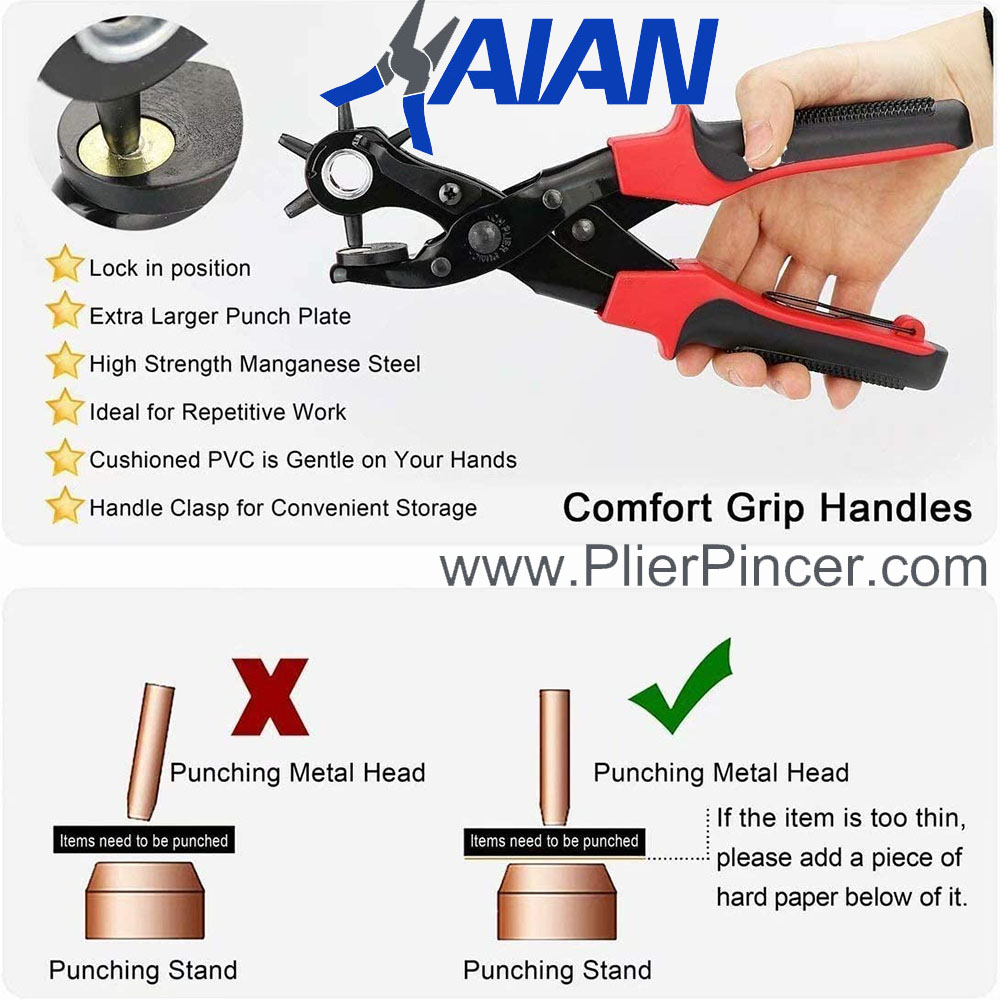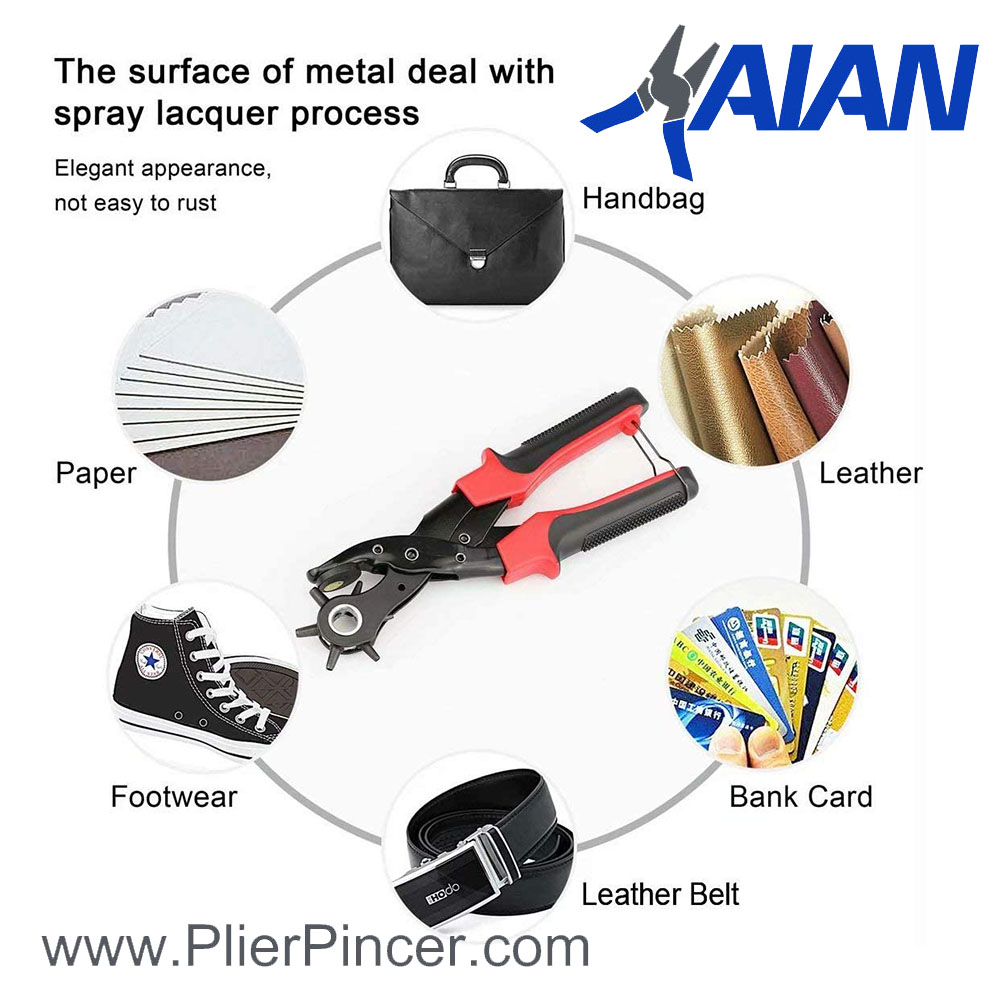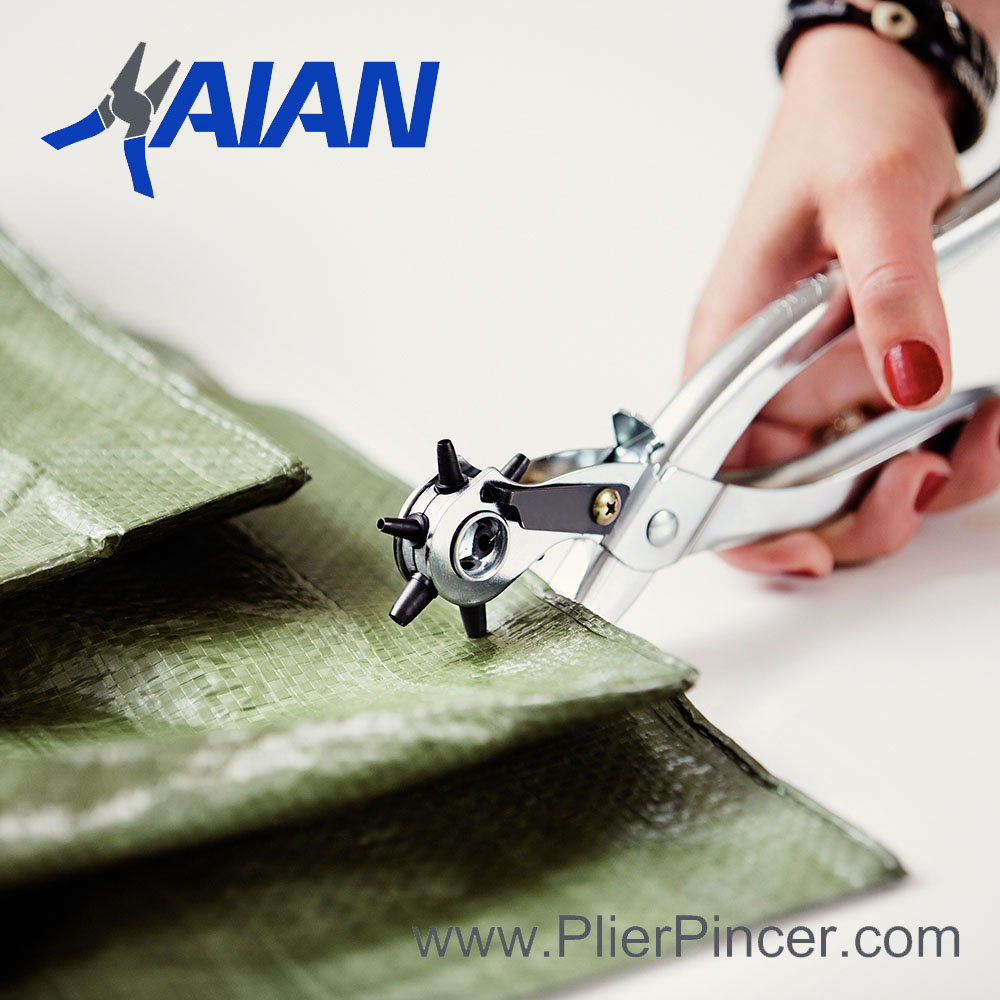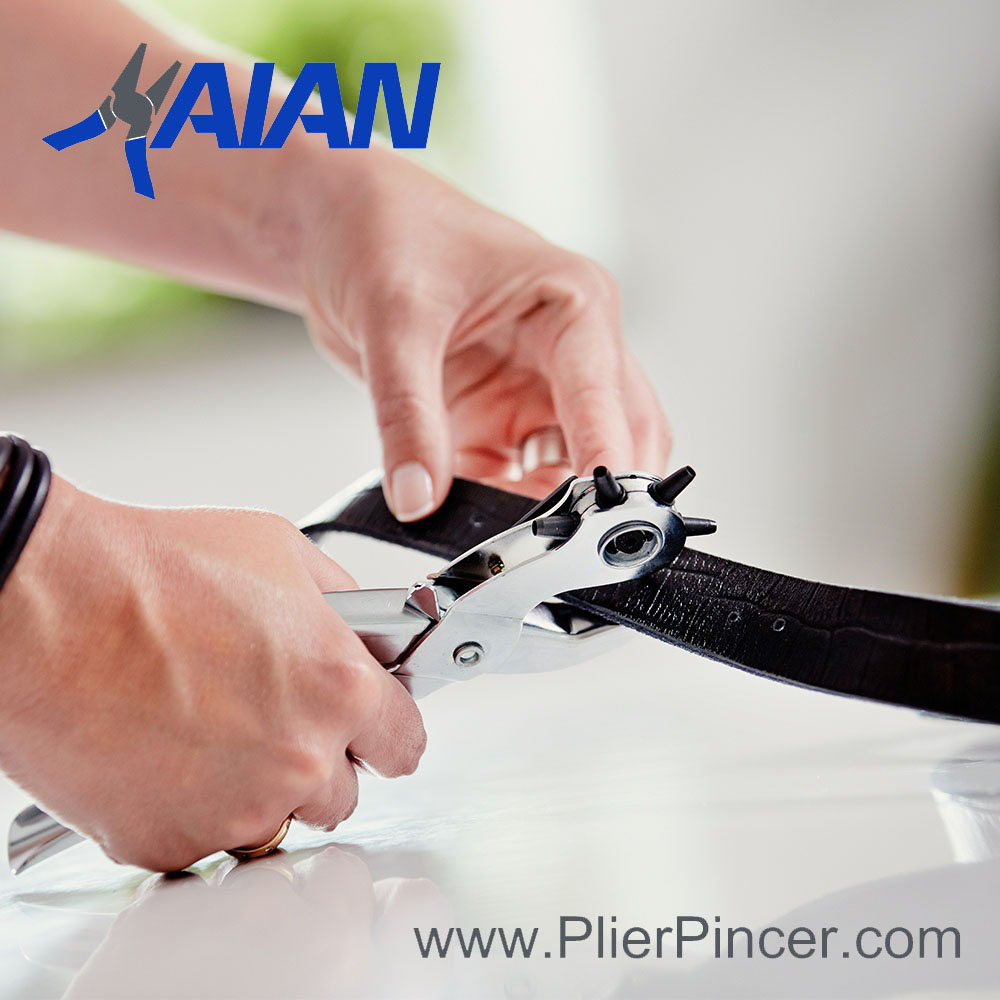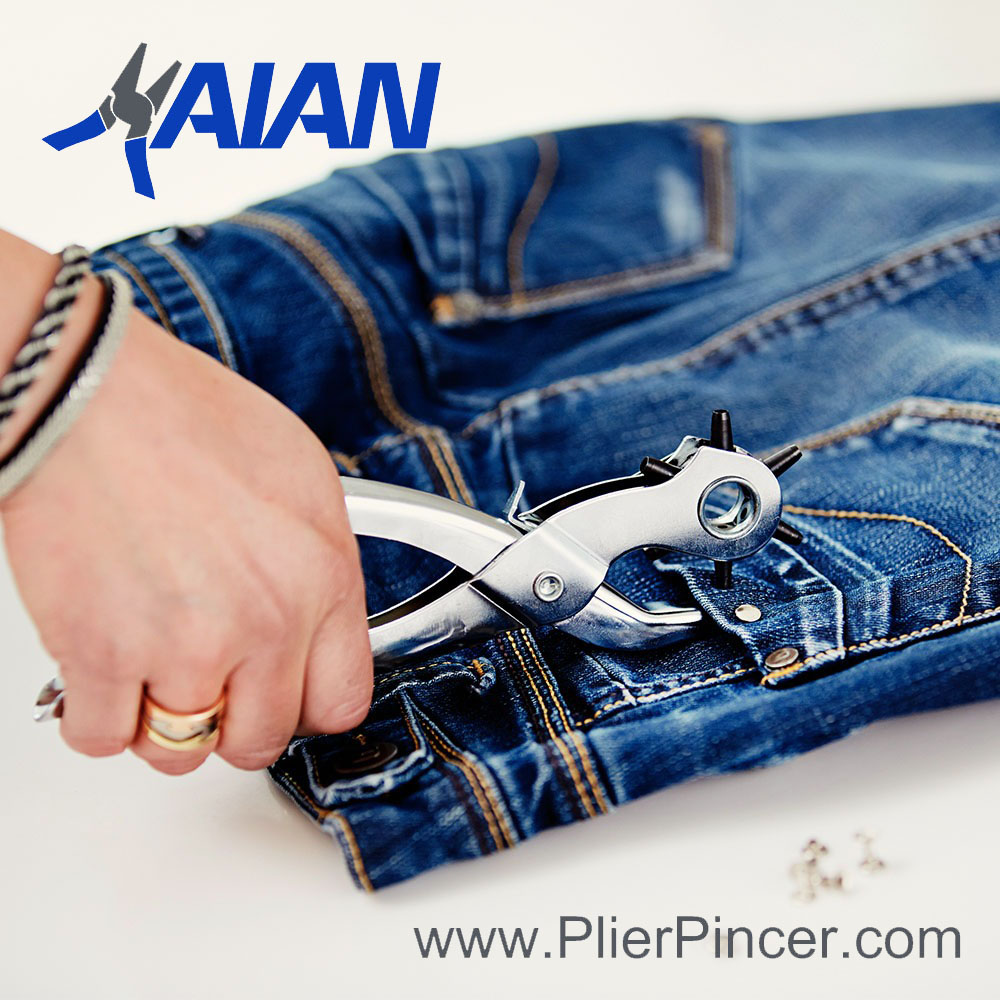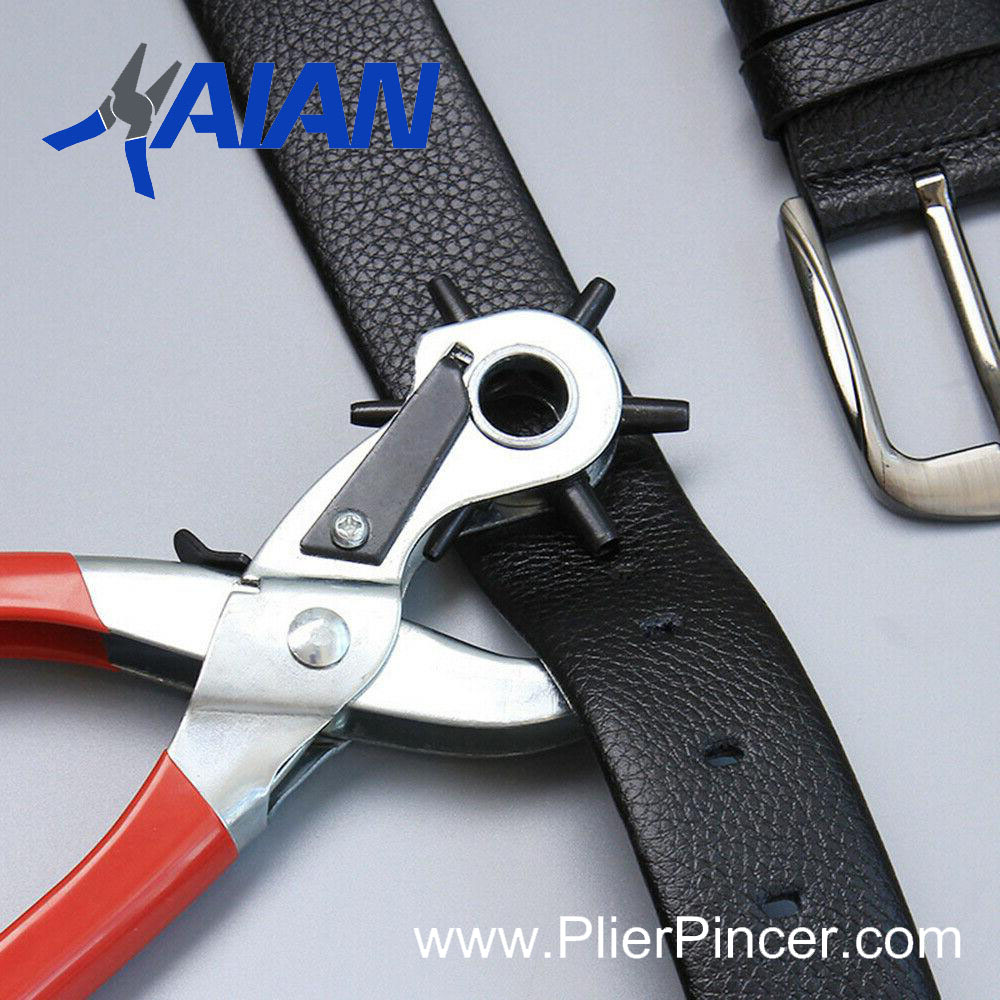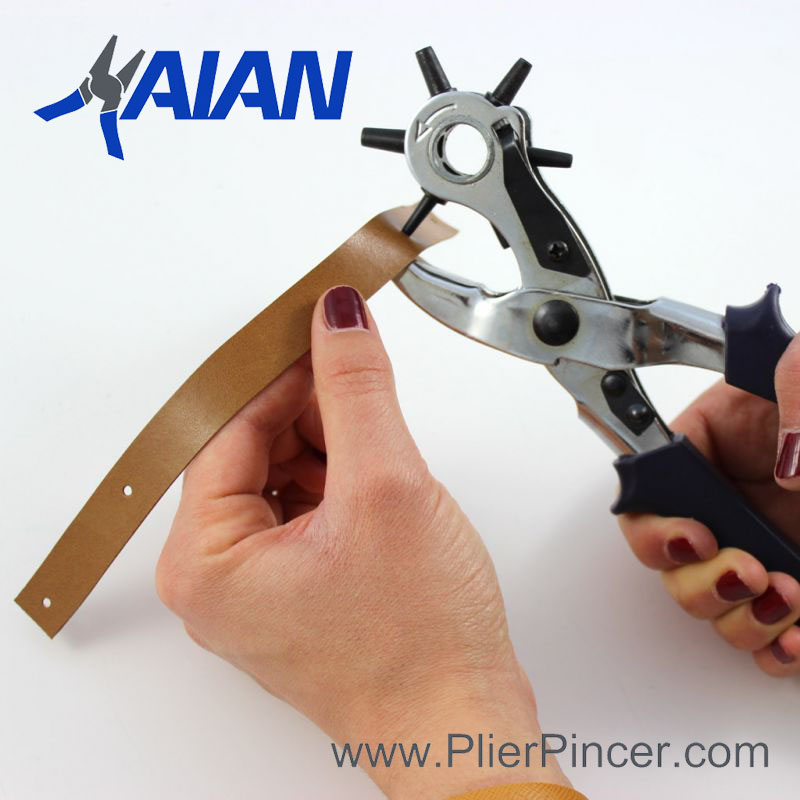 Hole Punch Pliers
These useful hole punch pliers make perfect holes in vinyl and other trim materials. Rotating head features punches from 2mm to 4.5mm.
Revolving Punch Pliers for Leather
– Easy to use leather puncher, for making holes in leather, textile and plastic, designed for professional and DIY use
– Punches holes from 2 to 4.5 mm diameter
– Easy to change hole diameter, rotating head to select the right diameter
– Durable steel body with chrome finishing
PRECISION REVOLVING PUNCH PLIERS
For clean, accurate holes in a variety of materials, these revolving punch pliers are tough to beat. It can make six different punch sizes and is suitable to use on leather, textile, canvas, cardboard, rubber, plastic and similar items. This revolving punch is ideal for hobby projects, as well as any situation requiring holes of different sizes in an array of materials.
Great for punching holes in leather, rubber, canvas, plastic and many other materials
Punch Hardened steel punch sizes: 5/64, 3/32, 7/64, 1/8, 5/32 and 3/16 inch
Spring loaded handle
Plastic coated handles
Revolving head has six punch sizes
Used for making holes in soft materials such as canvas, leather, soft plastics and textiles
Spring loaded punch head
Punch sizes: 2mm, 2.5mm, 3mm, 3.5mm, 4mm, 4.5mm
Nickel Plated Revolving Punch Pliers
A fine quality pressed steel frame and revolving punch with drive tubes. All tubes are heat treated to give long wear.
【Multi-function】 Ideal for use on a variety of surfaces. It is an awesome tool. The punch plier is commonly used for punching round holes in leather, belts, plastic, rubber, canvas, fabric, cardboard, saddles, and similar materials; especially useful as a leather hole punch. It has 6 different sizes, which is perfect for home hobby or commercial use. Hole size dimensions: 2mm, 2.5mm, 3mm, 3.5mm, 4mm and 4.5mm. And the six tapers are very sharp to meet the maximum demand.
【High Quality and Safety】 The durable punch plier is made of plated steel that is high hardness, good toughness and durable. The surface of metal deal with spray lacquer process to avoid oxidation. The brass pad adopts the thickness design to guarantee on safety. And in our kits, we add grinding rod on it for easy cleaning.
【Ergonomics Design】 The professional punch plier adopts double lever mechanism to greatly save your strength. Powerful and do not require much strength to get perfect holes. Powerful penetrability makes the work easier. And the punch plier has an anti-slid and environmental protection handle. The non-slip handle provides greater comfort, which guarantee on long-lasting working.
【Convenient Storage】 In the bottom of punch plier, there is a stainless buckle. When you don't work, you can buckle the safe lock. And the punch plier will become small to save your space.
【Excellent Product Performance】 The unique design of punch plier allows for use with one hand and gives you the ability to create stronger punches; especially useful as a leather hole punch. Convenient spring tension gives superior power and comfort, fits your palm and allows for maximum force output. Comfortable design for easy punching and less hand fatigue.
Buying Guide to Select the Best Punch Cutters
What Exactly Are the Punch Pliers?
The punching pliers are tools, normally made of steel, equipped with a part with a recess and edges that cut or punches, to perforate or puncture different materials. In general, the punching pliers can be used with materials that are not very hard, and it is possible to choose the diameter of the hole to be made.
How Do You Use a Punch Pliers?
The punching tool is normally used to punch a material. In the case of a leather belt, for example, the steps to follow are very similar for all models. Practically, to correctly perforate the leather you need to follow these easy guidelines:
Mark the exact position on the leather object we want to punch.
Select the punch of the desired size.
Unlock the handle and position the pliers over the mark made initially, placing the leather over the caliper pad.
Press on both handles so that the punch passes through the leather.
What Is the Mechanism of The Punching Pliers?
Normally, the part of the collet that comes into contact with the material to be drilled is a steel plate. The transmission system consists of a spring that contracts when the handles are compressed.
The part of the tool that makes the perforation has a rotary mechanism that allows you to choose between punches with different diameters. Thanks to the recess of the gripper we can easily extract the excess material and continue working.
In the case of the jumper die instead, the cutting of the material is due to the force generated by striking the pliers with a hammer.
What Types of Holes Can We Make with A Punch Pliers?
Normally, existing gripper models allow you to select punches not only based on the size of the holes (diameter) but also on the basis of the shape. In general, the punches have a diameter between 2 and 5 millimeters and allow them to make round, oval, or rectangular holes.
How to Use the Punching Tool with Hard Materials?
In order to be able to use another type of pliers with these materials, considerable force should be applied manually. This way there is a risk of injury or damage to the clamp. For this, the best option is to use the pliers as a chisel, with the help of a hammer.
This type of gripper can also be used for steel, aluminum, or copper sheets with a maximum thickness of 0.3 mm. To complete the job without taking risks, it is necessary to use a more suitable tool, for example, a drill with the corresponding tip.
Do You Need a Lot of Force to Punch a Material with The Punch Pliers?
Absolutely not! Thanks to the double lever system, materials can be perforated with minimal effort. To avoid unnecessary strain and pain in the hands, it is necessary to understand exactly the situation.
aspect to consider is the material of the gripper. Normally steel or bronze pliers are considered better because they last longer and allow more force to be applied to the perforation. A plastic gripper will not give the same results, let alone achieve the same results by applying little force.
What kind of accessories are included when buying a punch press?
Some manufacturers put on the market real kits that include the punching pliers together with many useful accessories for repairs or DIY. For example, the kits may include:
Metal ruler
Screwdriver
Replacement pads or plates
Screws
Hammer
Purchase Criteria
If you still don't know which caliper to buy, don't worry! First of all, you have to consider carefully the use you will make of it. Then there are a number of aspects that you need to consider if you want to buy a quality product. Here is what you need to watch out for if you don't want to regret the product you buy:
Accessories
Versatility
Handle
Material
Safety
Accessories
As we said, you can buy kits, which include the pliers and other complementary tools. The accessories give the gripper versatility and avoid future purchases.
Versatility
In everyday life, we ​​may need to perforate different materials, so it is advisable to have a punch plier suitable for various materials. Grippers that are specific to one type of material can be used on limited occasions, for example, only for belts. The more versatile the gripper, the more we can save.
Handle
The punching pliers work manually, it is therefore important that the grip is comfortable, simple and that it does not require much force. It is a good idea to check that the gripper has an ergonomic, anti-slip design and that it does not cause pain when applying pressure.
Material
The choice of the appropriate material is very important to buy a gripper that has good durability, that does not corrode and oxidize. The best pliers are those in stainless steel or iron, possibly with bronze punches or with a protective grinding.
Safety
Although it is unlikely to injure yourself using a punch plier, be careful! The safest models have a simple handle locking system. It is however advisable to keep the pliers out of the reach of children since a cut can be very dangerous.
Hole size dimensions:
2 mm or 5/64 inch
2.5 mm or 3/32 inch
3 mm or 1/8 inch
3.5 mm or 9/64 inch
4 mm or 5/32 inch
4.5 mm or 11/64 inch
All the most popular sizes.
OTHER FEATURES
Convenient Storage:
The convenient handle clasp makes our leather hole puncher easy-to-store in any tool bag or drawer when not in use. The sturdy rotary hole sizes also lock into place for safety.
Ergonomics Design:
Double lever mechanism to greatly save your strength. Powerful and do not require much strength to get perfect holes. Comfortable and anti-slip Grip-Handle can improve your work efficiency.
Easy to use:
Unscrew as indicated in photo. Turn the wheel anti-clockwise to the desired size. Convenient spring tension gives superior power and comfort, fits your palm and allows for maximum force output.