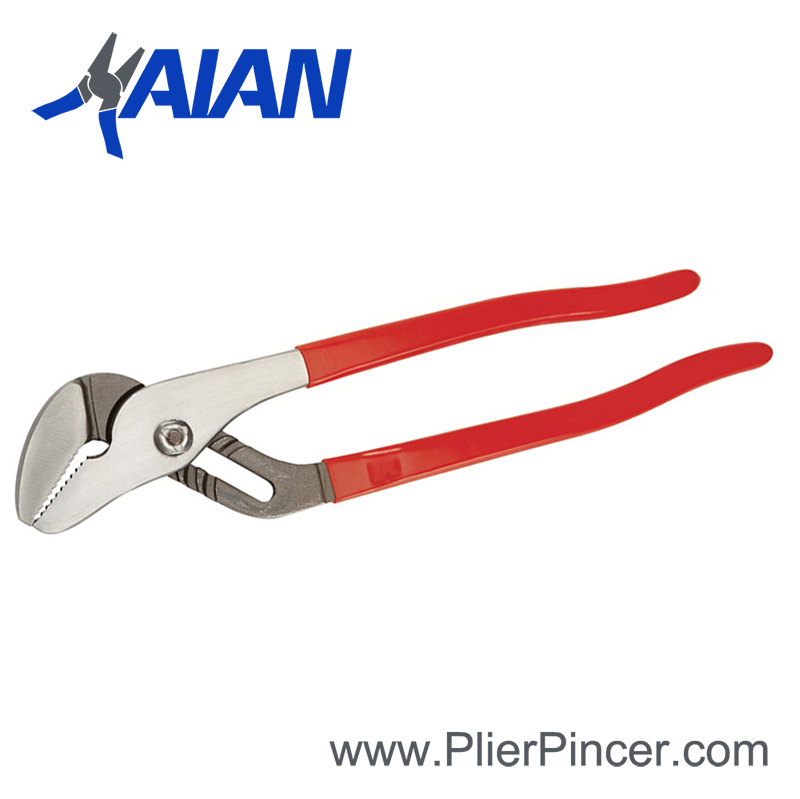 Tongue and Groove Joint Pliers
Item No.: HA210122
Size: 8″ 10″ 12″
Material: Carbon Steel, Chromium-vanadium Steel
Surface Finishing: Fine Polished, Blacked, Chrome Plated, Nickel Plated, Peal Nickel Plated, Blacked Nickel Plated, etc.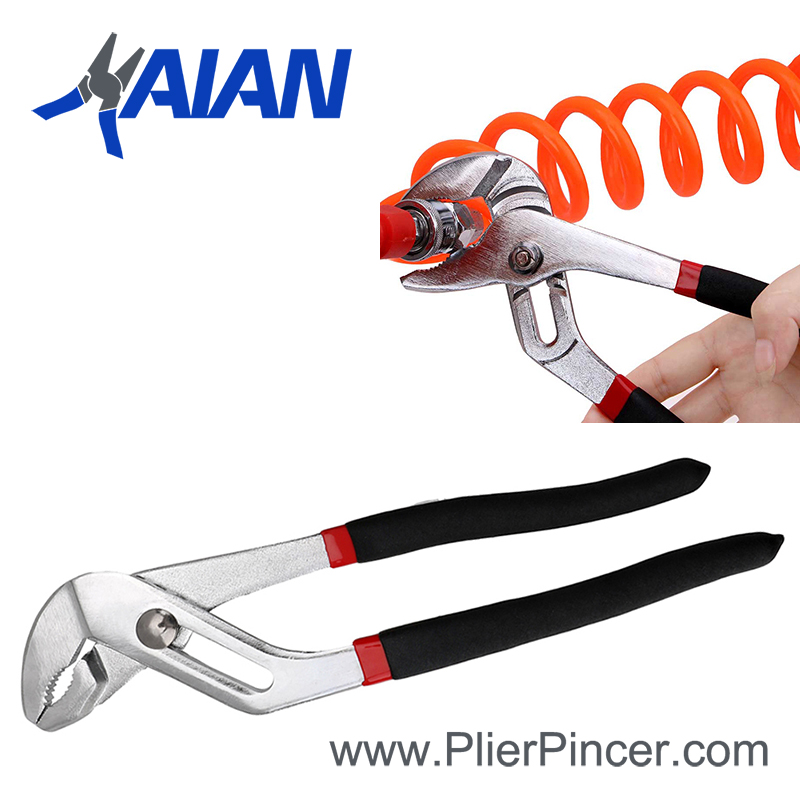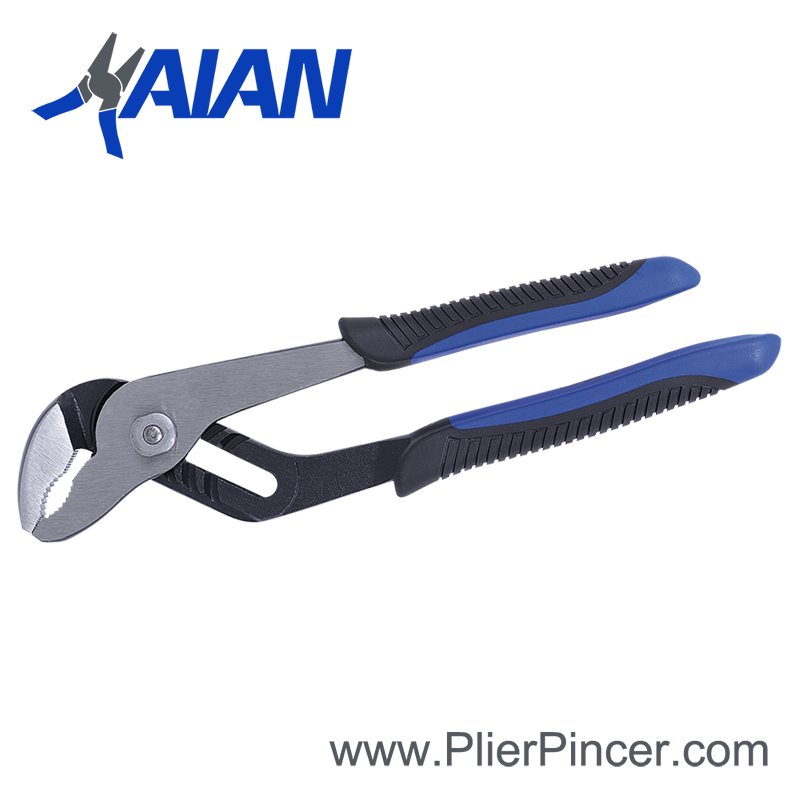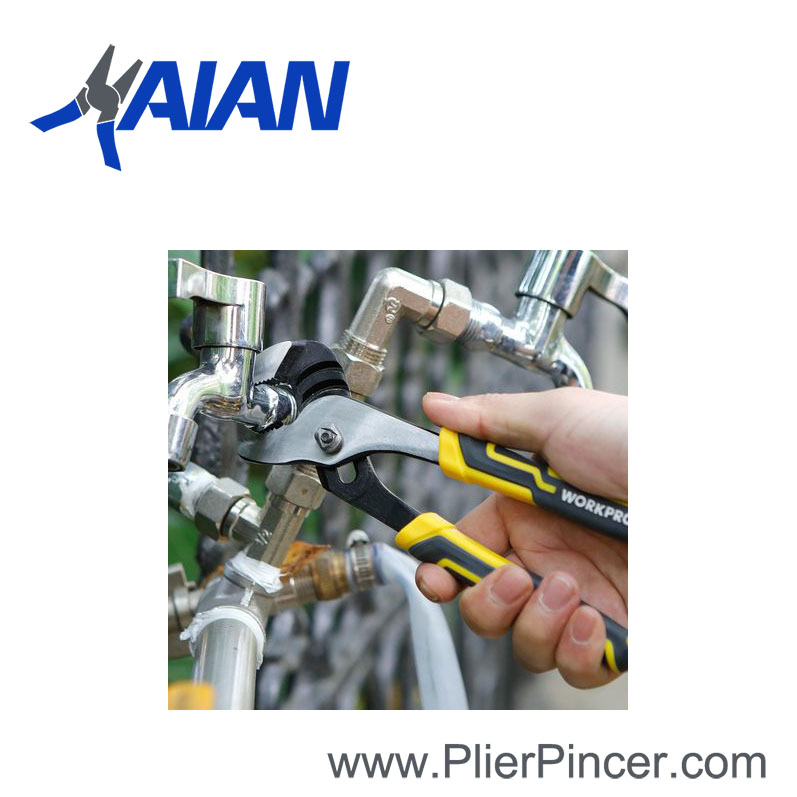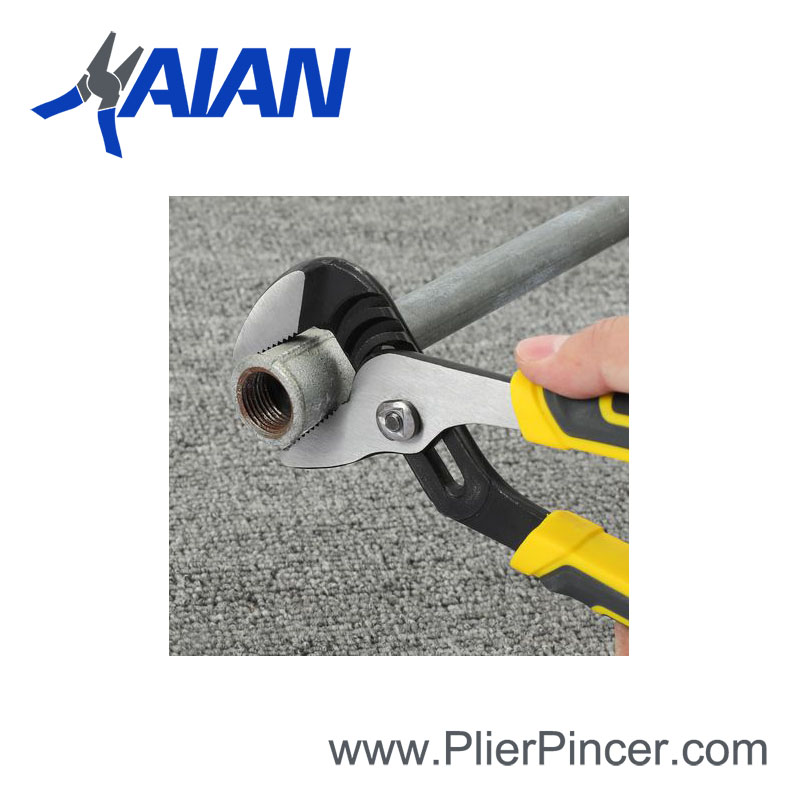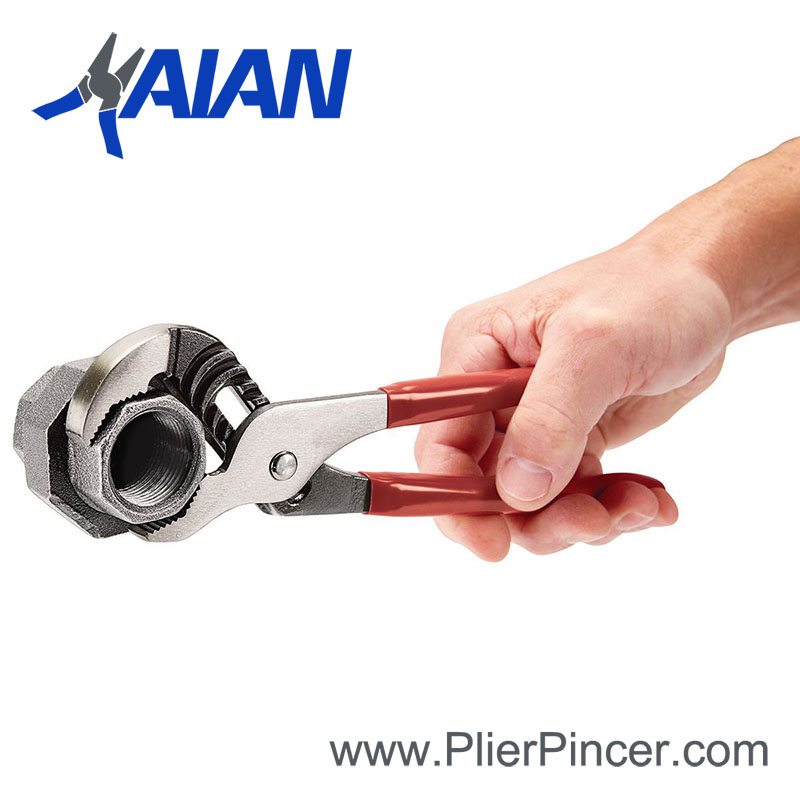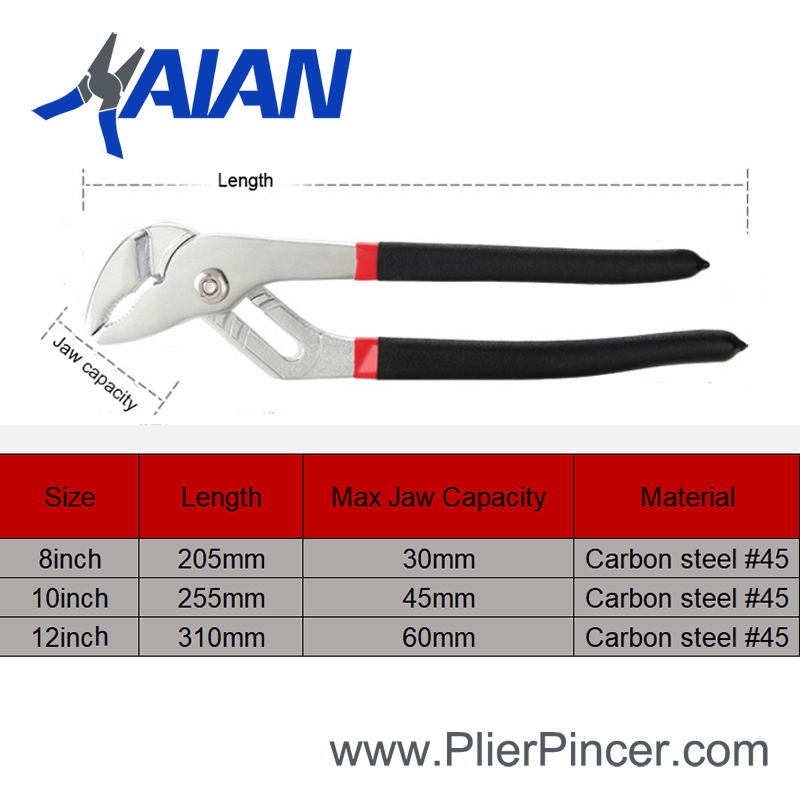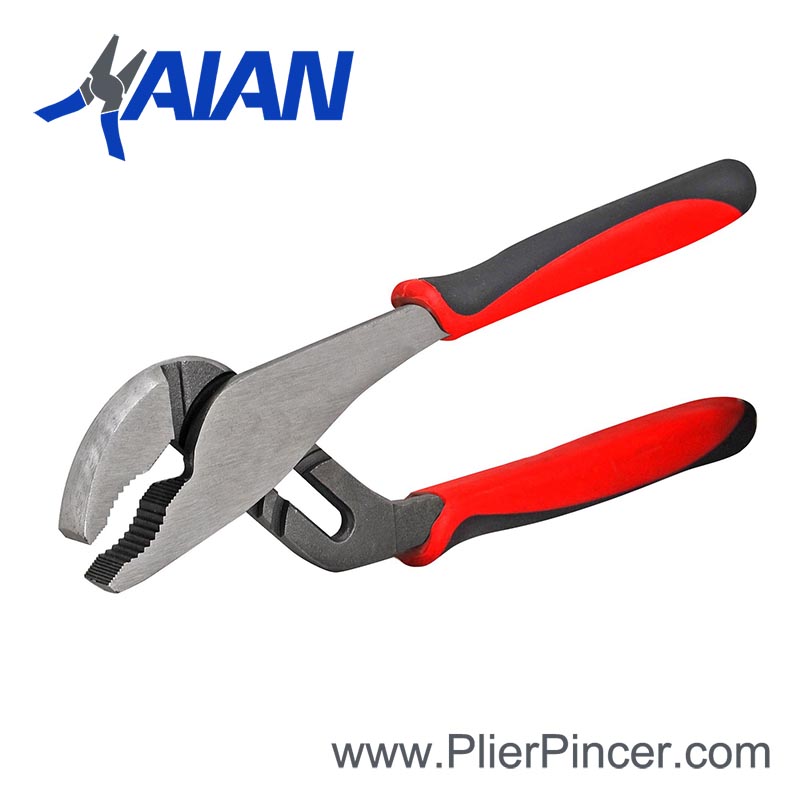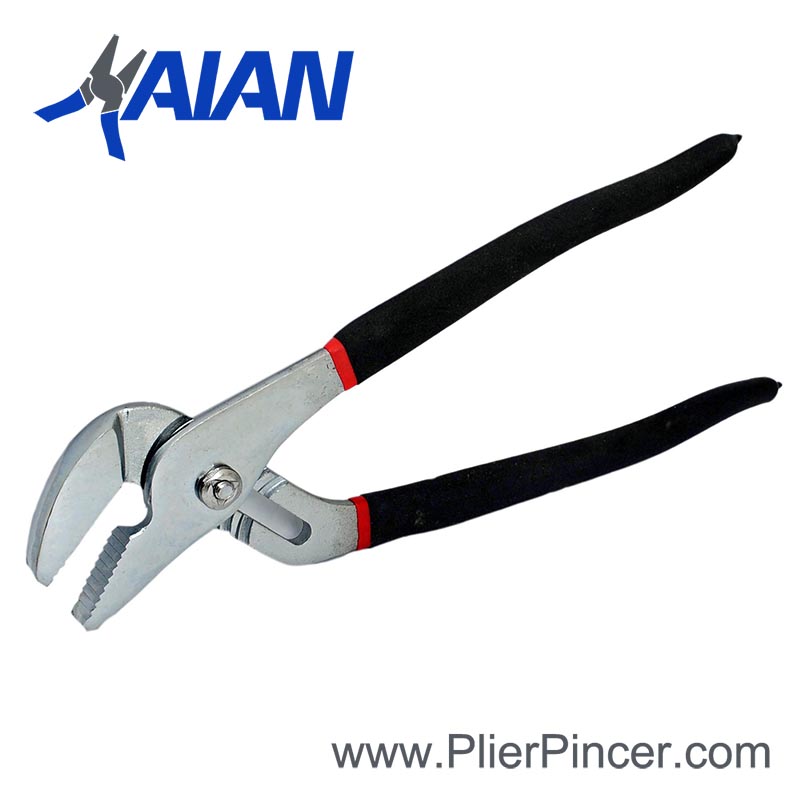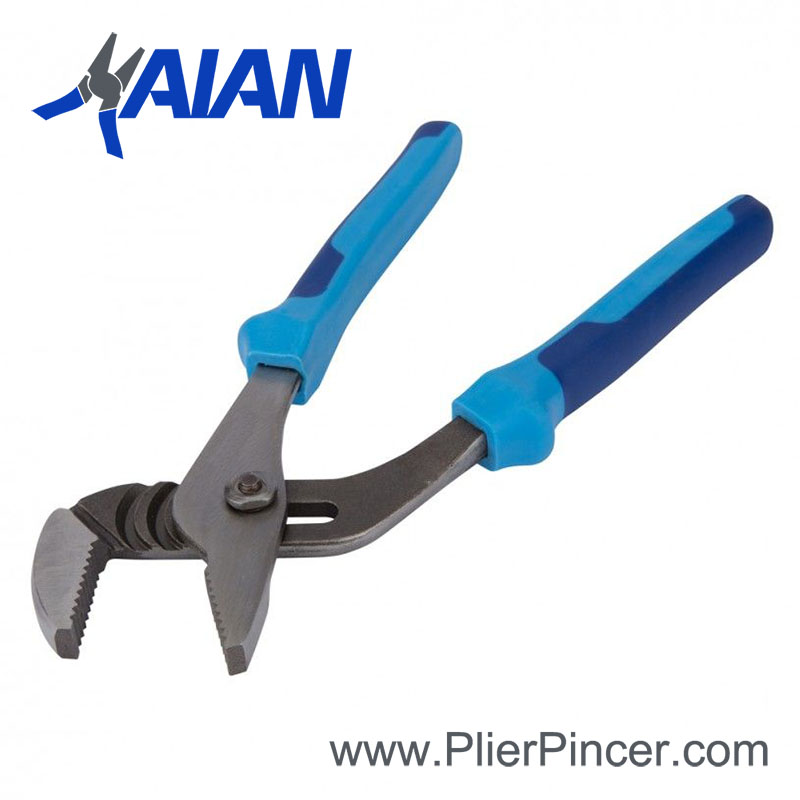 Groove joint pliers with V-jaw grab pipes and round stock tight
Groove joint pliers with V-jaw construction give you an unbeatable grip on pipes, round stock and large hex fasteners. The induction hardened teeth bite into pipe, rods and shafts for a super secure grip. Precision machined tongue and groove channels provide smooth, easy size adjustment.
V-Jaw design provides multiple points of contact
Right angle, induction hardened teeth for stronger grip strength and long life
Precision milled tongue and groove for ultra-smooth adjustment
High strength steel construction for optimum durability
Rust protection reduces corrosion and increases tool life
Riveted joint for smooth action
100% Lifetime Guarantee
For grabbing objects, bending materials and gripping items, few tools compare to these groove joint pliers . Manufactured from drop-forged alloy steel to be durable, their tough jaws clamp securely onto most hard surfaces and won't slip. The composite rubber grip is ergonomically designed to add comfort and better control, while the handy groove joint allows you to adjust the jaw width to latch onto bigger or bulkier items.
Made from drop-forged alloy steel for durability
Sturdy jaws clamp firmly onto surfaces
Composite grips for greater control
Ergonomic re-design for enhanced comfort
Groove-joint designs allows easy adjustment of jaw width opening
Available in other sizes
Plumber's Pliers
Tongue and Groove Pliers
Right angle, laser-hardened teeth grip better and last longer
Undercut tongue-and-groove will not slip
LOCK fastener eliminates nut and bolt failure
Patented reinforcing edge minimizes stress breakage
We uses high-carbon steel for superior performance on the job and specially coated for ultimate rust prevention
How do you use tongue and groove pliers?
Using tongue and groove pliers invovle a simple procedure. With pliers open to the widest position, place the jaws on the object to be held. Decide which groove gives the best position. Squeeze the handles until the pliers grip the object.
Just so, why are they called water pump pliers?
They're called water pump pliers because they can be used to hold a pump hub or pulley while loosening a fan. It's a universal term that probably has its roots removing engine-driven fans on old Domestic cars.
Likewise, what are linesman pliers used for? Lineman pliers, also known as linesman pliers or linesman's pliers, are a type of combination pliers used by electricians, artisans, and other tradesmen and women for the purpose of bending, gripping, twisting, and cutting cable and wire.
Accordingly, what is the difference between a wrench and pliers?
Unlike pliers, wrenches generally do not have pivoting jaws (an exception is the sink wrench). Wrenches are almost always a better tool than pliers for loosening and tightening nuts and bolts because they provide greater torque than pliers and are less likely to round or damage fasteners.