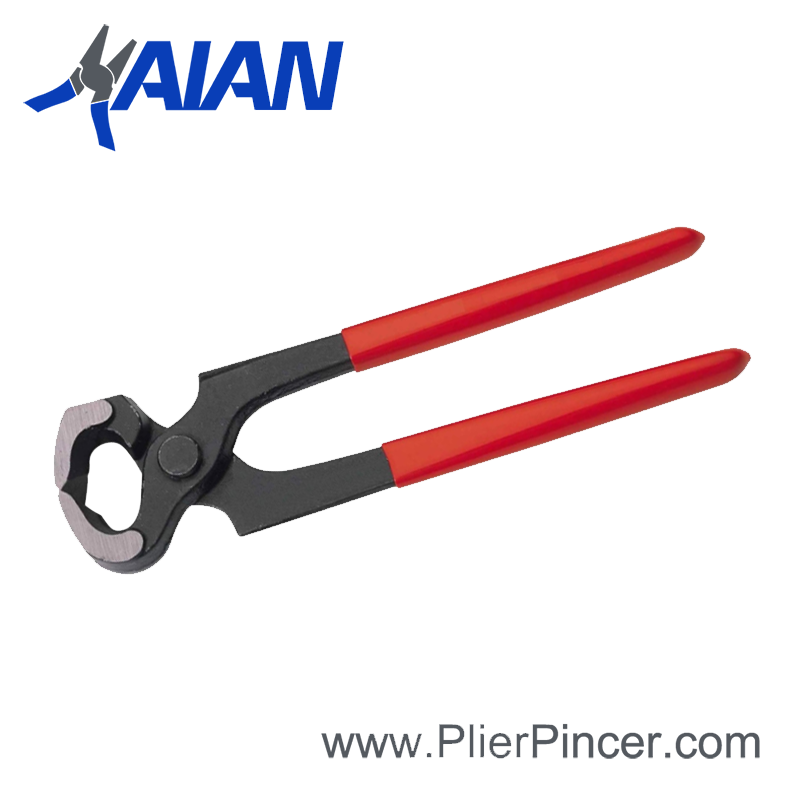 Item No.: HA210126
Size: 6″ 7″ 8″ 9″ 10″
Material: Carbon Steel, Chromium-Vanadium Steel
Surface Finishing: Precision Poished, Nicek Plated, Black Nickel Plated, Chrome Plated, Teflon Plated
Handles: PVC plastic dipped Handles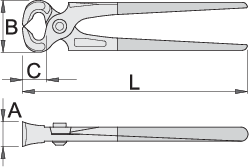 | Item No. | L | B | A | C | Weight |
| --- | --- | --- | --- | --- | --- |
| HA210126-6 | 160 | 46 | 22 | 16 | 242 |
| HA210126-7 | 180 | 50 | 23 | 21 | 309 |
| HA210126-8 | 200 | 54 | 25 | 24 | 427 |
| HA210126-9 | 225 | 54 | 25 | 24 | 419 |
| HA210126-10 | 250 | 58 | 26 | 27 | 557 |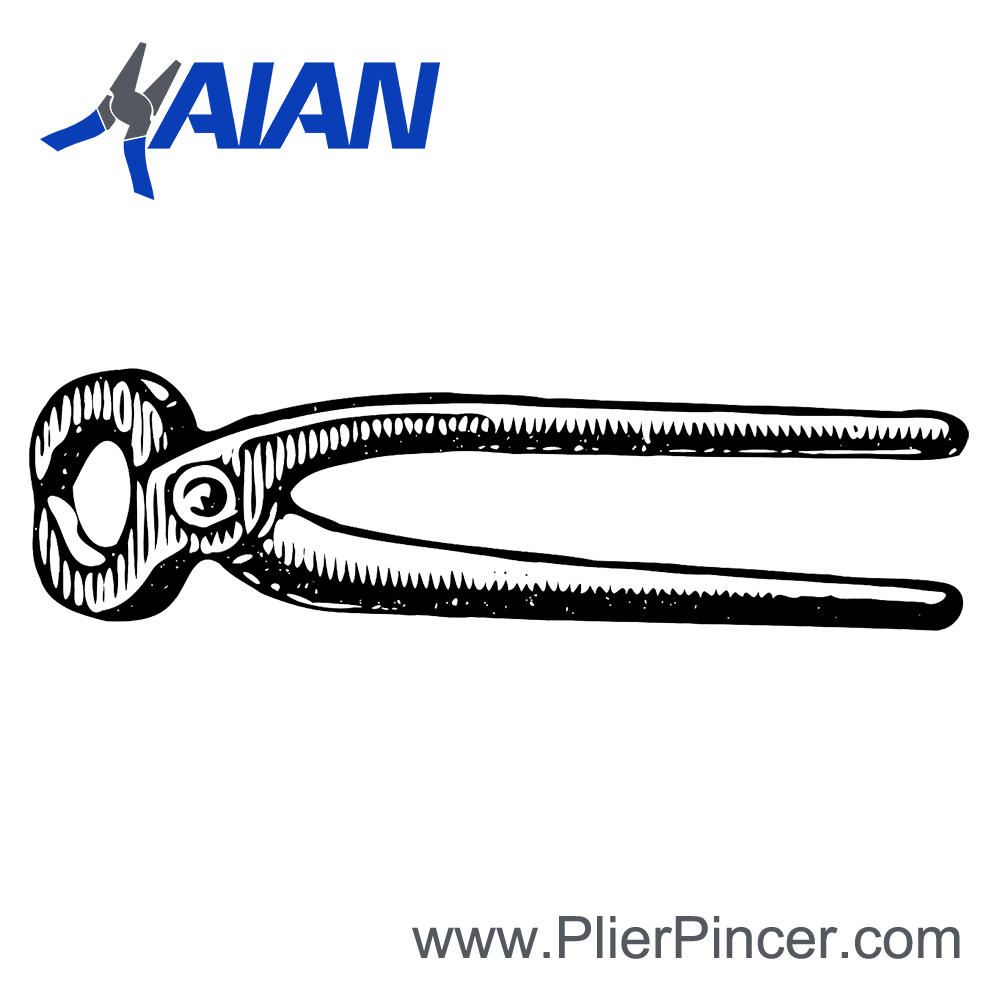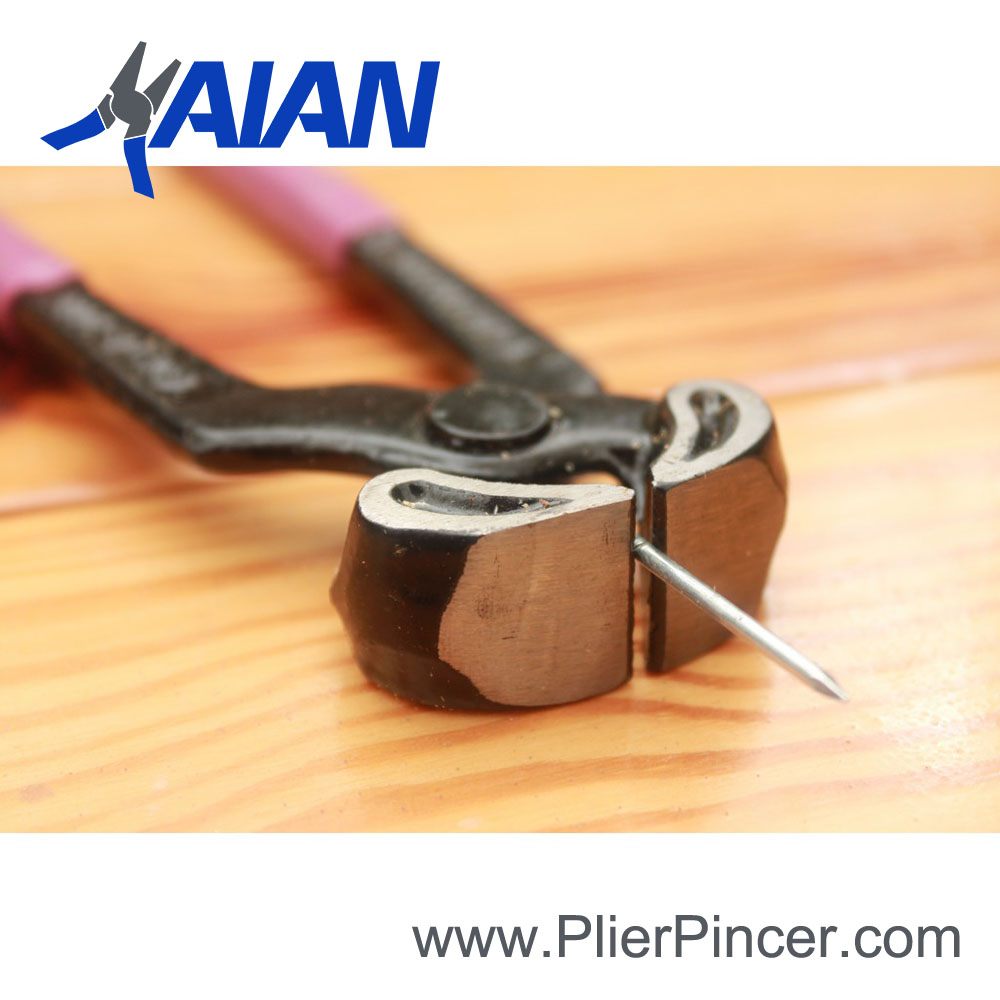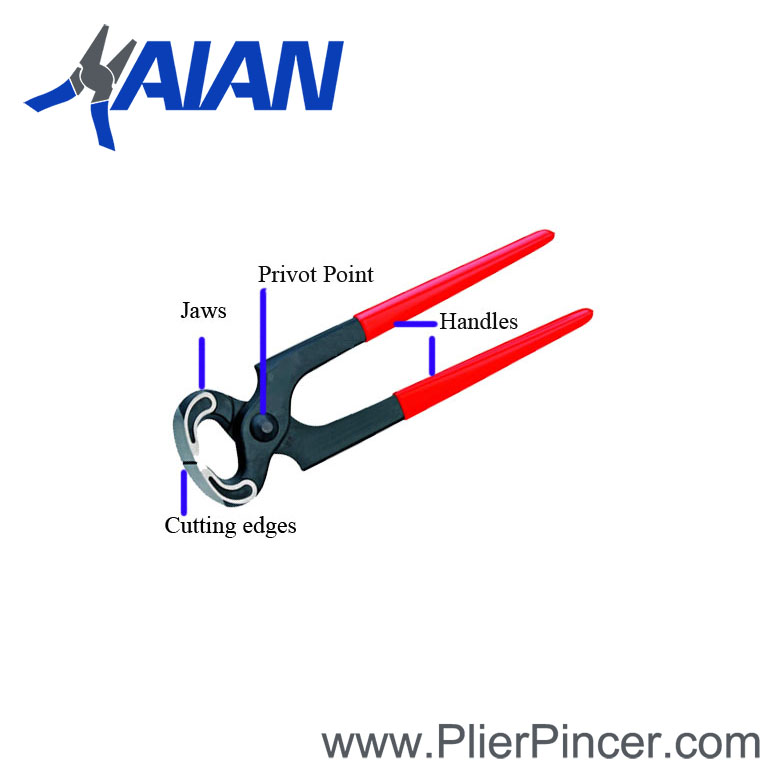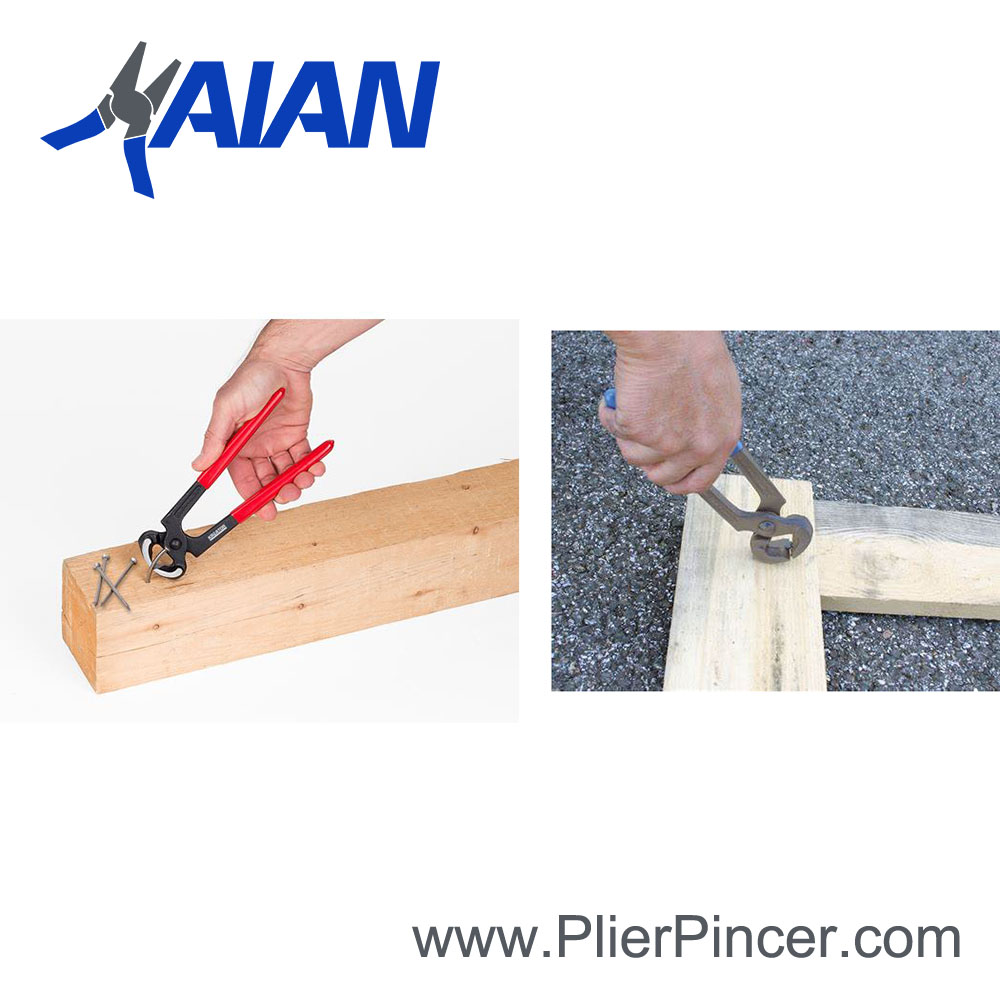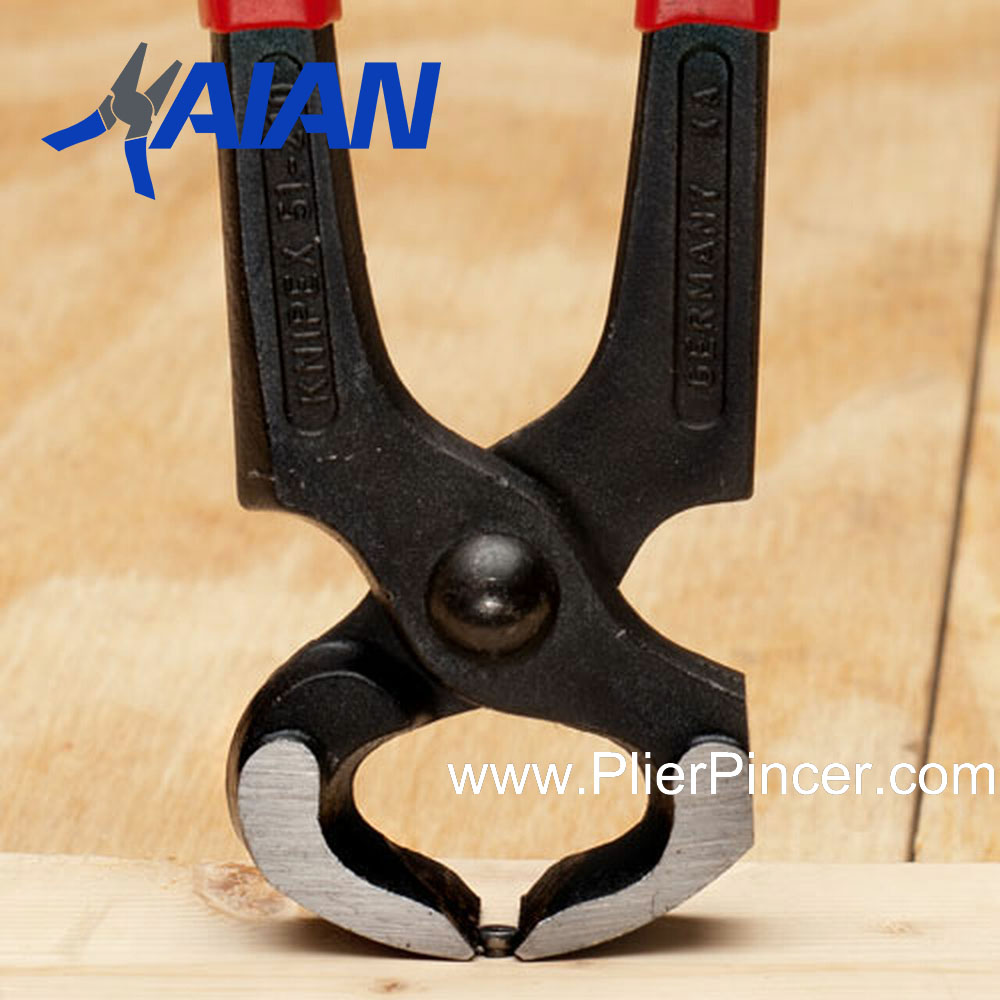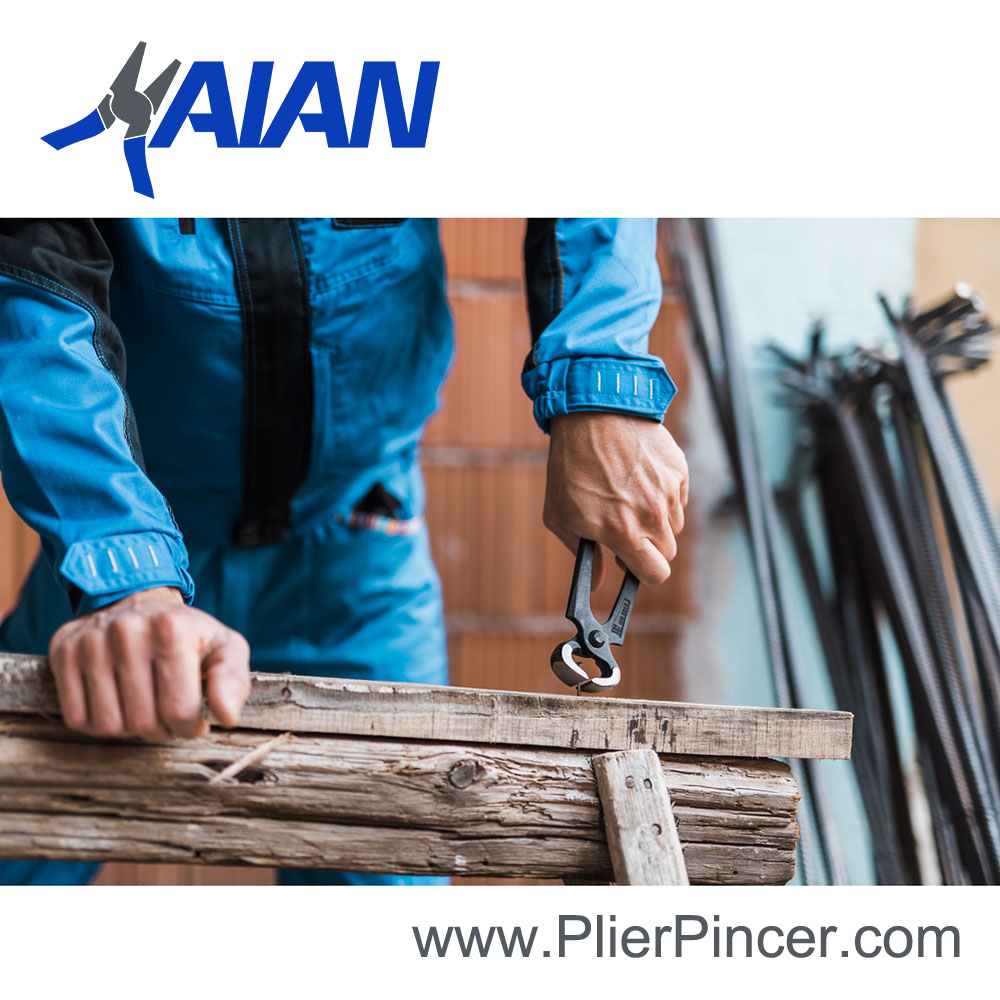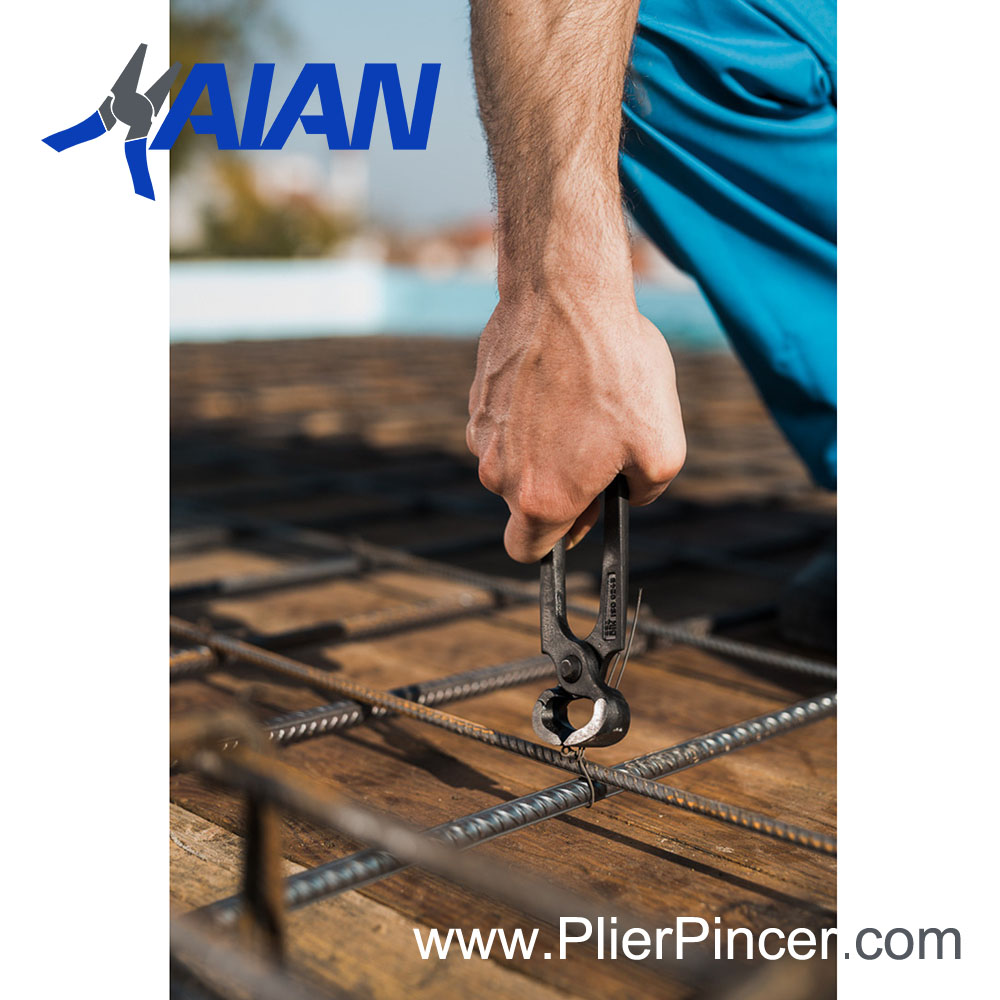 Pincers are a type of high-quality hand tool designed to provide a push, pull, cut, or twist to a variety of materials, depending on the pincer type. Pincers with a flatter, more rounded head such as carpenters pincers are ideal for pulling nails out of objects, whereas end cutters are more suited to cutting through materials due to their sharper, flatter heads. Pincers can be used with a multitude of hand tools such as hammers, pliers and snips to achieve the desired result, making them a versatile multi-tool. Like other hand tools, they are available in a range of sizes and finishes, with features such as soft grip handles for comfort and grip.
What types of pincers are there?
There is a wide range of pincer types available, all best suited to specific tasks and materials. The most common types of pincers are:
Carpenter – an ideal nail puller, allowing you to remove nails from objects without damaging the surrounding material or cutting the nail.
Concreter – perfect for twisting and cutting binding wire in one single operation, due to the hardened cutting edges.
End cutter – this type features much sharper edges with a flatter head, allowing you to cut a range of materials with ease right down to the surface.
High leverage – these tend to feature longer handles with a firmer grip and a rounder edged head, making them ideal for pulling nails out of tougher materials.
Typical Pincer Applications
Pincers (and nippers) are used in a variety of applications, from home DIY jobs to professional industrial installations. They are commonly used in:
Construction
DIY
Restoration
Automotive
What materials are they suitable with?
Depending on the material and head type, pincers can be used to cut through a range of soft wire to hard wire including copper and steel.
Tower pincer pliers. Made from chrome molybdenum alloy steel with a polished finish and vinyl coated grip.
These pincers can be used to extract nails from wood as well as cut through thin wire. These carbon steel pliers are 200mm in length and its jaws have a maximum capacity of 23mm.
Carpenters' Pincers
Carpenters Pincers
Farriers' Pincers
End Cutting Nipper
Top Cutting Pliers
Shoemakers Pincer
Material: premium plus carbon steel
Drop forged, entirely hardened and tempered
cutting edges induction hardened
Head surface finish: finely ground
Surface finish: phosphated to standard ISO 9717
Handles:  plastic dipped
made according to standard ISO 9243
Best tool for Carpenters, Nails, and More
A rugged forged steel pincer for heavy ripping. Polished flush cut jaws for getting close to a flat surface. Overall Length: 8 inches. Weight: 13 Oz. Heavy-duty, high quality, professional, and commercial-grade nippers for carpenters, nails and more.
Designed for the removal of tacks and nails from timber.
Designed for the removal of tacks and nails from timber
Soft grip handles with slip guards for user comfort
Forged from carbon steel, hardened and tempered
Hardened and tempered, high grade carbon steel for durability
Induction hardened jaws for improved performance
Ergonomic handles
With ergonomic handles and a specially designed grip, surface Unior pliers provide maximum comfort at work and high efficiency with minimum strain.
Surface protection
The pliers are made of excellent steel with special improved composition. Several models come with additional chrome surface protection.
High precision
With their perfect design and technological superiority, Unior pliers ensure a high precision hold in any instance of general or dedicated use
Standards
DIN ISO 9243 type A
Carpenters' pincers are very common and especially popular because of their robustness. Their cutting edges are positioned perpendicularly to the handles, what makes them very stable. The pincers can be rolled over the rounded head, whereby the jaws act as levers and generate a high pull-out force.
EXCELS LIKE NO OTHER TOOL AT REMOVING FASTENERS WITHOUT MARRING SURFACE
Made by Chinese leading manufacturer of pliers, nippers and cutters for industry and professional craftsmen, our Carpenter's Pincers are forged using special tool steel and oil hardened. The 1" cutting edge is additionally induction-hardened to HRC 60. The plastic-coated, straight handles are offset from the pivot joint, which compounds the gripping force. A 5/8" x 5/8" flat striking face on the side of one jaw allows the pincers to be used as a light hammer. Jaw opening capacity, 1-1/8". Overall length, 8-1/4". Weight, 14.8 oz.
Traditional tools used primarily for extracting fasteners, Carpenter's Pincers are designed to grasp, cut and pull an object with significant mechanical force. The smooth, polished face of the bullnose" head curves to a cutting edge that has been ground with minimal bevel. This design allows the very top of a nail to be grasped virtually flush with the surface, and effortlessly extracted with a very high degree of leverage. Even embedded or deformed nails are removed easily. With a hardened striking face, it is superbly suited for most construction, concrete, roofing, fencing and fabrication work.