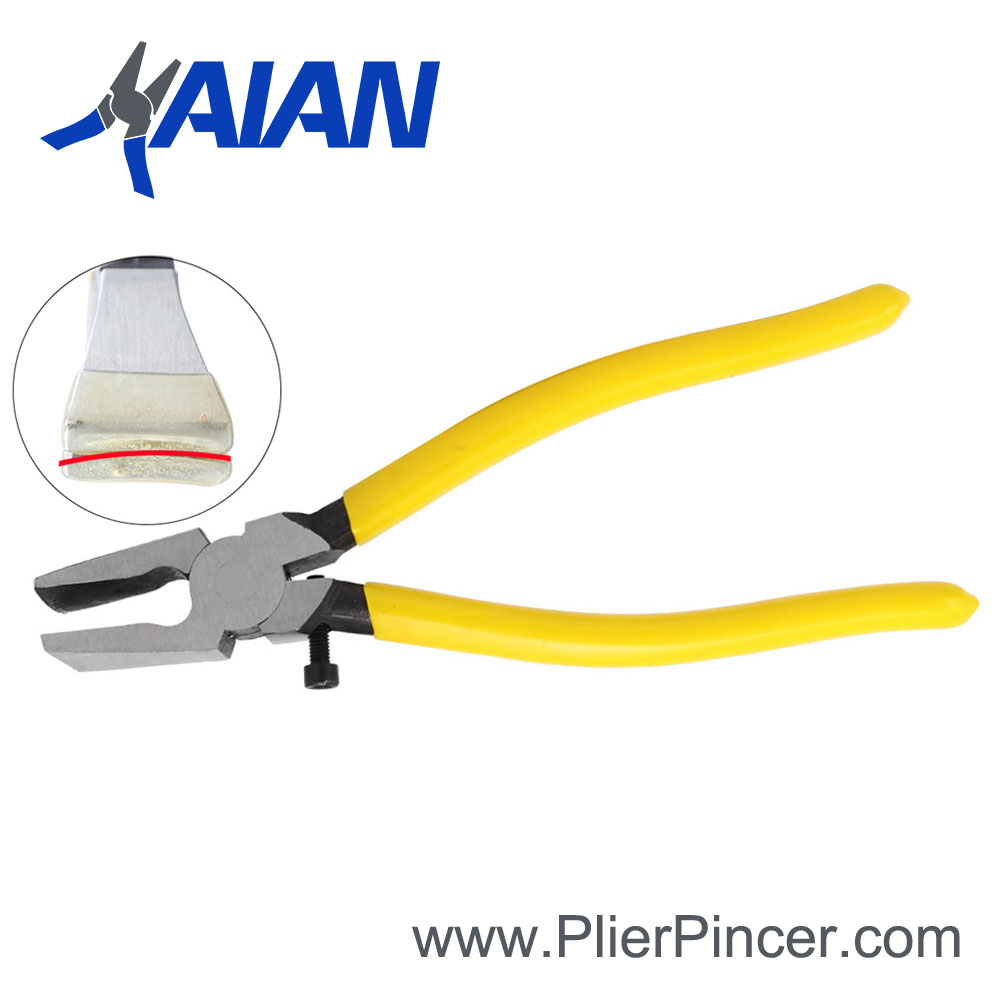 Item No.: HA2102029
Mterial: Carbon Steel
Surface Treatment: Polished
Handles: PVC Coated Handles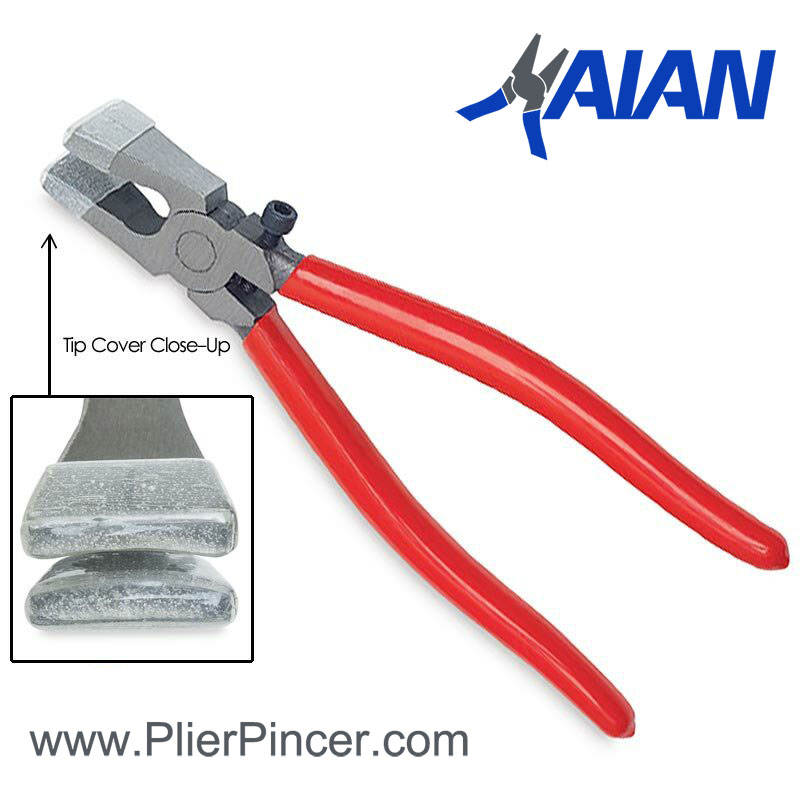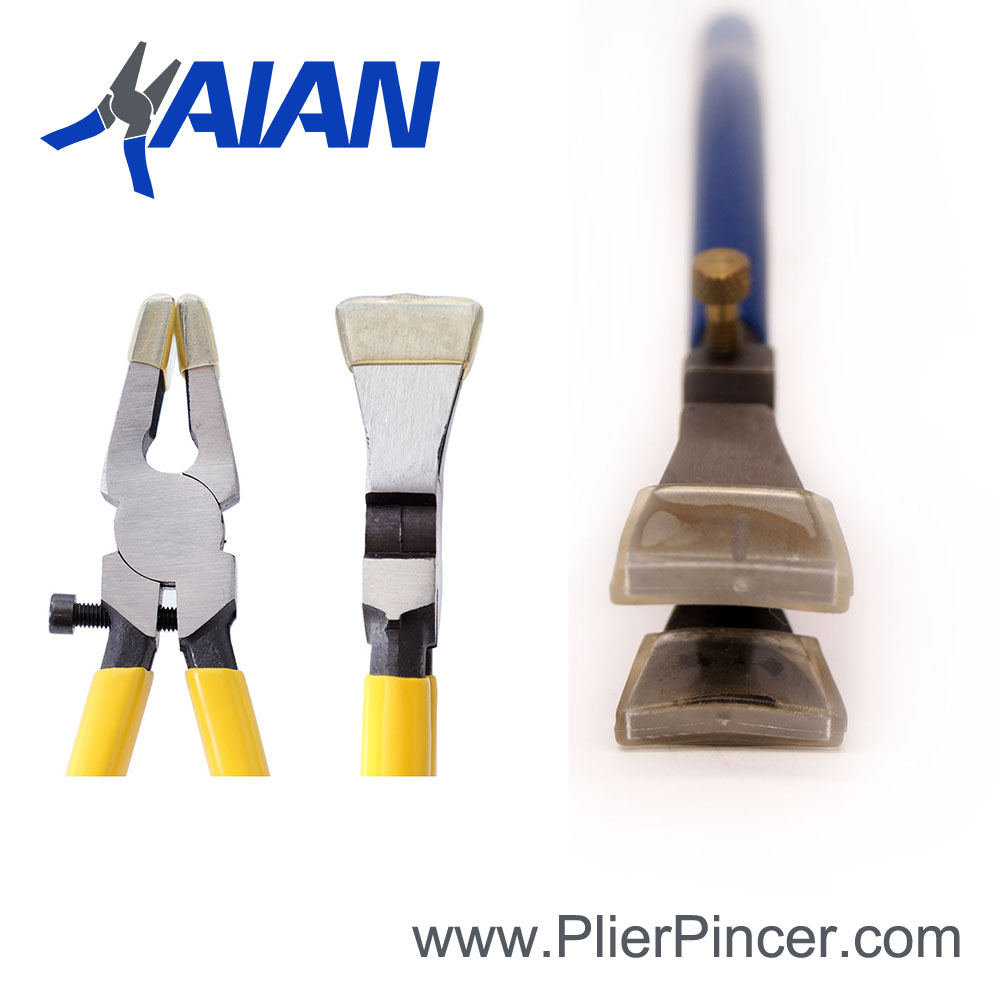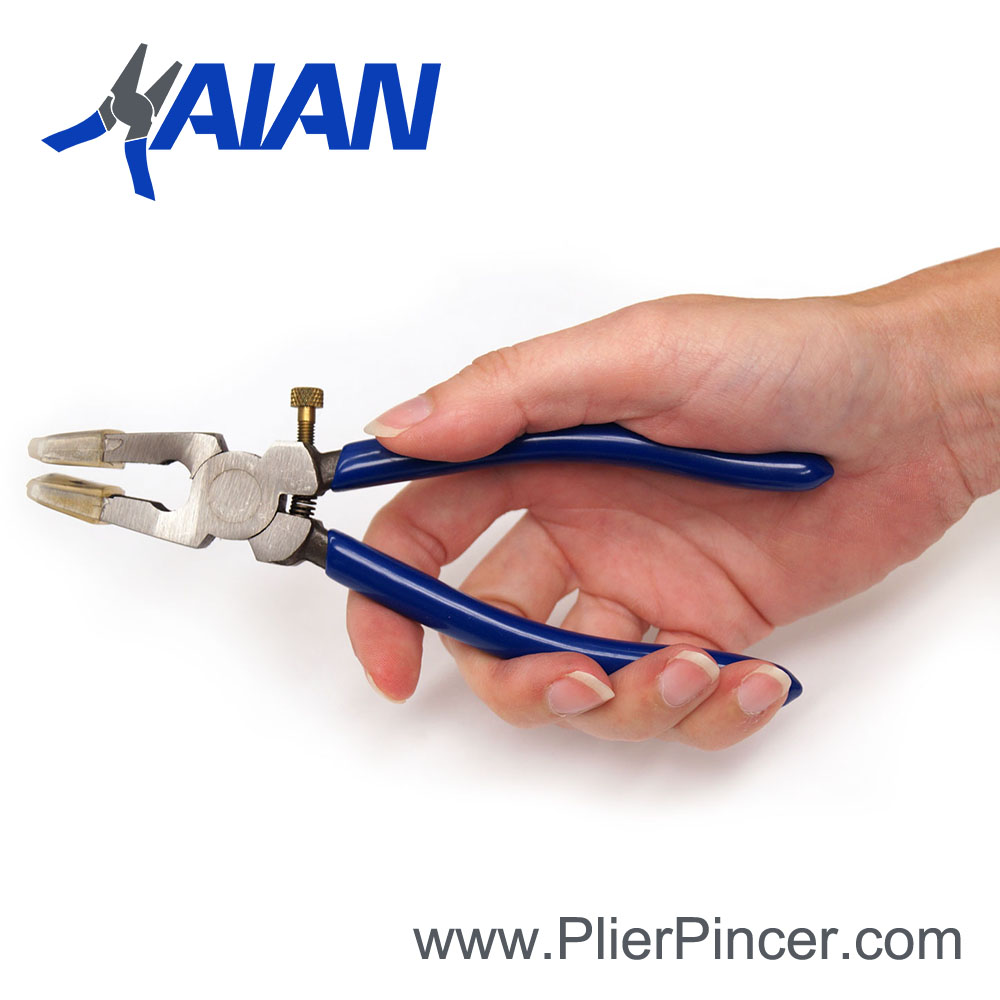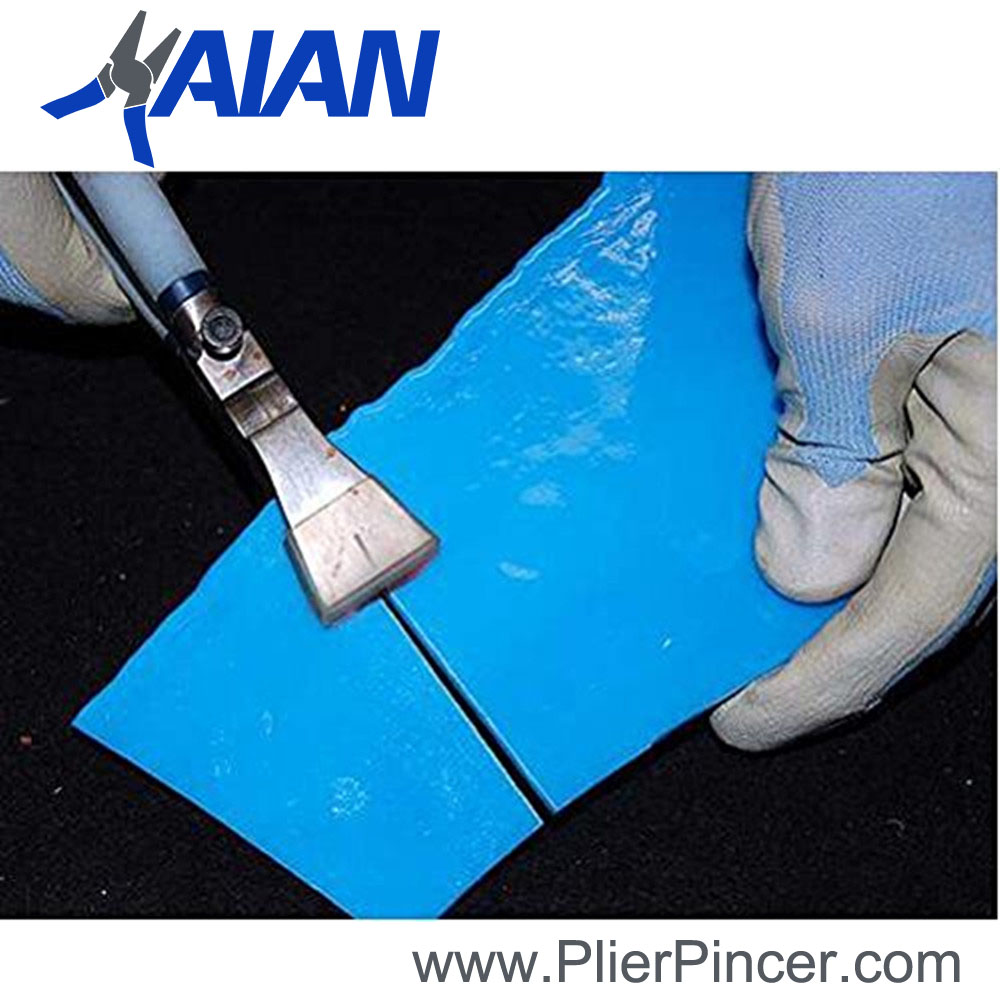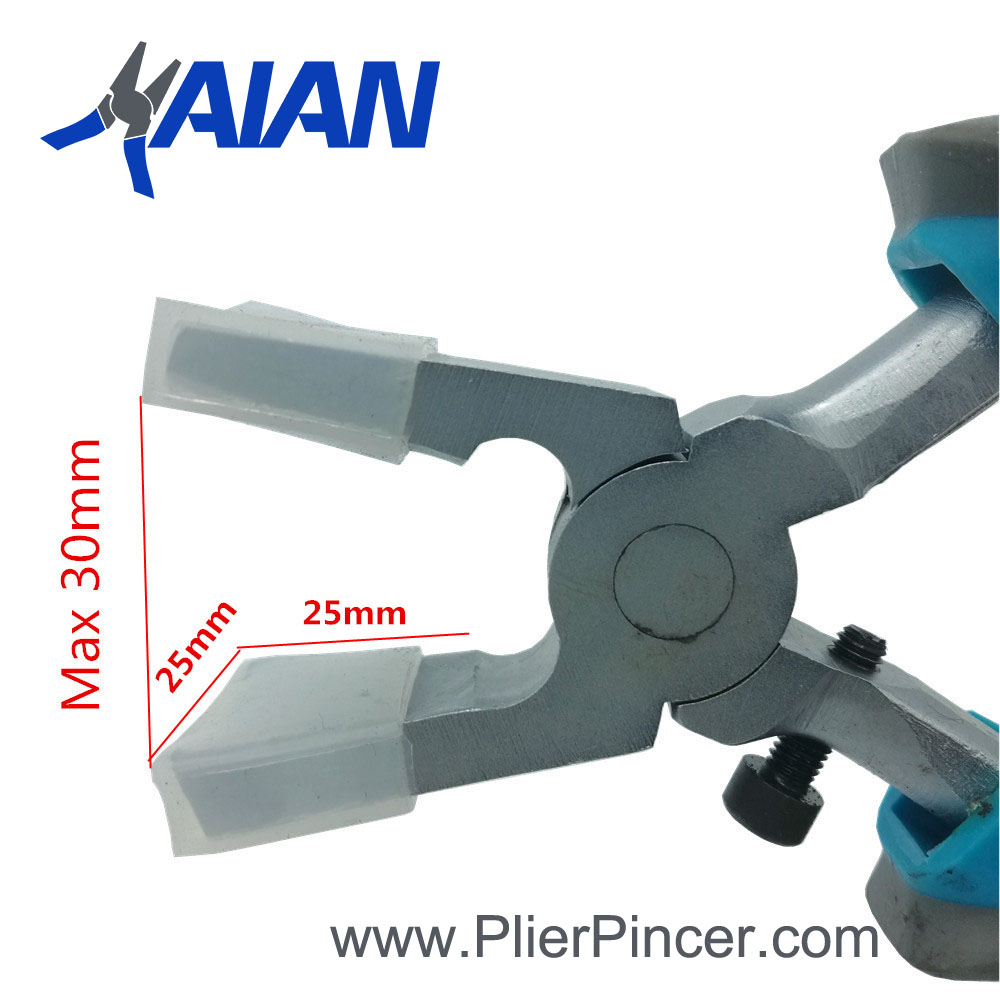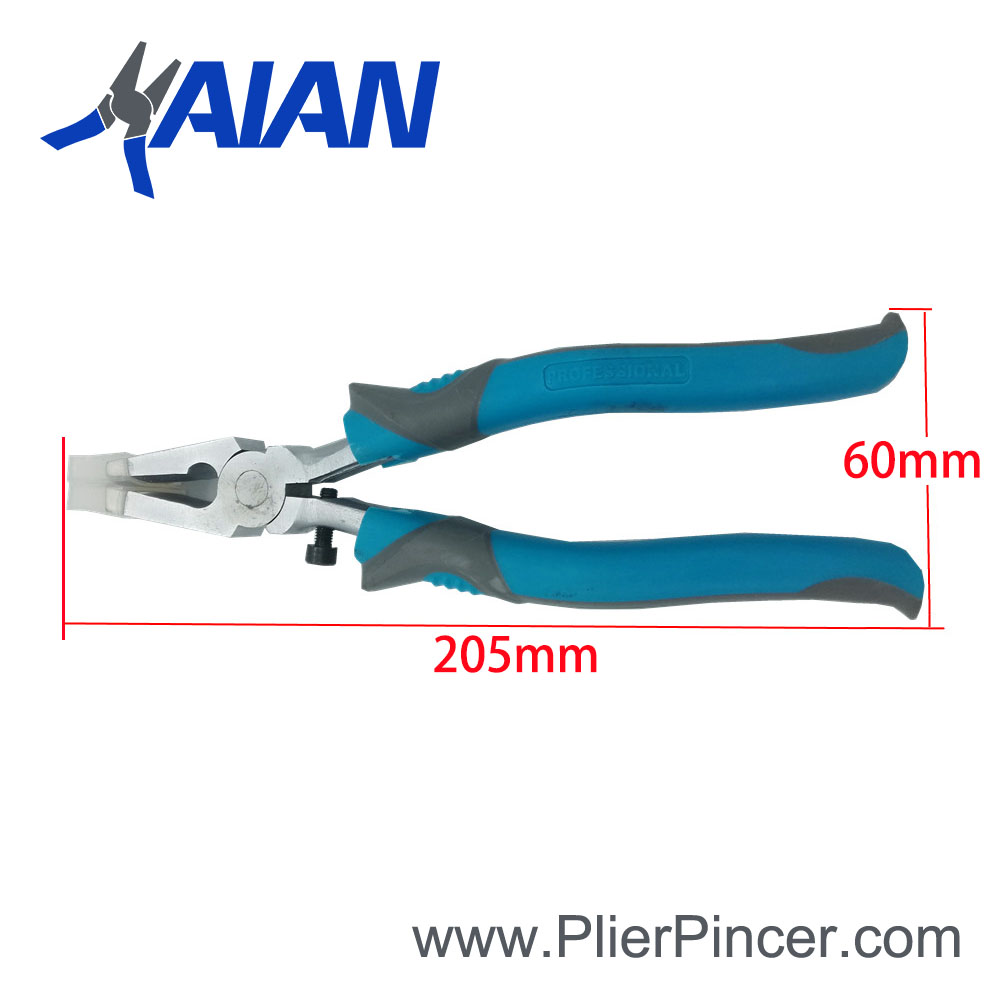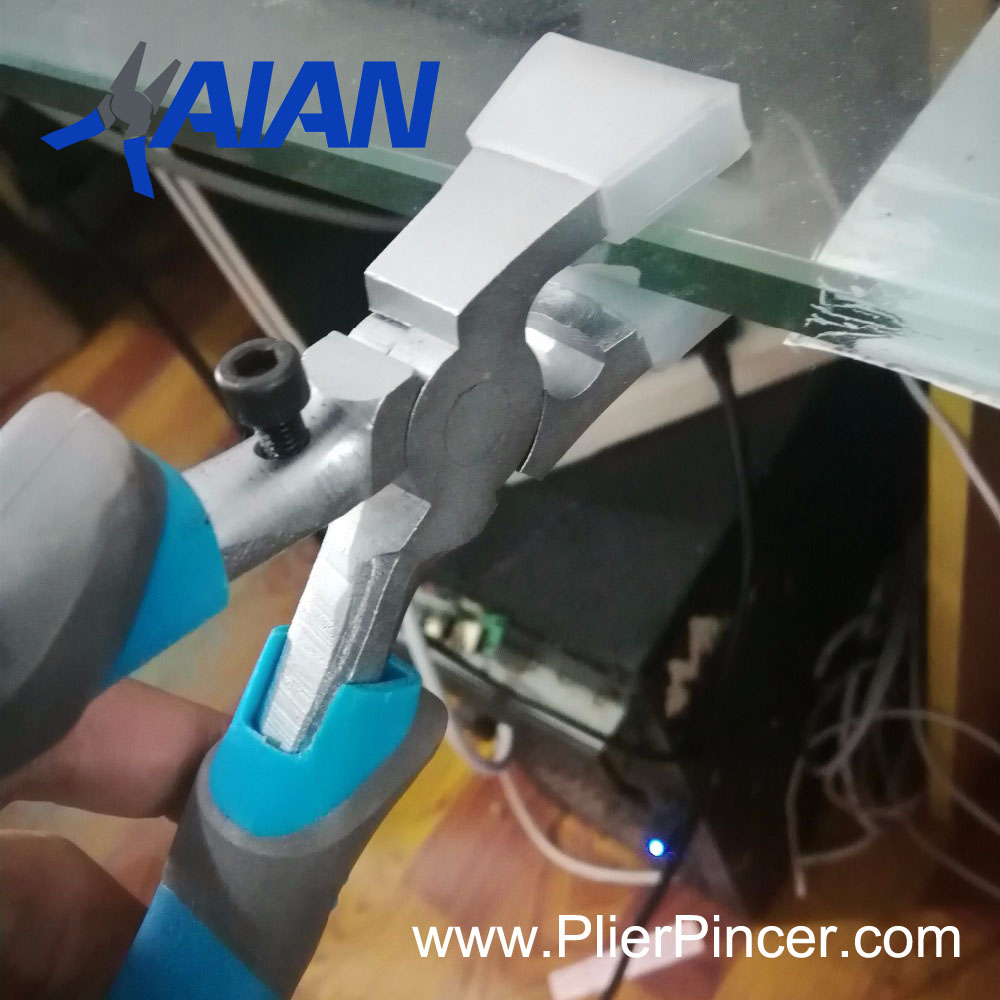 Narrow head makes breaking smaller strips easy
Adjustable set screw fits to any width of glass
Rubber, comfort grip handle
Reduce Hand Fatigue with this Essential Tool
Metal running pliers that will make you feel great and your glass cuts look better than ever! These running pliers are 6″ long, instead of the typical 8″ long pliers – they fit into your hand easier and are easy to use. They're also spring-loaded, so you don't have to open them up after every break – they open themselves! Blue grip handle, metal construction.
STAINED GLASS TOOL KIT RUNNING PLIERS BREAKING GROZING PLIERS GRIP CUTTER NON-SLIP HANDLE
Name: Handle Breaking/Cutting Glass Pliers Stained Glass Tools
Material: Carbon Steel + PVC (Polyvinyl chloride) plastic coated handle
Shape: Flat end
Features:
Uses: used for clipping glass
It features two blades with special high-frequency heat treatment and a non-slip handle. It can be used to clip glass. In addition, you can adjust the width.
Glass Tool: Running Pliers Glass Pro
Glass Tool: Glass Pro Running Pliers (Runner Pliers) are "the" number 1 most used glass tool. Replaceable Tip covers make this tool last forever! Line up the center groove over the end of your score line and gently squeeze to neatly break your glass straight cuts. Works well on gentle curves too!
Overall Size: 8 inches long (203mm) with 1 inch jaw (24.5mm)
– Running pliers are used to aid in breaking glass along a score line.
– High visibility plastic coated handle add comfort.
– The adjustable limit screw prevents crushing your glass.
– Plastic tip covers are replaceable.
NOTE: We carry the Replacement Plastic tips in a single pack or Free Ship multi-pack
Separate glass with ease
Designed for comfort, durablility and performance
Clear rubber tips allow centering mark to be seen while securing glass
Curved jaw breaks glass with ease
Excellent Quality METAL RUNNING PLIERS for Stained Glass Supply Line Plier
These are the same running pliers I use in my studio and they have given me years of quality service.
Running pliers derive their name from their unique curved jaw design which forces a score to "run" and break with incredible ease.
Just position at the end of your score line and squeeze.
The curved jaw exerts equal pressure on each side of the score so that your glass will break cleanly.
Screw adjusts to any thickness of glass.
Eight inches long with 1″ rubber coated tips.
The rubber tips are replaceable.
Plastic dipped handles over metal.
Great size and shape.
Cut running pliers from Bohle with adjustment screw.
Curved jaws Rubber sleeves to prevent marking and gently open the cut
Especially suitable for breaking narrow strips
Suitable for glass 3-8mm
Length 200mm
Jaw width 24mm
Glass running pliers are an ideal tool for breaking hard-to-break glass along score lines with ease. The grozing pliers are designed for nibbling glass away from edges.
Adjustable set screw allows you to control the amount of pressure applied, a reference line on running pliers can help you break glass quicker. Spring loaded action reduces muscle fatigue for easy one-handed operation.
Drop forged high carbon steel and heat treated for strength and durability. Bi-color TPR handles for anti-slip and comfort grip. All pliers are finished with polished surface.
Flat Nose Pliers 8"/200mm Glass Running Pliers Curved Jaws With Adjustable Screw For Clamping Glass Mirror Tile Break
Curved Jaw
Glass Running Pliers apply leverage to run the score,Separate Glass with Ease
Adjustable Screw
Controls the Amount of Pressure Applied
Rubber Cover Usage
the covers protect the glass from getting scratched or chipped
take off the rubber cover can cut off the glass
Anti-slip Handle
Comfort Grip, Reduce hand fatigue
Swpeet Heavy Duty Key Fob Pliers Tool, Metal Glass Running Pliers with Curved Jaws, Studio Running Pliers Attach Rubber Tips Perfect for Key Fob Hardware Install and Stained Glass Work
– WITH RUBBER TIPS —— The rubber tips provide protection to avoid scratching your key fob hardware. With plastic tip covers on the jaws, the covers protect the glass from getting scratched or chipped from the tool itself Comfortable Premium Grips and the Rubber Tips to Help Secure Glass, Curved jaws apply leverage to run the score reducing hand fatigue.
– HIGH QUALITY —— Adjustable set screw allows you to control the amount of pressure applied, set screw is easy to adjust, and properly tapped; you can use them on different thicknesses of glass.
– GREAT VALUE ——- Great tools is not only for glass fusing, breaking small pieces of glass for crafts, cutting glass for window panes and for most glass projects. But aslo Install Key Fob Hardwar easily.
– WORKING WELL ——- The tool install Glass working well, Running Plier Jaws act as a fulcrum where pressure is applied evenly on both sides of a score line, running the score through the glass. Runnering pliers work best on straight cuts, do well on gentle curves too.
– 100% Satisfaction Guarantee —– A perfect gift for the beginner or the serious stained glass artisan or need to install Key Fob hardwar. If you are not satisfied with any of our goods, you can contact us at any time, we will help you solve all your problems as soon as possible.