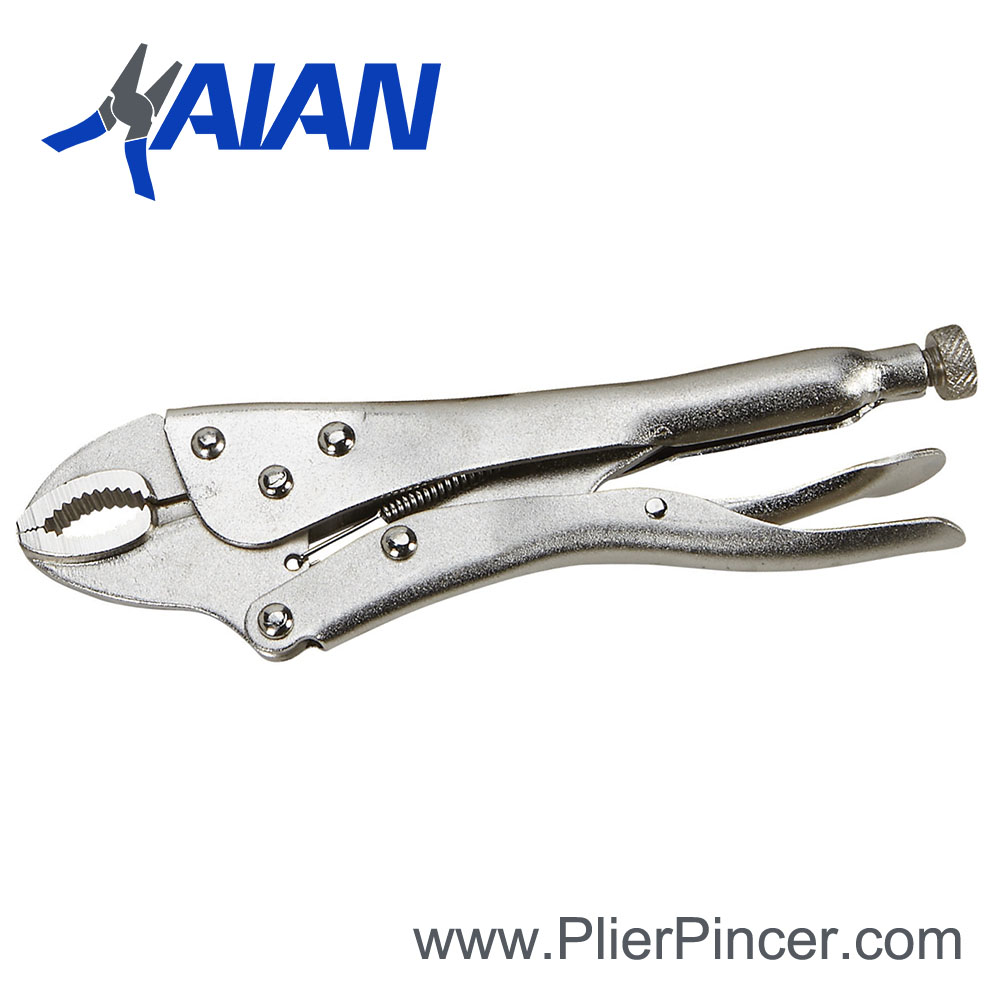 Item No.: HA2101028
Optional Size:5″ 7″ 10″
Optional Material: Chrome Molybdenum Alloy Steel, Chromium-vanadium Steel, Carbon Steel
Optional Surface Finishing: Nickel Plated, Blacked, Epoxy Resin Surface Coating, etc.
Standards: Manufacturing according to ASME B107.500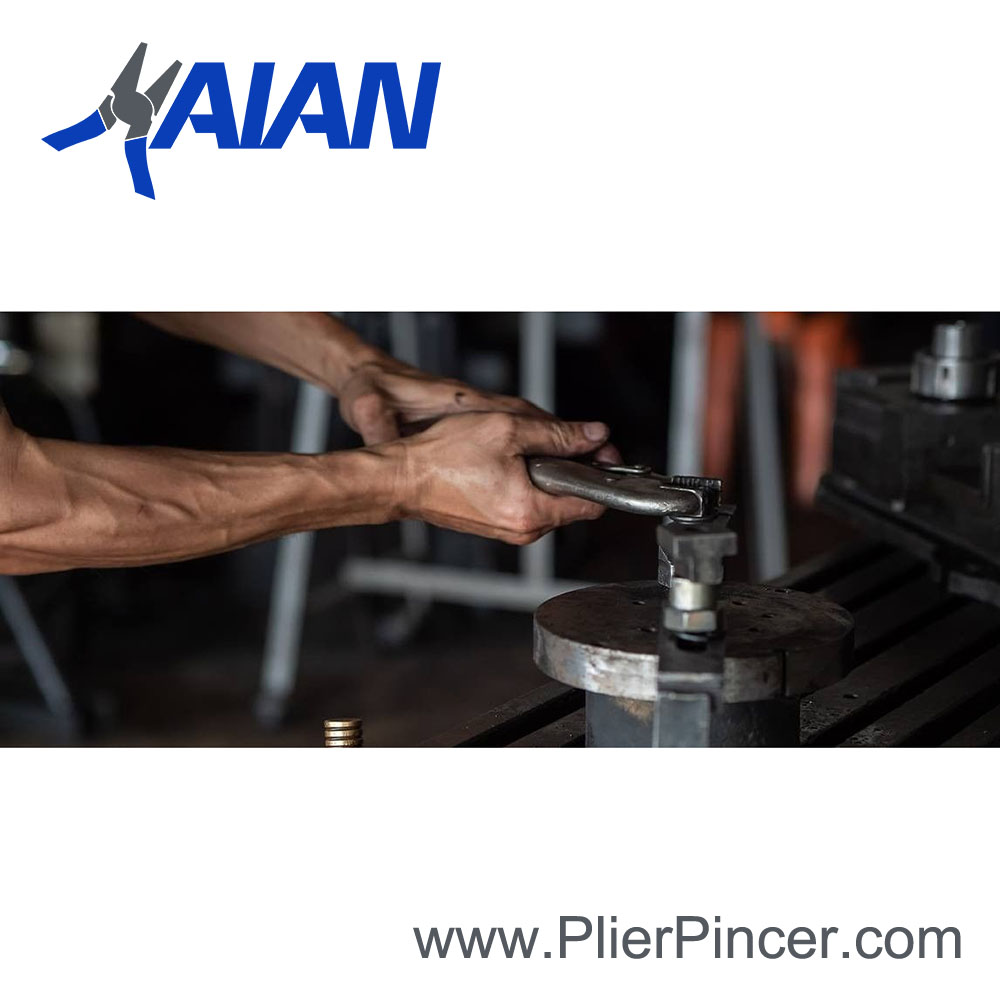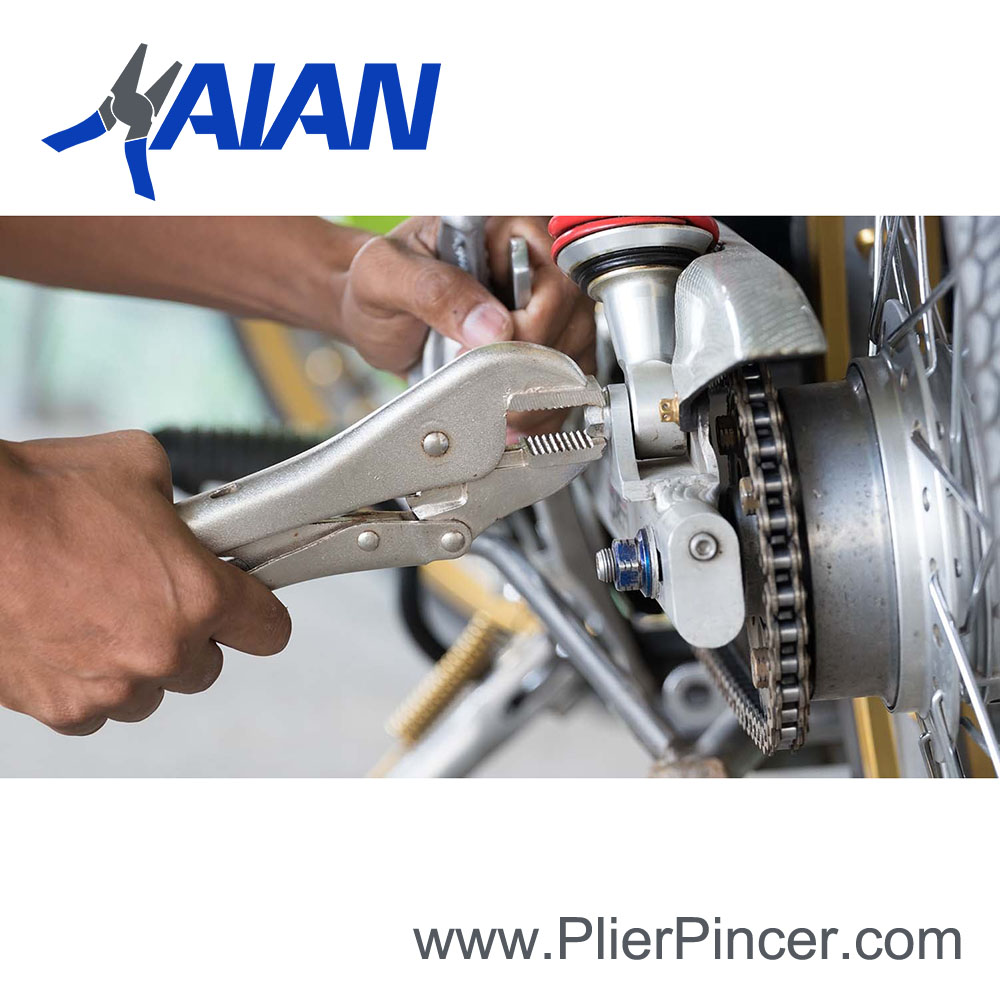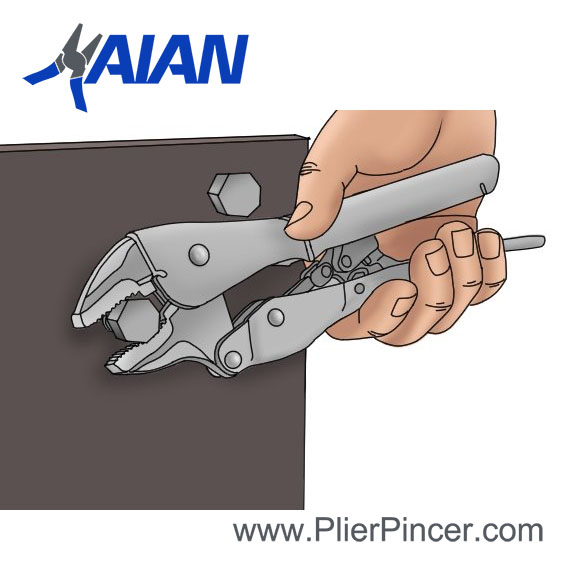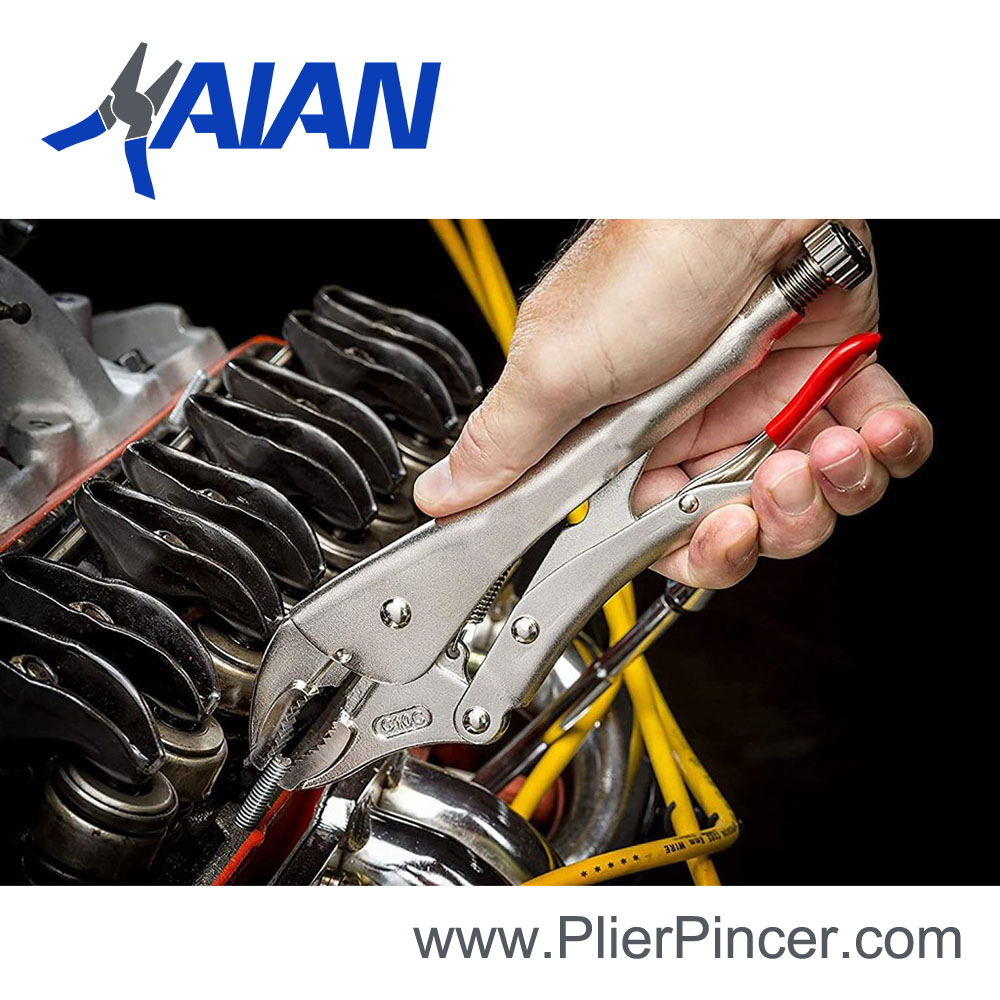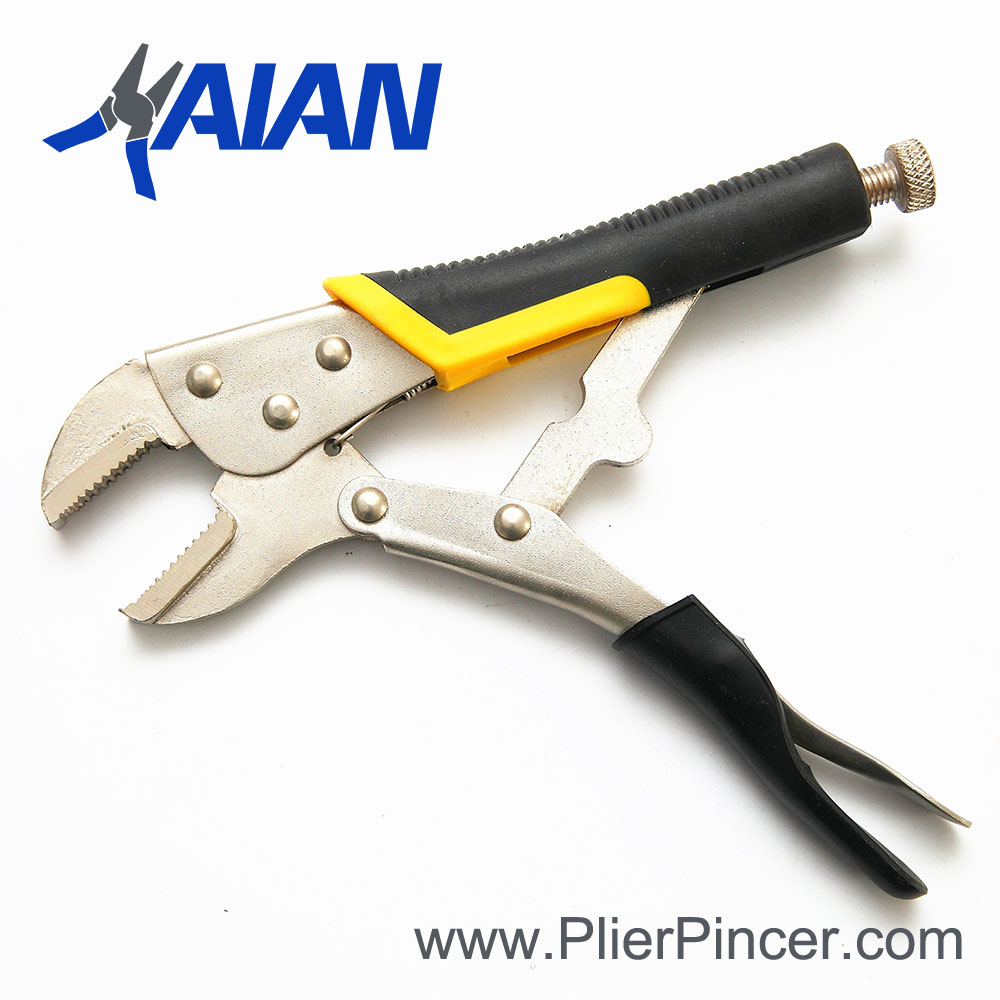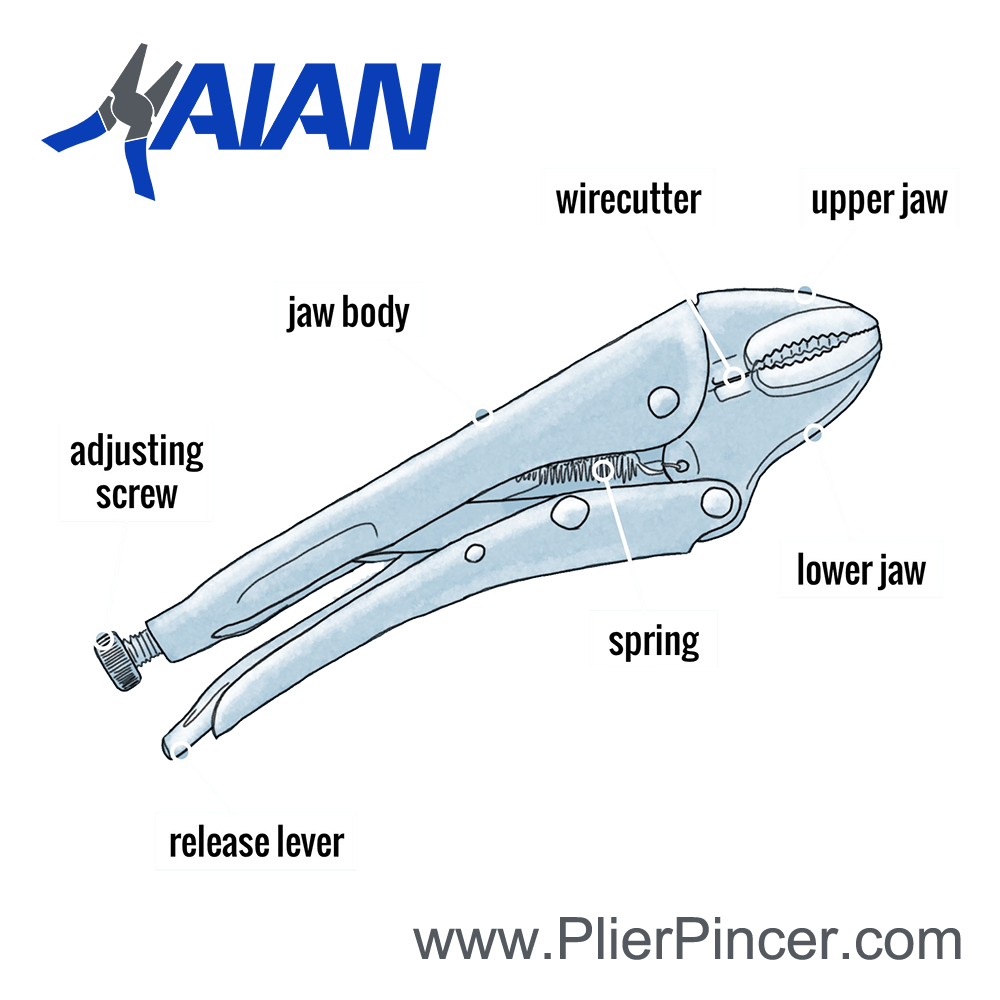 Locking Pliers with Wire Cutter, Curved Jaw
Curved jaw with hardened teeth are designed to grip a variety of shapes from any angle
Classic trigger release provides maximum locking force
Includes wire cutter for more versatility
Constructed of high-grade heat-treated alloy steel for durability
Hex key adjusting screw tightens to adjust pressure and draw materials together for a controlled releaseSecure Grip From Any Angle
Secure Grip From Any Angle
The hardened teeth on the curved jaw of these pliers are designed to grip a variety of shapes tightly from any angle.
Guarded Trigger Release
Pliers stay securely locked until released with just a touch of the classic guarded trigger.
Adjustable Pressure
A turn-screw fine-tunes pressure to fit work and stay adjusted for repeated use.
Curved Jaw Locking Pliers with Grip hold stronger and longer. Built with rugged chrome moly steel these curved jaw locking pliers are designed to be the hardest working tools in your kit. With a super strong locking mechanism and ultra durable rust resistant nickel plating, HAIAN locking pliers are built to last.
One-handed Speed Release mechanism for easy quick-release and repositioning
Comfortable anti-pinch ergonomic grip
Curved jaw maximizes pressure points for professional clamping force
Forged and hardened alloy steel jaw with wire cutter
1/4 in. square drive thumbscrew design easily adjusts clamping pressure
Ultra-durable and rust resistant nickel plating
Locking Pliers have an easy release handle for a one-handed operation with no pinch. The multi-zone bi-material grips allow for dedicated comfort and secure grip zones. Made of high grade heat-treated alloy steel for strength and durability.
ONE-HANDED OPERATION: With easy-release mechanism
COMFORT AND CONTROL: Multi-zone bi-material grips
STRENGTH AND DURABILITY: Made of high grade heat-treated alloy steel
ADJUSTING SCREW: Controls the jaw opening and locking pressure
Curved jaw with built-in wire cutter great for a variety of applications and material shapes.
Classic trigger release provides maximum locking force.
Convenient wire cutter included
Constructed of high-grade heat-treated alloy steel for maximum toughness and durability.
Hardened teeth are designed to grip from any angle.
Hex key adjusting screw tightens to adjust pressure and draw materials together and provides a controlled release.
Product Summary
Locking pliers — The Worlds Most Versatile Hand Tool! The classic pliers with the bolt in one "leg" that lets you adjust the opening and lock onto your work with a powerful grip! Instant release lever. Cuts wire. Pulls nails and hinge pins. Holds and turns nuts and bolts. Grips objects for sawing and filing. Dozens more uses.
Features + Benefits
Curved jaw puts tremendous pressure on four points of any style nut or bolt head
Ideal for tightening, clamping, twisting and turning
Turn screw to adjust pressure and fit work
Stays adjusted for repetitive use
Constructed for maximum toughness and durability
Guarded release trigger quickly unlocks and protects from accidental release
Hardened teeth are designed to grip from any angle
Convenient wire cutter cuts up to a 1/4in. bolt
| | | | |
| --- | --- | --- | --- |
| Item No. | Jaw Capacity | Model | Size |
| HA210128-10WR | 1-7/8″ / 48 mm | 10WR | 10″ / 250 mm |
| HA210128-7WR | 1-1/2″ / 38 mm | 7WR | 7″ / 175 mm |
| HA210128-5WR | 1-1/8″ / 29 mm | 5WR | 5″ / 125 mm |
How to Use Locking Pliers?
The first patent for locking pliers was filed by Danish immigrant William Petersen in 1921. Petersen, a failed farmer, was having a go at being a blacksmith when he realized that his job would be easier if he had a tool that held the pieces he was working with in place. And at that moment, a new tool was born.
What Are Locking Pliers?
There are several different types of locking pliers today. One distinguishing feature is the mechanism by which the pliers lock in place. Some locking pliers rely on a screw to tighten the grip of the pliers. This type is the most similar to Petersen's original design, which eventually came to be known as the Vise-Grip wrench.
What Are Locking Pliers Used For?
Blacksmiths are known for making tools (and things like swords and shields, too). So it's fitting that the inventor of the locking pliers would be a blacksmith. Petersen found the tool useful for holding metal pieces in place while applying heat to them. Today, there are a few different types of locking pliers and they have multiple uses. Here are a few:
C-Clamp Pliers
As its name suggests, this type of pliers closes its jaws into a C-shape. They're often used to hold wood or metal pieces together and are common in carpentry or welding.
Curved-Jaw Pliers
Curved-jaw pliers (usually a type of round-nose, meaning that the jaws are rounded over the edges), have a curve-shaped inner jaw that closes in a cylindrical shape. They're ideal for holding things like pipes in place. The inner sides of the jaws can be smooth or serrated.
Straight Jaw Pliers
Available as long-nose or flat-nose (and sometimes round-nose), straight jaw pliers can also have smooth or serrated inner jaws. But unlike curved-jaw pliers, they're designed to close over flat surfaces.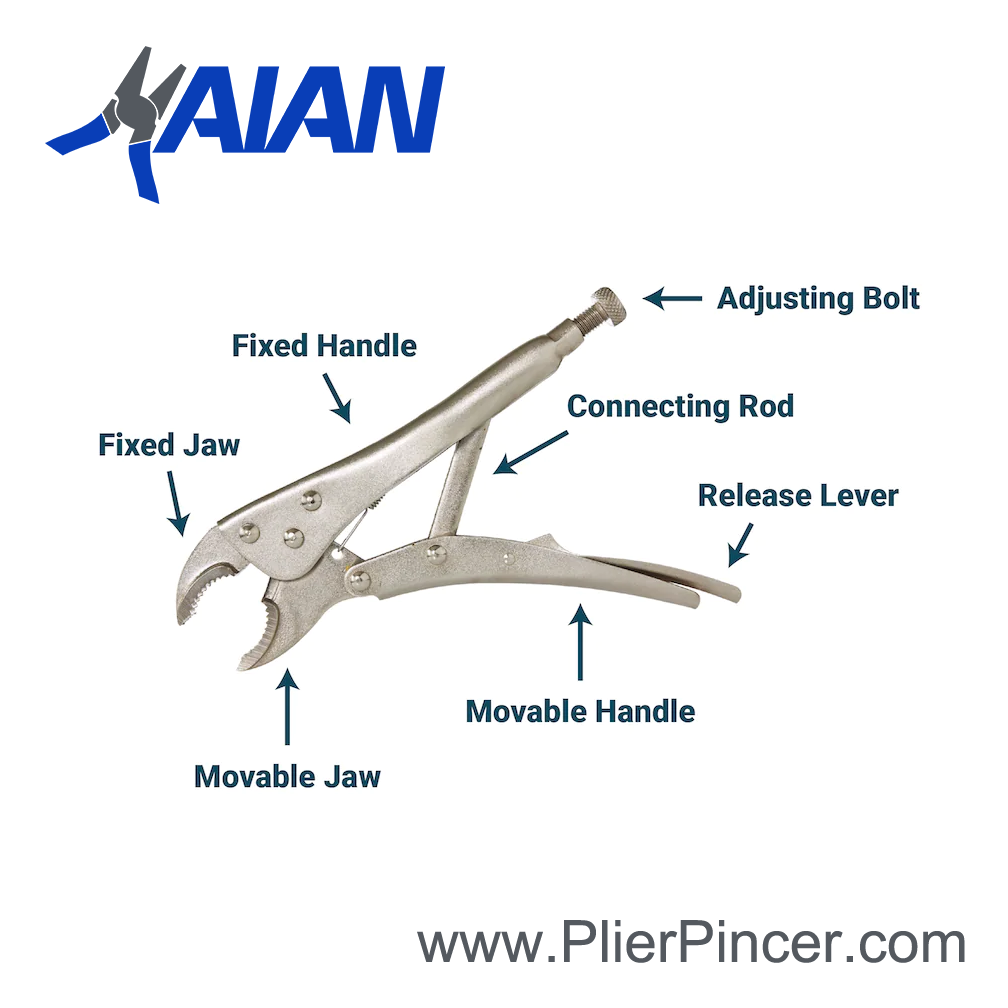 How Do Locking Pliers Work?
There are a couple of different mechanisms that enable locking pliers to lock. The original design requires a screw at the bottom of one handle to lock the handles in place. This is typically the type of tool people are referring to when they say Vise-Grip pliers. More updated versions of this same idea have also added a pivot, allowing the handles of the pliers to be adjusted to smaller or larger widths.
A second type of locking pliers relies in part on a spring to automatically lock the pliers in place. Learning how to use this type of locking pliers is even simpler, and often designed to work one-handed.
How to Use a Locking Pliers
How you use locking pliers depends on the type of pliers you are using. But the basics mostly remain the same. Determine which part of an item you want the pliers to lock on to. When using them as clamps—to let glue dry, for example—consider putting them directly over the part that you want to stay permanently intact. Consider using C-shaped locking pliers if you may need space around the pliers to continue sanding or working around the area.
When using curved-jaw pliers, make sure the jaws of the pliers are wrapped securely around the cylindrical object you're working with. For flat-surface pliers, find an area to grip where the pliers can be pulled at without slipping off. Once the pliers are secure (if you're using Vise-Grip-style pliers), squeeze both handles together with one hand and then use the other hand to tighten the screw at the bottom of the handle. The screw is properly tightened when you can pull at the pliers without them budging.
With auto-lock pliers, simply position the pliers in place and squeeze the handles together. On this type of locking pliers, there is usually a lever release at the bottom of one of the handles to unlock the grip.
Figuring out the best pliers for the job will help you get the most out of your pliers. That said, throughout history people have been quite creative with how they use their pliers (thanks to their multipurpose function). From jewelry crafting to nail-removing and even taking a hot pan off the stove (that one gets extra points for creativity), locking pliers tend to be an essential tool for most handy people and are as common in tool boxes as wire cutters, hammers, and screwdrivers.