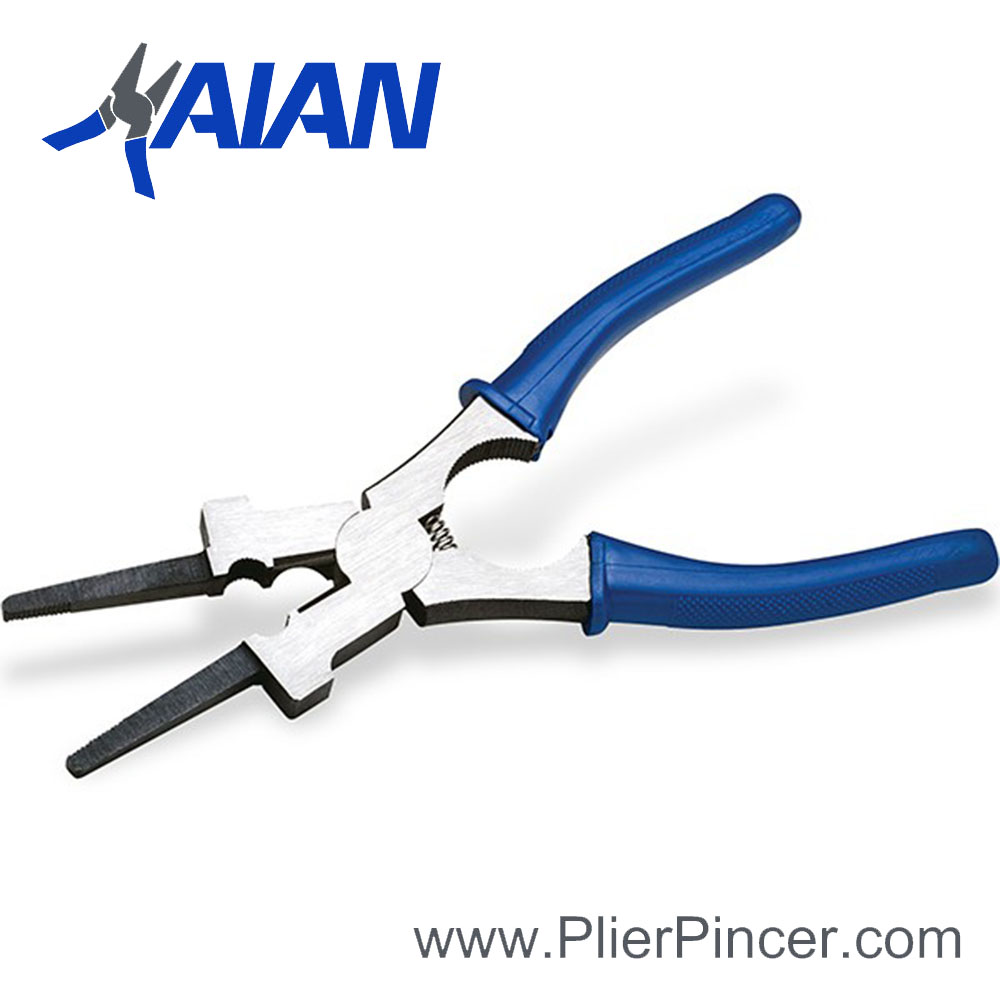 MIG Welding Pliers | MIG Gun Pliers
Item No.: HA210920
Standard: DIN 5254 & DIN 5256, ASME B107.19
Size: 7″ | 8″
Optional Material: Carbon Steel, Chromium-vanadium Steel
Optional Finishing: Black and Polished, Nickel Plated, Chrome Plated
Handles: PVC Dipped Handles
Optional Packaging: Blister Card, Double Blister, Plastic Hanger
Features: The forged construction provides high strength for durability and long life. Durable, rolled precision tips. Die forged cylindrical precision formed. Perfect for removes and installs externally placed retaining rings, widely applied for the fixed bearing or hole bearing in machinery industry, such for bicycles, motorcycle, farm machinery.
These 6-in-1 MIG welding pliers are easy to grab and use with a glove friendly ergonomic grip. The spring-action handle lets you use these MIG pliers with one hand. Remove spatter from the nozzle inside and out, clean the nozzle's end, draw and cut wire, remove and install tips, nozzles and insulation bushings – even use them as a hammer.
Durable drop forged steel construction.
Spring-action for easy one-handed use.
Glove-friendly ergonomic grip.
Aggressive teeth on nose and pipe jaws for secure hold.
6-in-1 functions: grip, hammer, install, clean, cut, pull.
MIG Welder's Pliers make your welding tasks a whole lot easier
Squared-off, spring-loaded tips remove spatter.
Knurled surfaces hold tips and nozzles for installation.
Built-in wire cutter.
Comfortable rubberized handle.
Must-Have for your welding cart.
Specially-designed nose for efficient removal of welding spatter.
Induction-hardened cutting edge stays sharp longer.
Multiple jaws for drawing out wire and removing of installing tips and nozzles.
Hammer designed for light welding gun maintenance.
Spring-loaded for ease of use.
Dipped grips for superior comfort.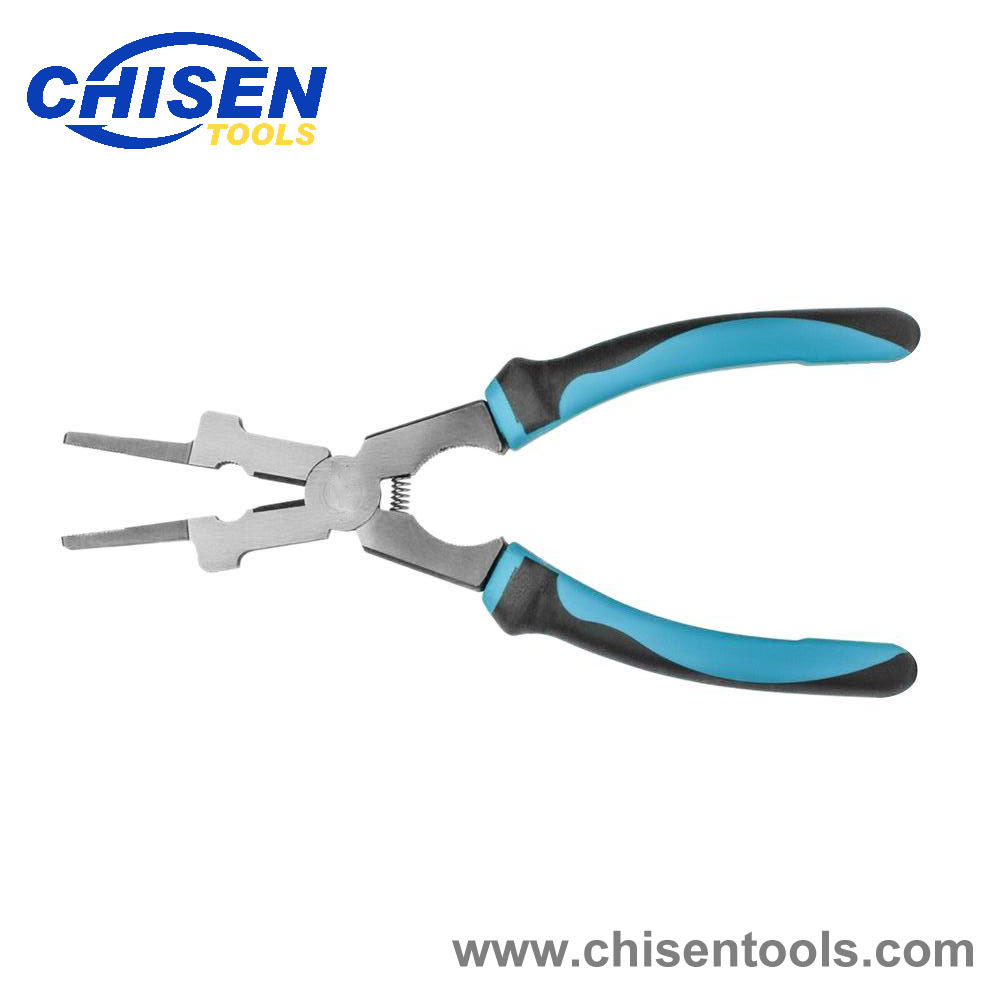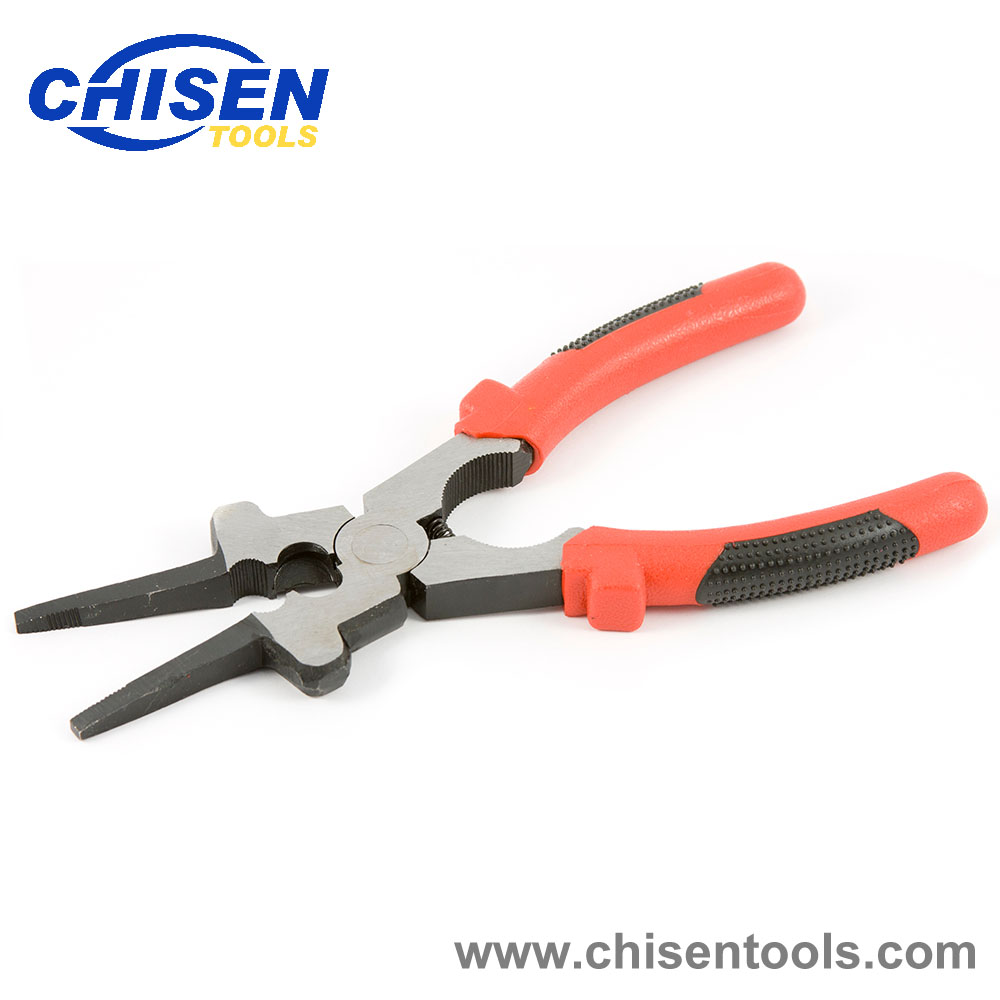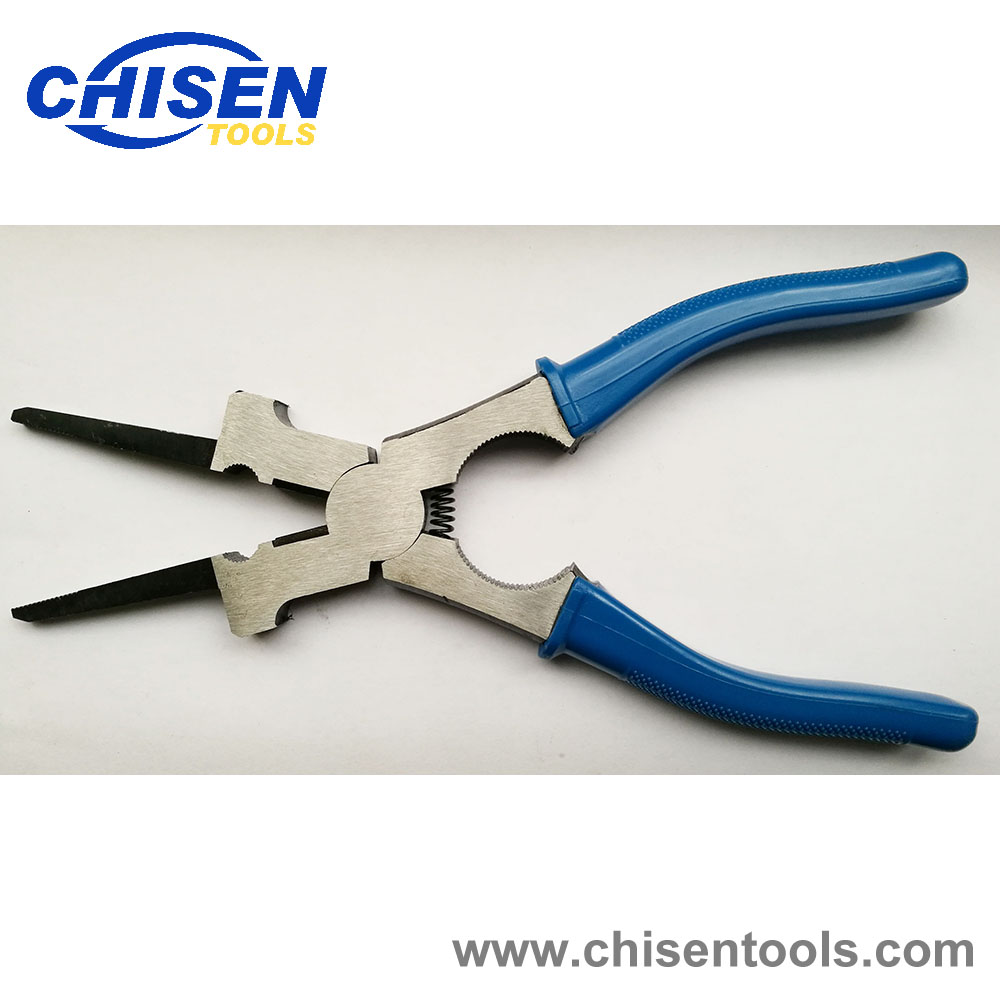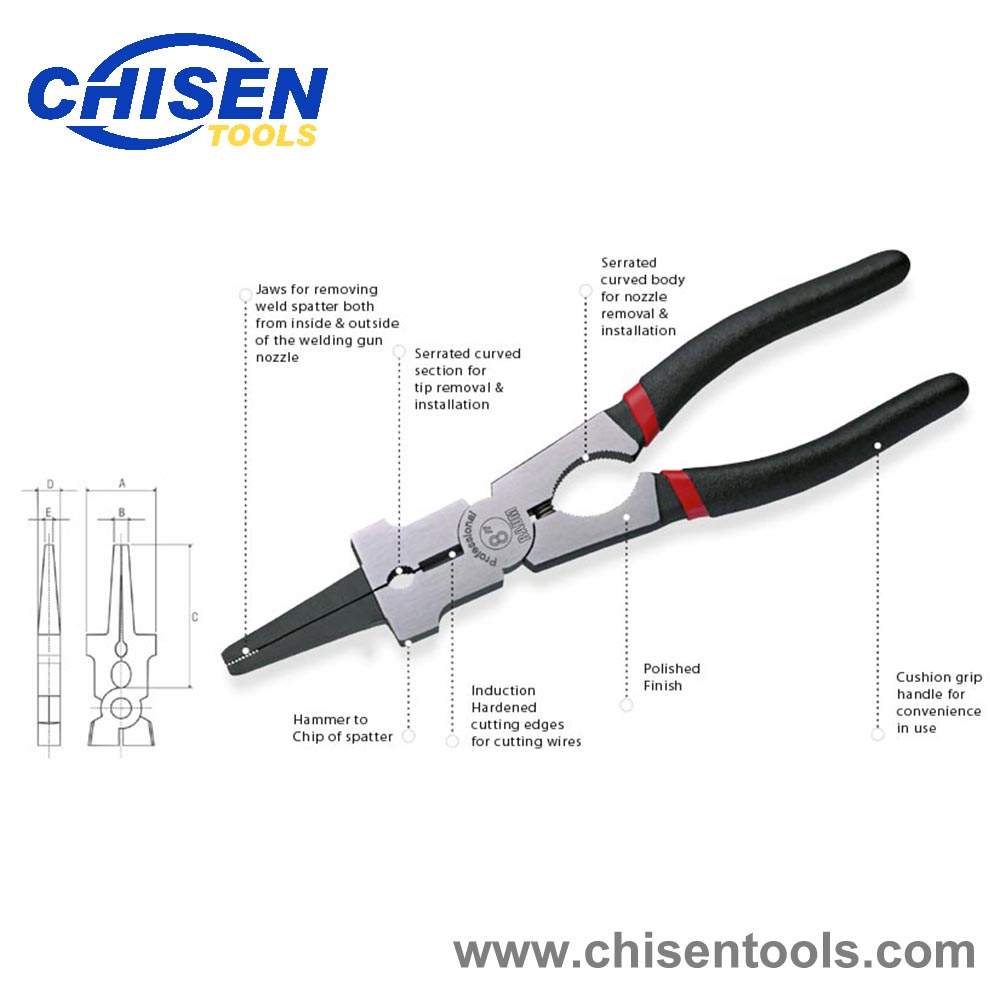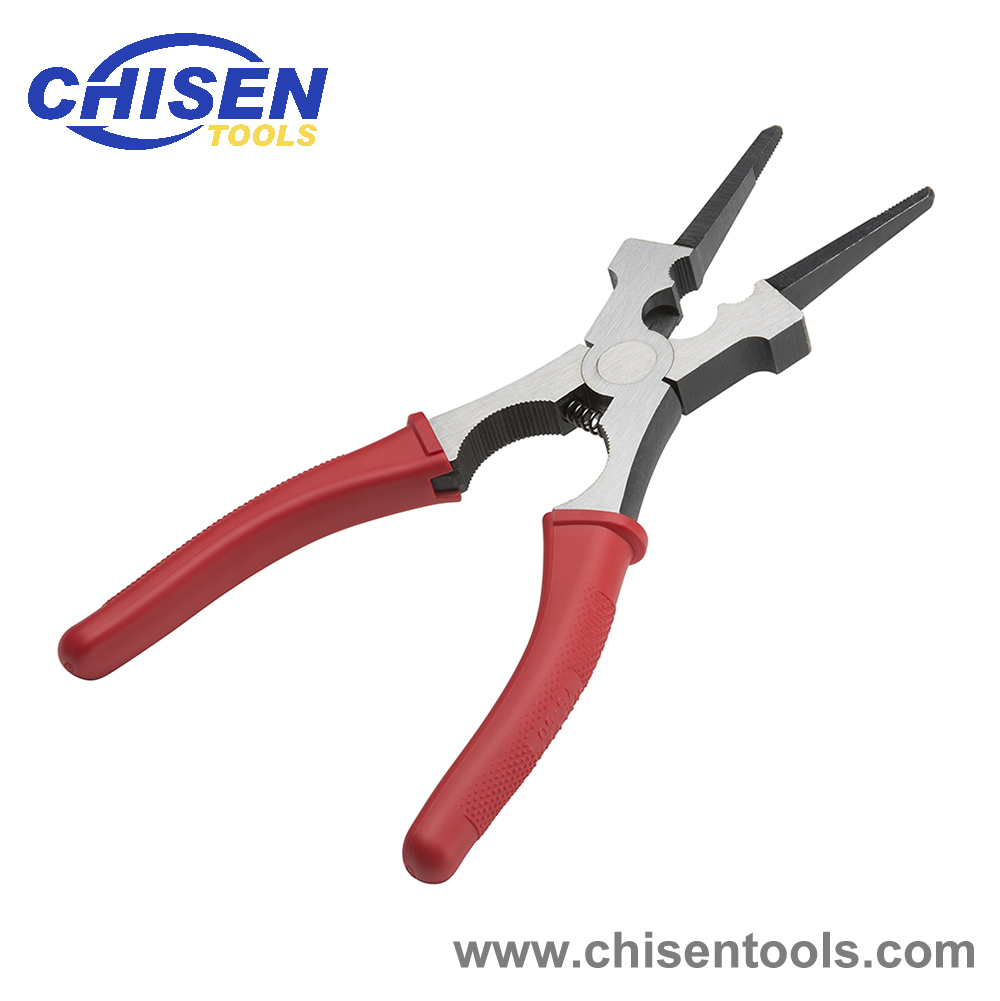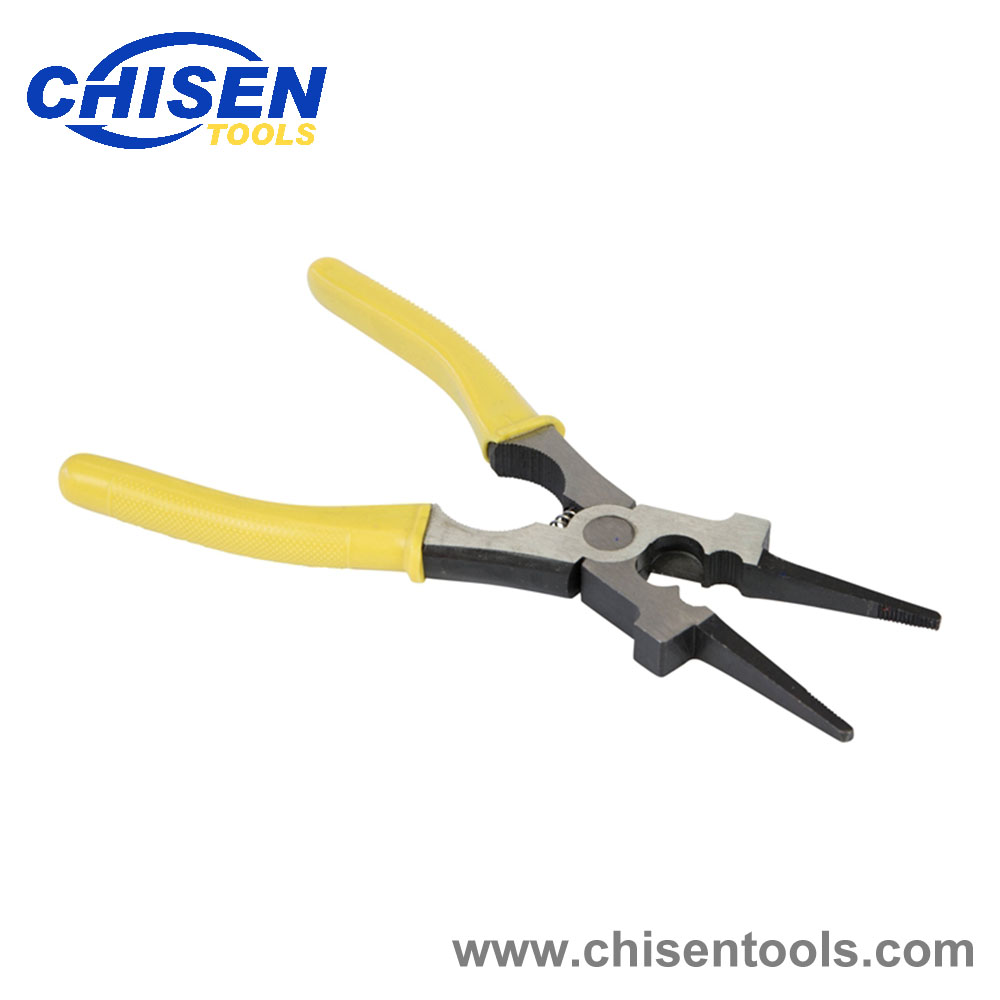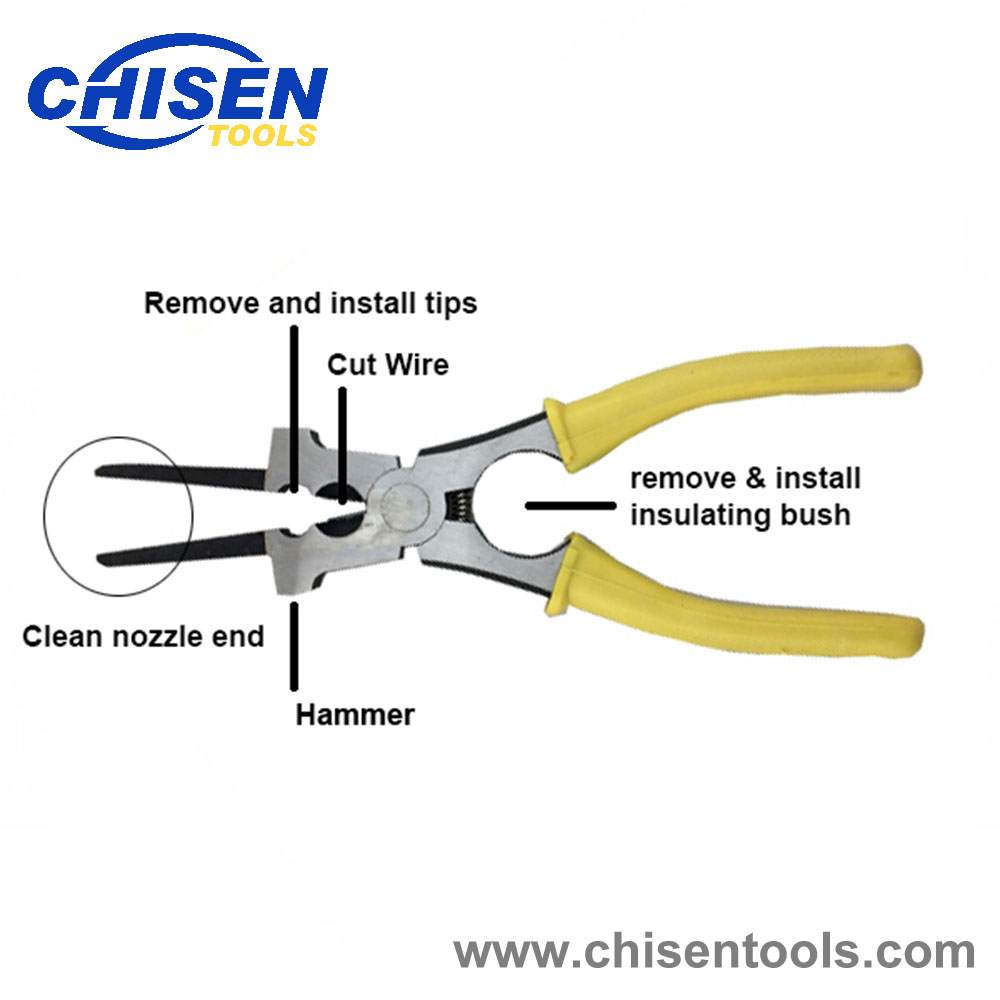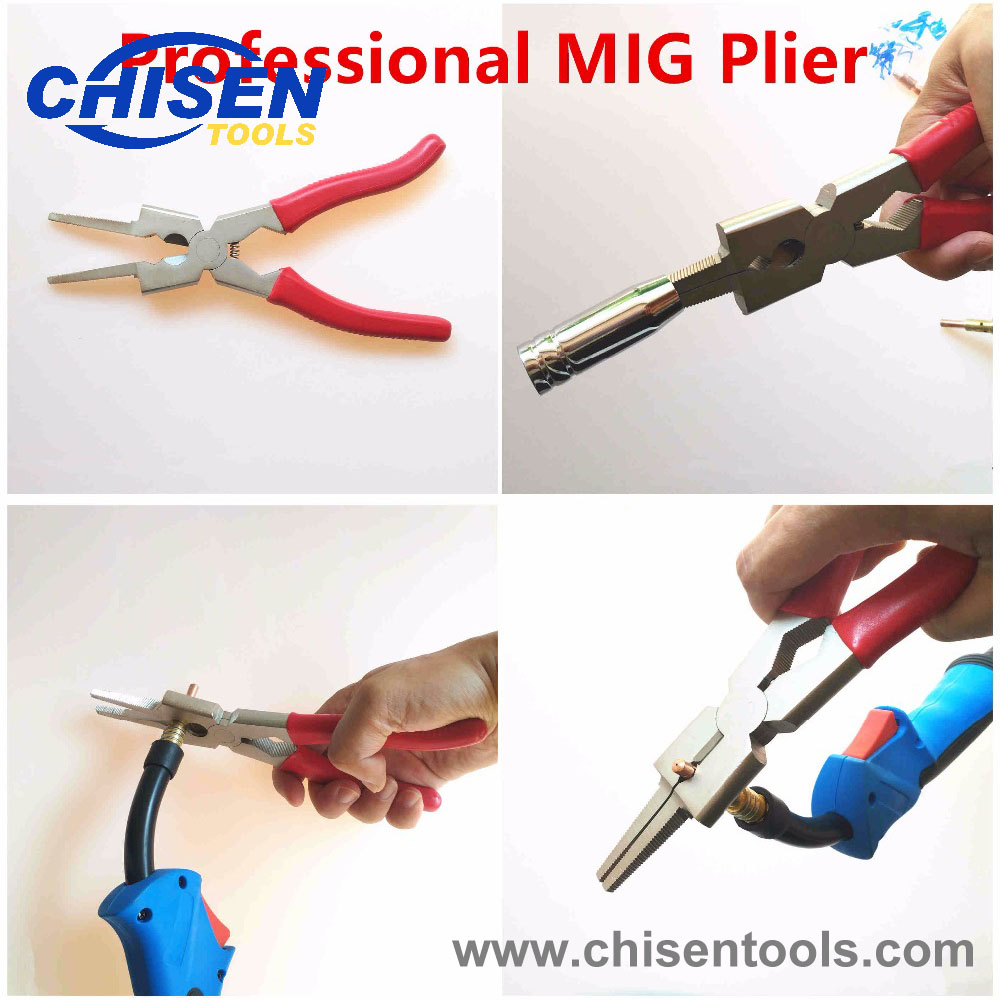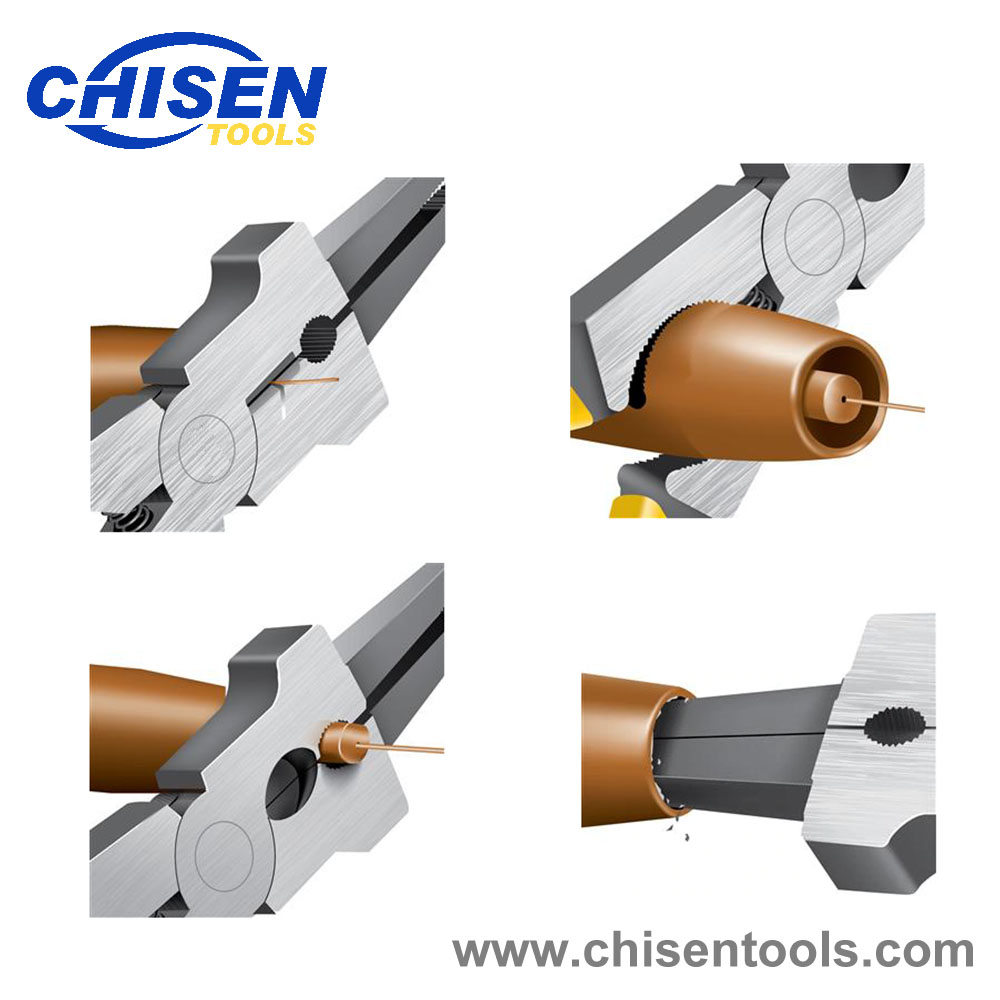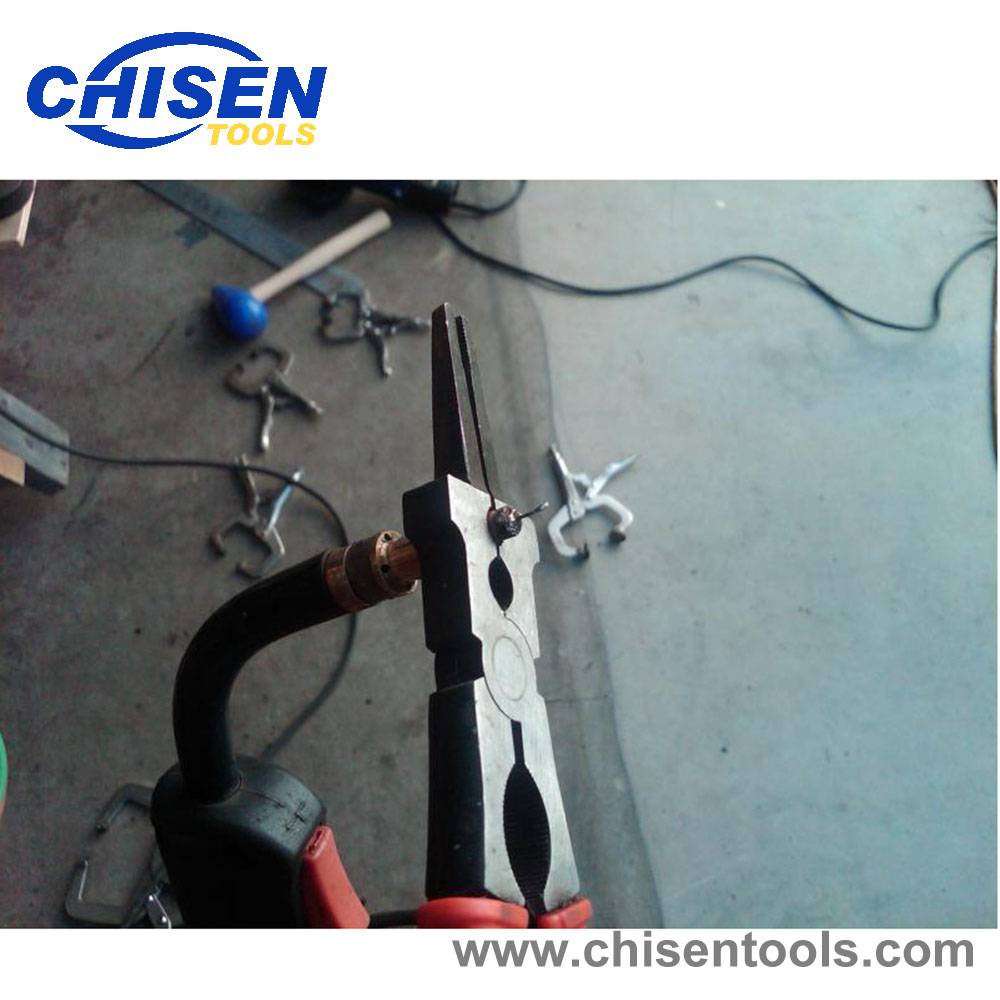 MIG Welding Pliers are designed specifically for use with MIG welding guns, it offers eight functions in a single pair of pliers. It's perfect for any MIG welder, MIG Welding Pliers can be used to remove spatter from the nozzle inside and out, cut wire, remove and install tips, pull wire, remove brushings and even hammer when necessary.
Here's a fancy diagram about the 8 uses of the welper: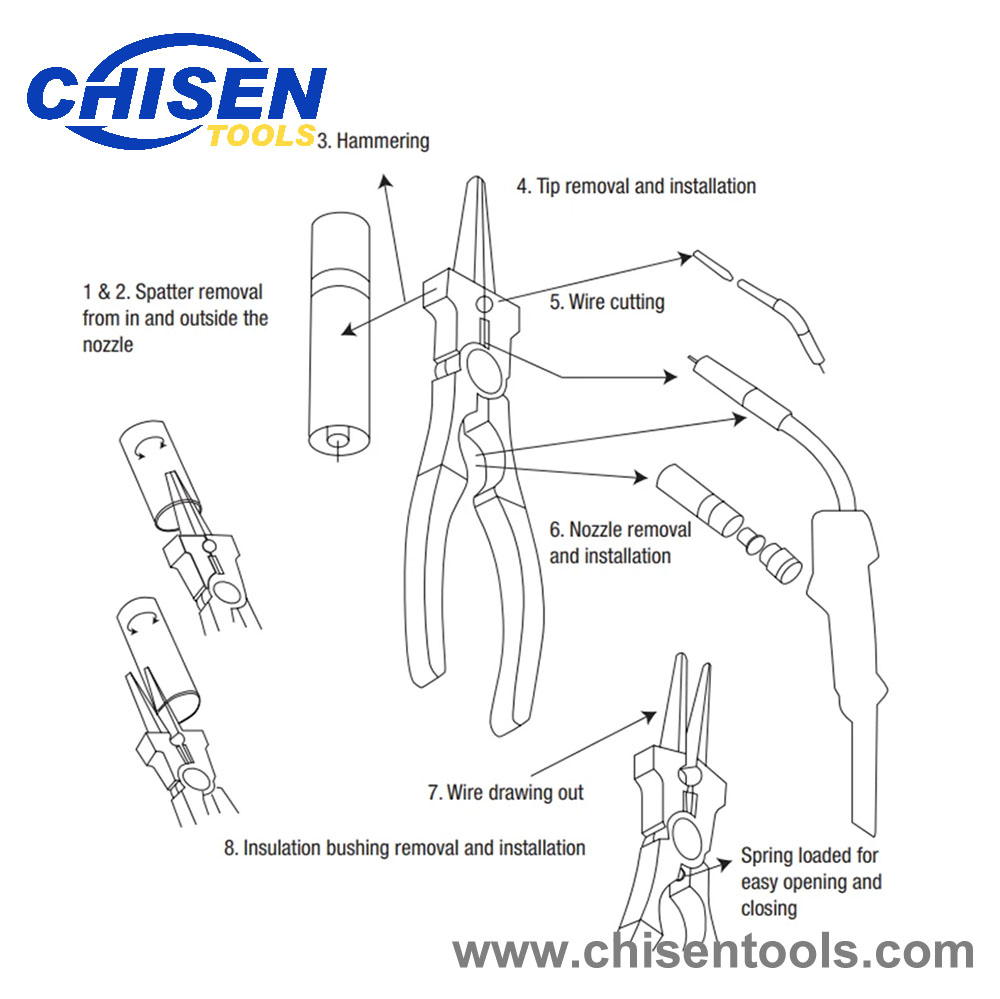 MIG Plier – Multi – purpose Tool Designed Specifically for CO2 Welding Operations – A Single Fair which Serves Eight Purposes for Mig Welding. Saves Time and Increases Productivity – Manufactured from High Quality Carbon Steel for Strength and Durability Made in China.
Designed to be used for welding operations.
Wire cutter and needle nose pliers for pulling and trimming MIG wire.
Spring loaded handle with heavy insulated grip for comfort.
Sharp edges for cleaning inside nozzle and around tips.
Large serrated hole for nozzles.
Small serrated hole for MIG tips.
Strong Hand Deluxe MIG Pliers.
TOP 4 WAYS TO USE MIG WELDING PLIERS
A set of MIG Welding Pliers are a must-have for your welding cart. While they look like a standard set of needle nose pliers they actually have a number of functions that you might not realize. We decided to list our top 4 favorite uses of our MIG Pliers.
Perfect 1/4″ Stick-Out– If you use the center cutting portion of the pliers you will notice that when you turn the pliers one direction the cutting portion will be set back in the pliers. If you put the pliers tight against the gas nozzle the offset cutter gives you a consistent 1/4″ stick out of welding wire every time. This is great for beginners and also saves you time having separate wire cutters on your welding cart.
Remove Nozzle- Just under the pivot point of the pliers there is a conical shaped opening formed into the pliers. This area allows you to clamp down on the gas nozzle on your MIG torch and easily loosen or tighten it.
Loosen Contact Tip- More commonly you will need to replace a contact tip as it gets worn out. These can be difficult to remove by hand and the pliers have a second conical opening just above the wire cutter where you can easily grip the contact tip and remove or tighten it.
Remove Weld Spatter- Weld spatter can fill a gas nozzle and block gas flow or even build up and short out on the contact tip when you try to weld. Make it a habit to remove the nozzle and use the outside of the end of the pliers to clean the nozzle out. Open the pliers firmly as you spin the nozzle around the inside opening to get a clean nozzle before each welding job.