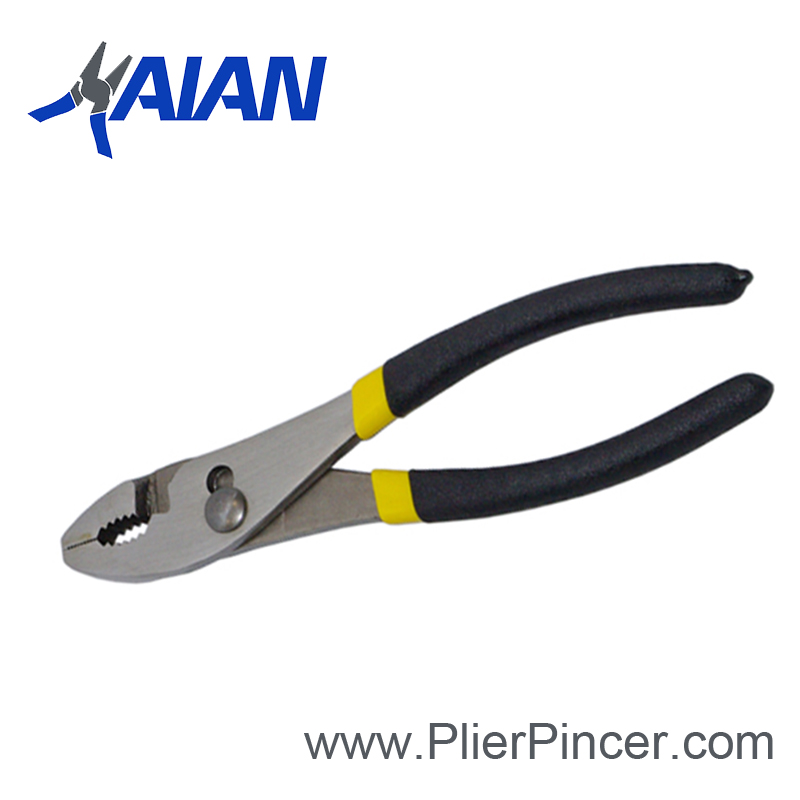 Item No.: HA210121
Size:5″ 6″ 7″ 8″ 10″ 12″
Material: Carbon Steel, Chromium-vanadium Steel
Surface Finishing: Fine Polished, Blacked, Chrome Plated, Nickel Plated, Peal Nickel Plated, Blacked Nickel Plated, etc.
Durable nickel chromium steel construction
Universal 3-zone jaws grip multiple shapes and cleanly shear wire
Adjustable nut and bolt fastener can be set to desired tension
Broad, rounded handle profile keeps your hand comfortable
Stout build outperforms competitive models by reducing bending and twisting for a superior grip
Machined jaws for maximum gripping strength
Induction hardened cutting edge stays sharper, longer
Meets or exceeds ANSI specifications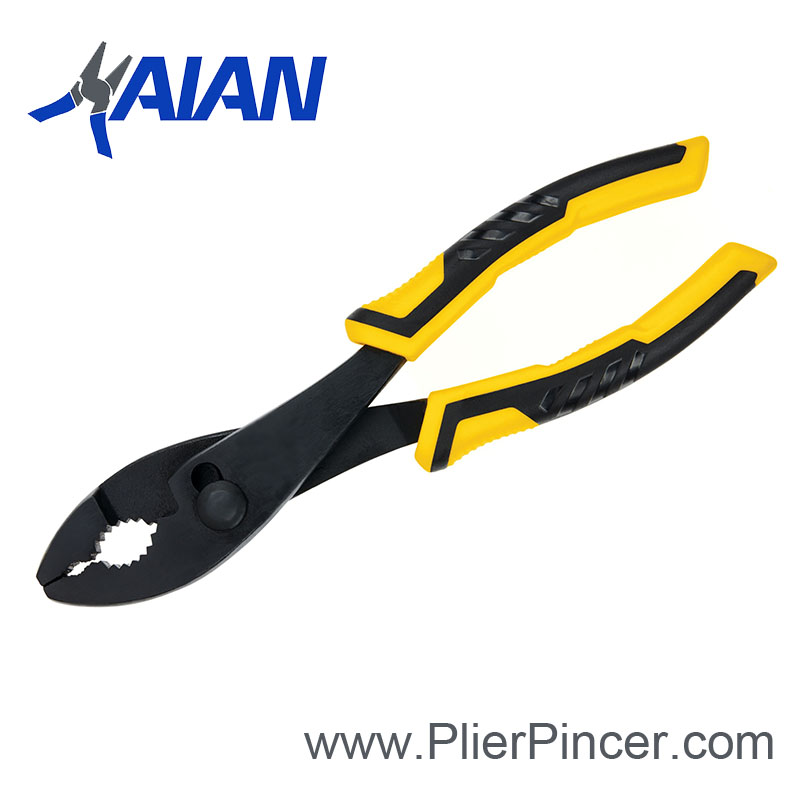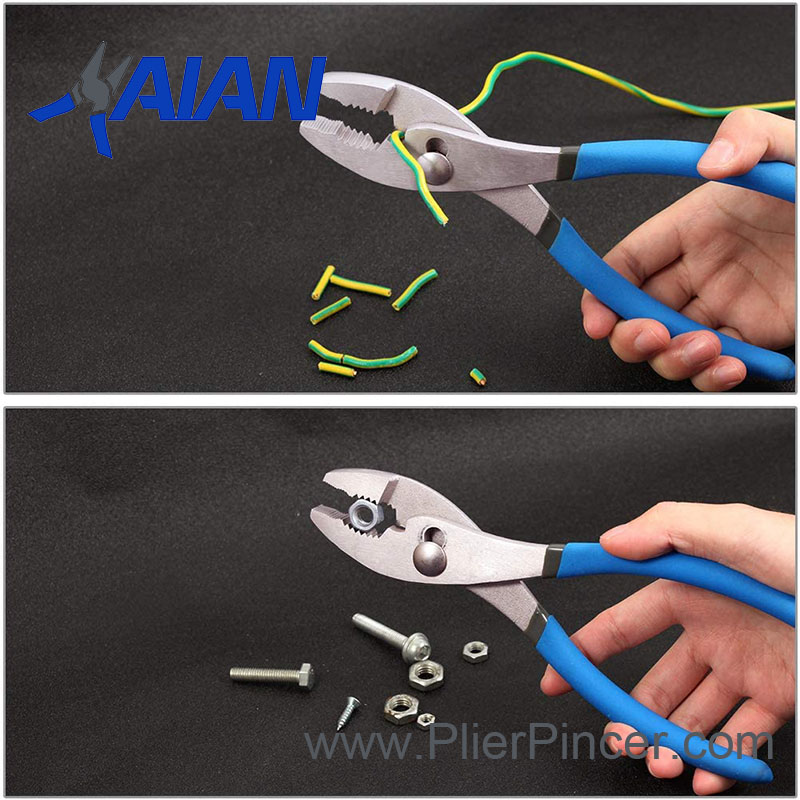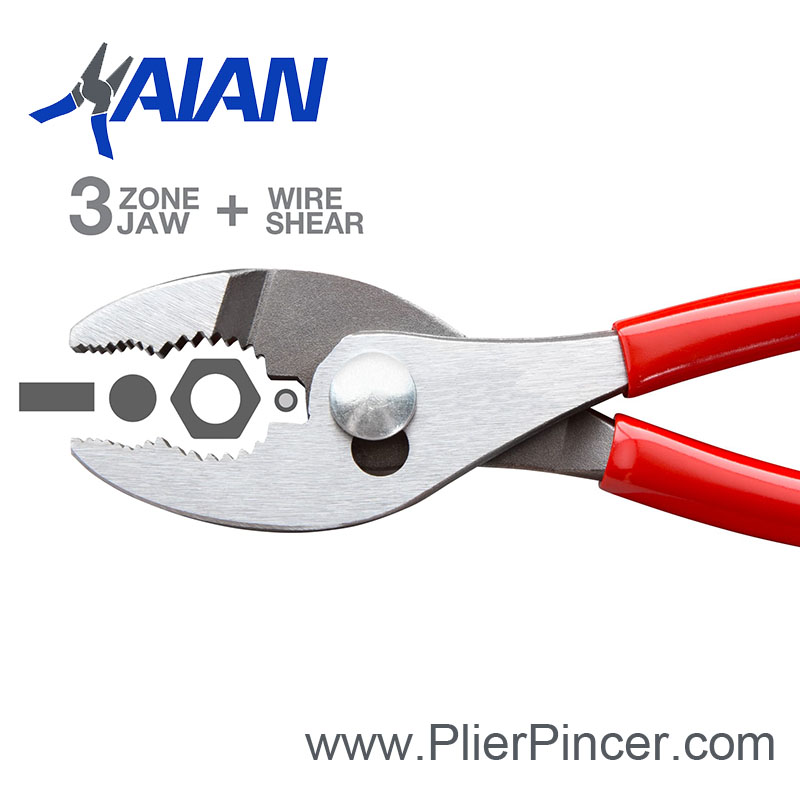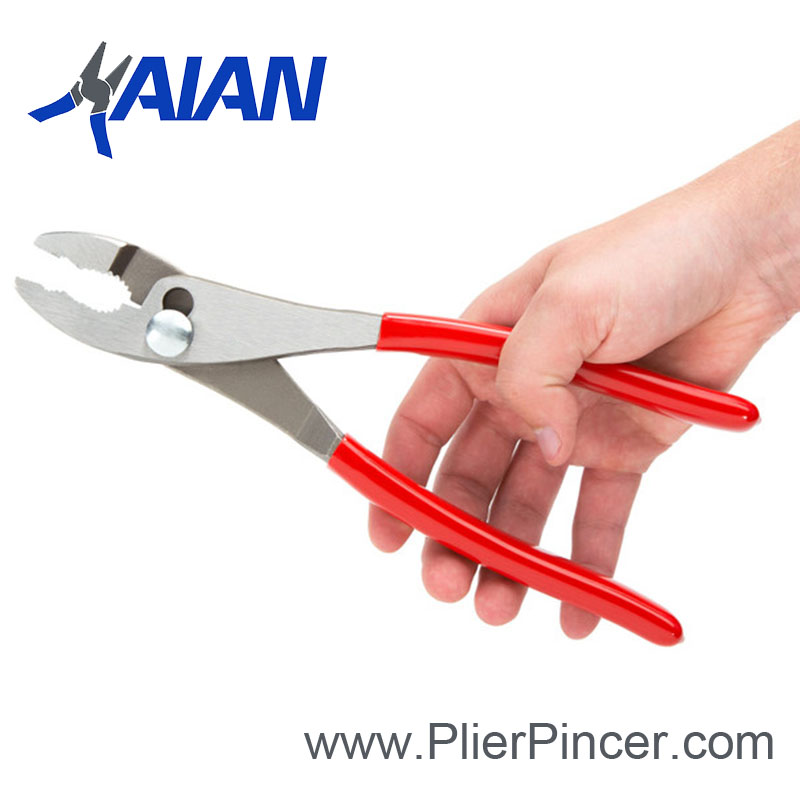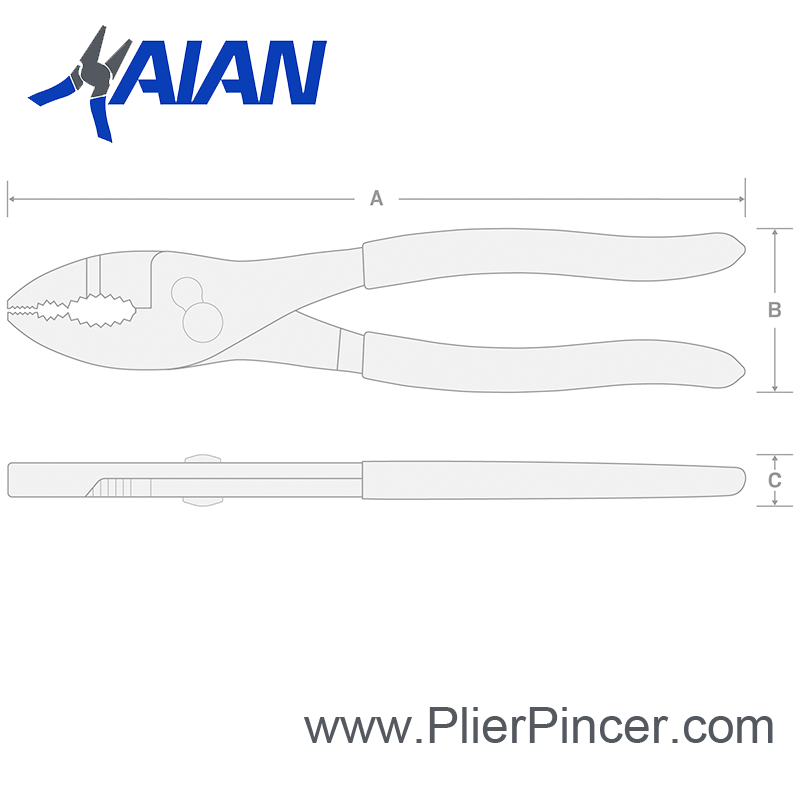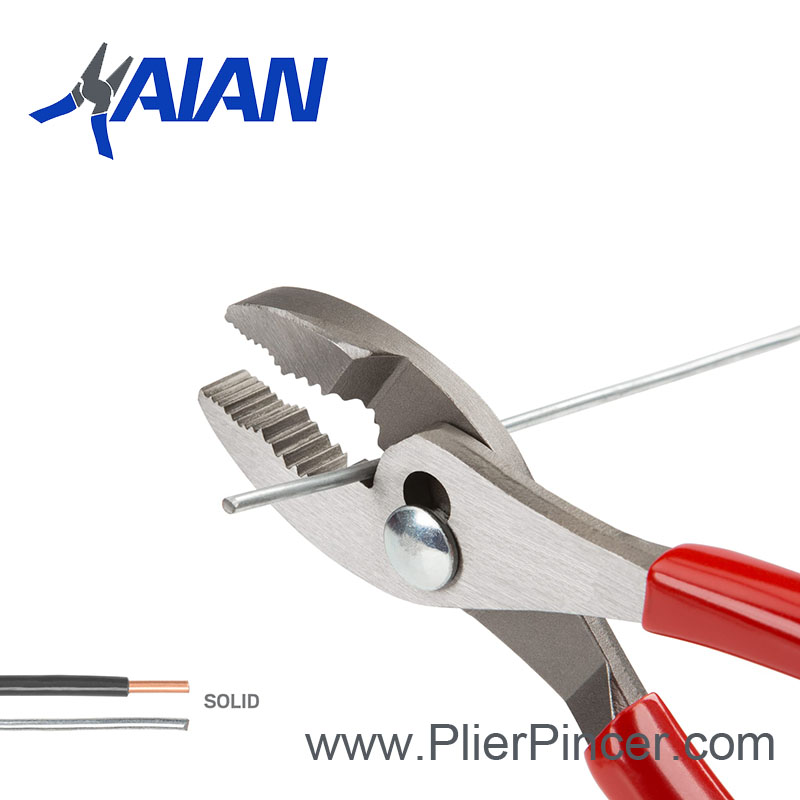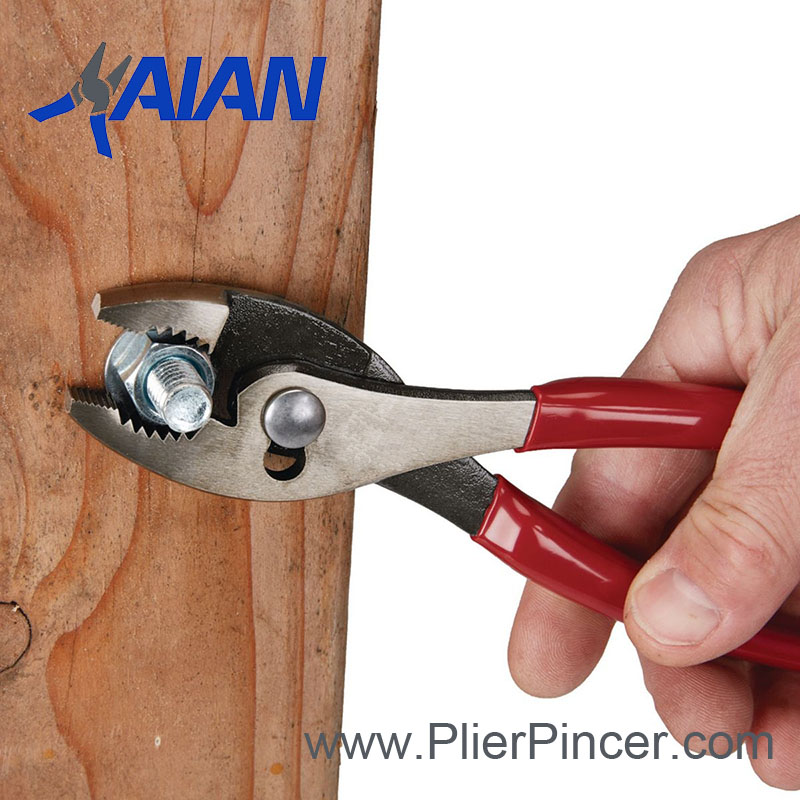 COMFORT and CONTROL: Multi-zone bi-material grips provide extra comfort and reduces hand fatigue
INDUCTION HARDENED: Cutting edges stay sharper longer
STRENGTH and DURABILITY: Made from drop forged steel
Corrosion-Resistant Finish
Common applications include carpentry, electrical, mechanical, plumbing, DIY and MRO
2-POSITION adjustment accommodates various sizes
SERRATED jaw and pipe grip design for a firm grip
WIRE cutting shear
RELIABLE PERMALOCK® fastener eliminates nut and bolt failure with increased joint strength
FORGED high carbon U.S. steel for maximum strength and durability is specially coated for ultimate rust prevention
Versatile Jaws
Universal 3-zone jaws with sharp, evenly spaced teeth grip almost any shape including flat stock, thin sheet material, pipe and tubing in a full range of sizes, and hex and square fasteners.
Shear-Type Wire Cutter
The shear-type wire cutter cleanly snips copper, aluminum, and hardened steel wire like piano wire and guitar strings.
Comfortable Handles
A broad, rounded handle profile distributes force evenly across your hand to reduce stress and pressure. Slim, nonslip grips add cushion and comfort without adding bulk.
Slip joint pliers can be used to grip and to bend hardware. The front of the jaws have fine teeth, which are used to grip small objects like nails. Coarse teeth found near the back of the jaws are used to grip onto bulkier items like bolts or nuts.
The slip joint of slip-joint pliers is not only where this tool gets its name but is the reason why the unique tool can grip objects of different sizes and shapes, and maintain a secure grip regardless of dimensions.
Although the slip joint does offer some universality to the pliers, you will still need to choose the size that best meets your project requirements. Grip is one of the most important factors when choosing any set of pliers, but especially to those that might be used to grab any type of surface, and you should also consider the quality of the stripping, peeling, and scraping that the tools have to offer.
Our factory make a series of slip joint pliers, ensuring that you can find the right tool for the project at hand.
What Are Slip Joint Pliers?
Slip joint pliers are one of dozens of different types of pliers. They make handy multipurpose pliers. They fit inside any toolbox or tool bag, and they are easy and intuitive to use. Although they do have a single slip joint, they are relatively simple mechanical tools, which means that there are fewer ways in which the pliers can go wrong and become damaged or broken. As well as having jaws, which include metallic teeth for improved grip, this type of pliers will usually have an additional jaw that is used to shear, strip, or cut wire. As such, the multifunctionality of this type of tool means that it is not only useful for DIY and home use but is also used by plumbers, electricians, and other professionals.
At their most basic, slip joint pliers consist of two pieces of metal, joined at the slip joint in the center. This joint usually consists of a rivet but may use a nut and bolt to secure the two sections in place. Some pairs have an additional layer of another material around the handle. Foam, rubber, and plastic are common materials for this anti-slip handle.
Uses For Slip Joint Pliers
Slip joint pliers can be used to grip and to bend hardware. The front of the jaws have fine teeth, which are used to grip small objects like nails. Coarse teeth found near the back of the jaws are used to grip onto bulkier items like bolts or nuts. The slip joint allows you to change the size of the jaw opening, which means that you can use these pliers on a wider range of items and materials.
This type of plier can be used for making household repairs. They are often used when working on sinks, faucets, drains, and other plumbing. They are also used for auto repairs and they can find use when working with rusted or otherwise damaged screws and other fastenings.
You should be aware that, although slip joint pliers have many uses and they are a beneficial tool for a lot of different requirements, they should not be used when you need a really tight, vicelike grip. The nature of the slip joint means that they are prone to slipping, and this can cause damage to workpieces and injury to you.
Slip Joint Pliers Features
Plier Size
When choosing slip joint pliers, one of the first factors you have to consider is the size of the pliers. This type of tool usually comes in sizes varying from 6 to 10 inches, with various sizes in between. Smaller pliers have the benefit of being able to squeeze into confined spaces, whereas larger models usually offer greater strength and can be used for a greater variety of purposes. If you will be using your pliers for fiddly jobs, getting in and around pipes, or in and around the engine bay of a car, a smaller set may be more beneficial. If you want a set of general-purpose slip-joint pliers to pop in your toolbox for currently unknown purposes, opt for a medium to large set for more strength. Alternatively, buy an inexpensive set of pliers that include two or three sets of different sizes.
Metal Material
Most pliers are made from a steel alloy, but there are several different types and material names that you might see listed.
Stainless steel – Stainless steel is strong and it can withstand severe heat, cold, and is resistant to corrosion caused by alkaline and chlorine. In the case of tool construction, the material is chosen for its high tensile strength combined with its resistance to rust and corrosion. It also won't bend or scratch over time, which means that your stainless steel tools will last for years.
Carbon steel – When heated to a high temperature, iron can absorb carbon, resulting in a carbon steel material. It is very strong and shock resistant, although you shouldn't be striking these pliers when using them because it is likely to break the joint. Carbon metal is not as resistant to corrosion as stainless steel, but it is not prone to rotting. It is also safe to work with and is resistant to fire and other environmental pressures.
Heat-treated steel – Heat treating steel allows the creation of even stronger, more durable, and tougher steel tools. Heat treatment also further improves the shock resistance and prevents wear from forming on the steel material.
Nickel chromium steel – Chromium is the primary element that is added to steel to make it stainless steel. The more chromium added to the metal, the greater the corrosion resistance, but a minimum of 10.5% needs to be added for the resulting material to be corrosion resistant. Therefore, chromium steel is basically stainless steel, but nickel is another commonly alloyed metal. Nickel stabilizes the structure of the steel when at room temperature, which further reduces shock and physical damage to the stainless steel. Nickel chromium steel is considered high quality and resistant metal.
Chrome vanadium steel – Chrome vanadium steel contains a mixture of steel, obviously, and chromium and vanadium. Chromium helps protect the steel against corrosion while vanadium helps to keep the granular size of the steel small while still offering high quality and toughened qualities to the steel material.
Tools should be made from a steel-based material, and you should not consider pliers made from other materials because they will damage, warp, or break too easily, and they will not offer the kind of tensile strength that you need from a plier handle.
Handle Material And Non-Slip Covers
As well as the material used in the jaws and the pliers themselves, it is worth considering the material of the handles. Some basic pliers do not have an additional handle. This means that you are holding the same steel material as the pliers are made from. It can be cold, needs to be textured to offer some kind of grip especially when your hands are sweaty or otherwise wet, and it may slip and slide during use.
Sleeves may be added to the handles to provide greater comfort and to minimize vibrations and discomfort. Sleeves must be tight-fitting and they shouldn't be prone to shrinking, otherwise, they will slide around while in use. Foam is a cheap material that is used in cheap and typically low-quality tools. Rubberized grips and plastic dipped handles are better alternatives. The grip is effectively attached directly to the handle, minimizing the risk of slippage and ensuring that you can get a good grip without the handles sliding around. They can minimize user fatigue, increase comfort, and prevent slipping.
Conclusion
Slip joint pliers are small and convenient pliers. The slip joint means that the plier jaws can be set to either of two positions, allowing for the gripping and grabbing of a wider range of items. Ensure that the pliers you choose offer a firm and reliable grip, that they are made from good quality steel, and that they are comfortable to use. You will also have to choose the size of pliers, ranging from 6" to 10" and this range of choice means that there is a wide selection of tools that meet the requirements. You can even find some manufacturers selling sets of two or three pairs of pliers.