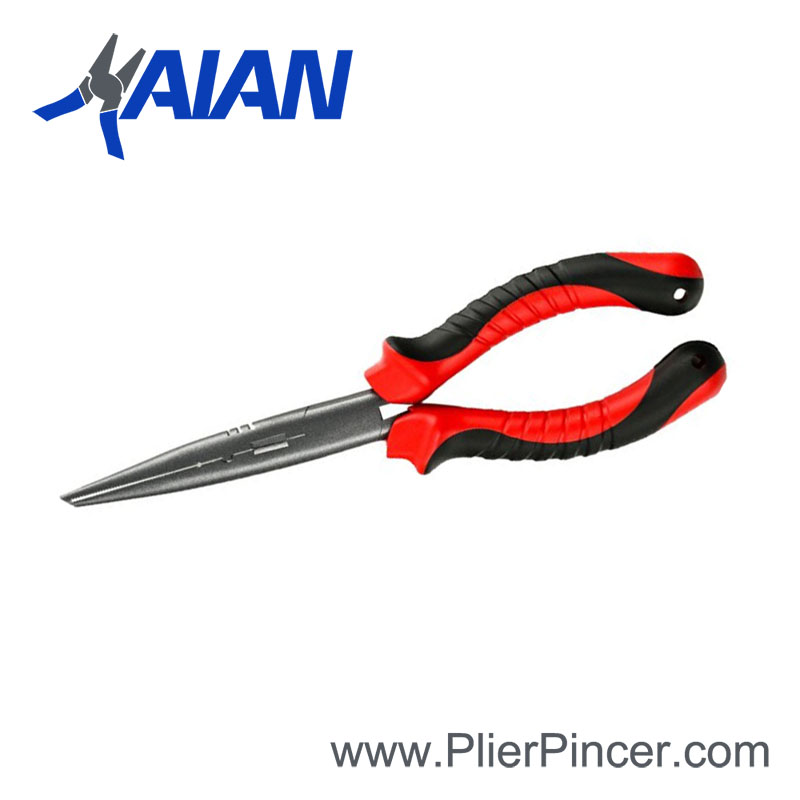 Item No.: HA210125
Size: 6″ 8″ 9″
Material: Carbon Steel, Stainless Steel
Surface Finishing: Precision Poished, Nicek Plated, Black Nickel Plated, Chrome Plated, Teflon Plated
Handles: PVC or TPR Insulated Handles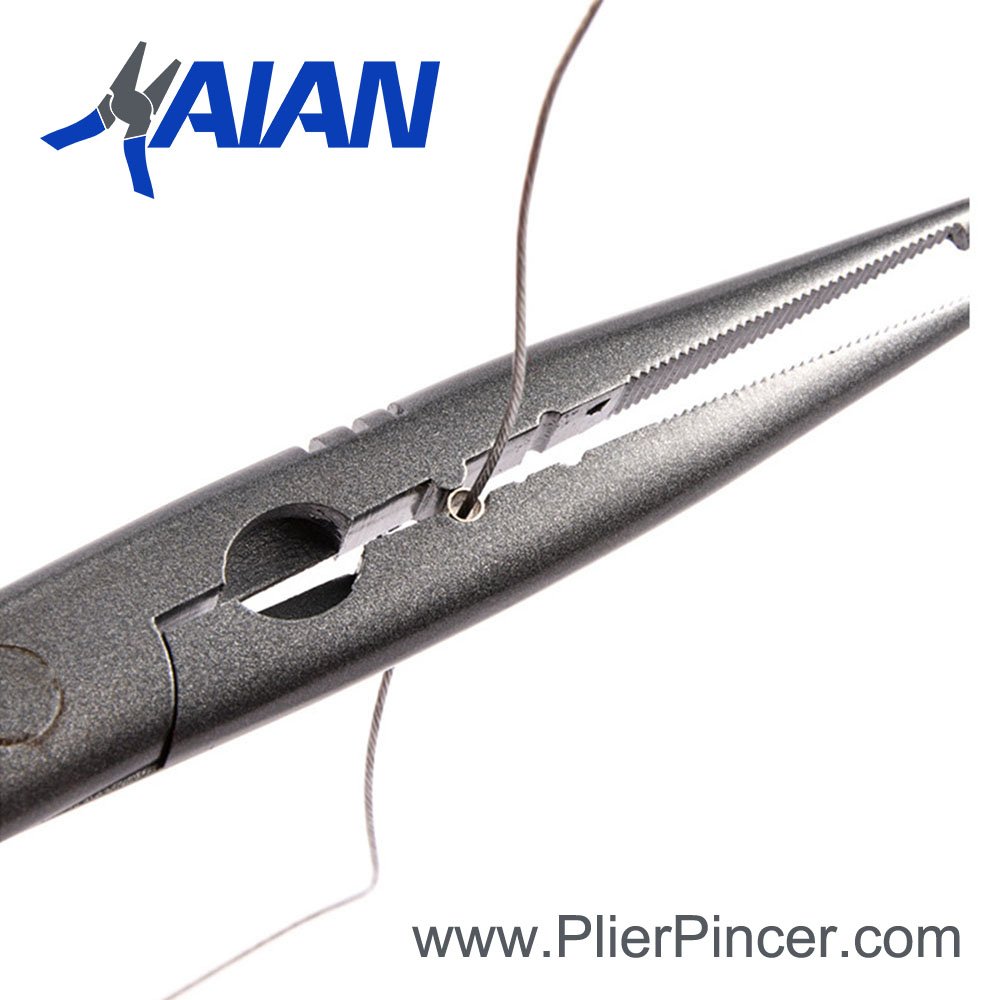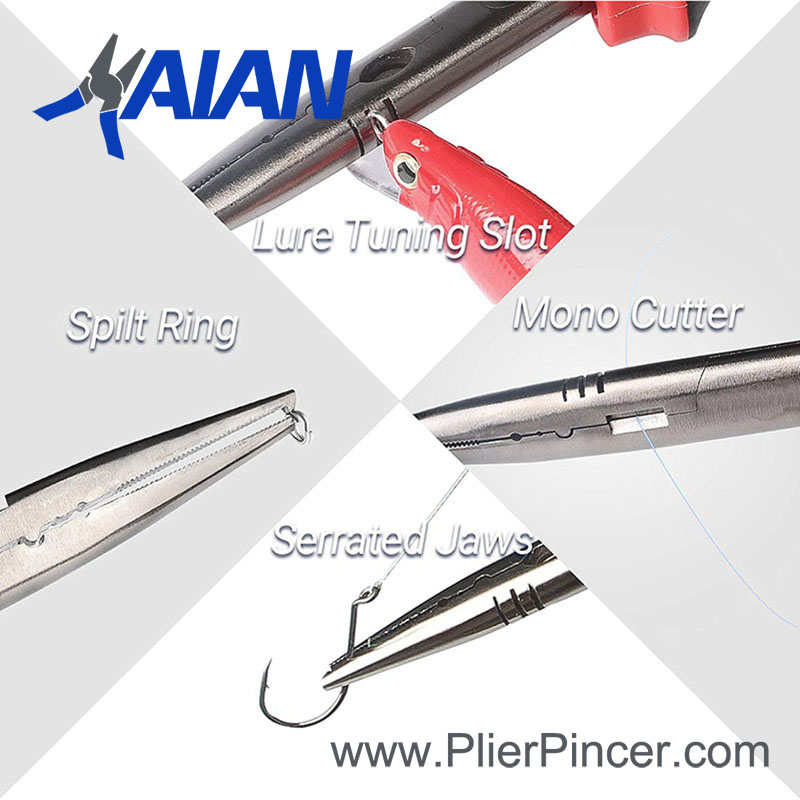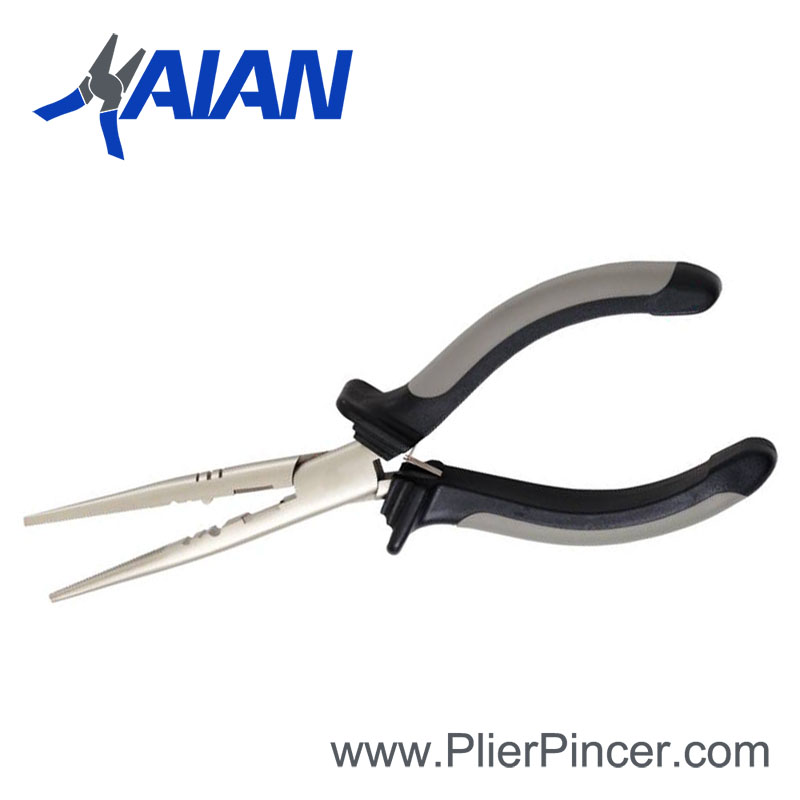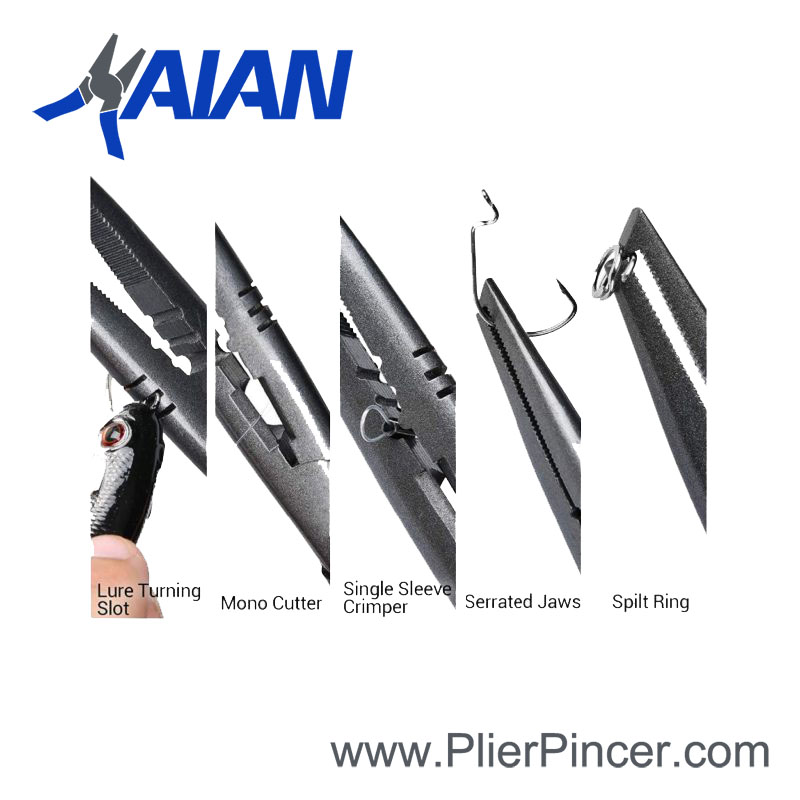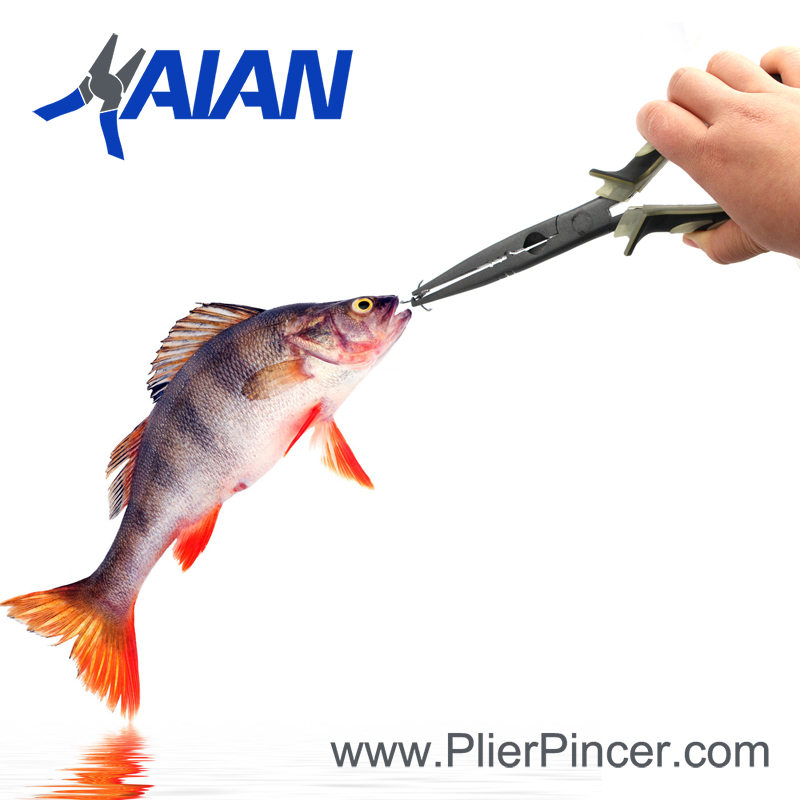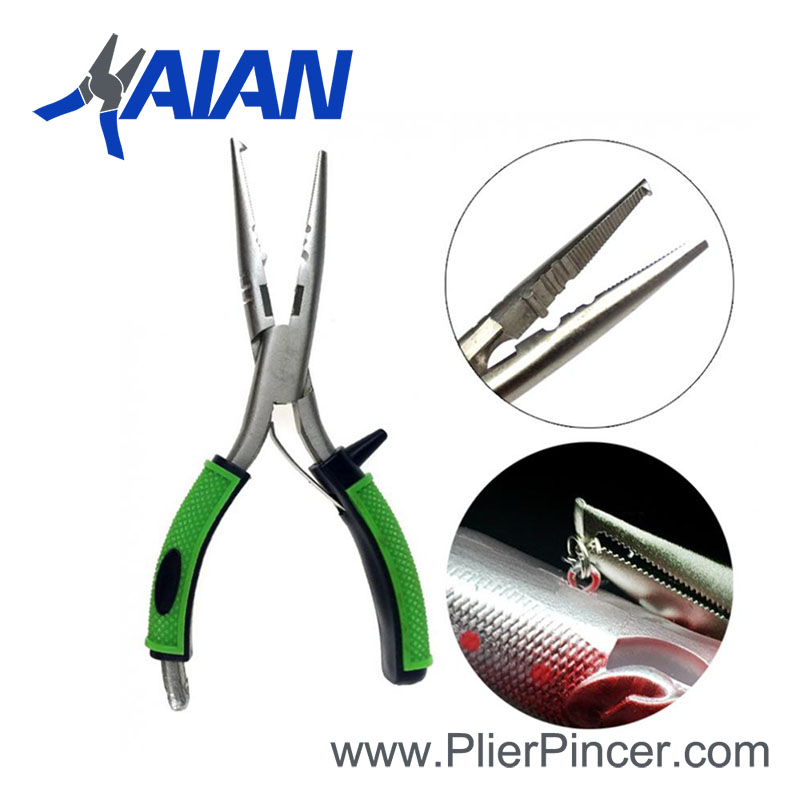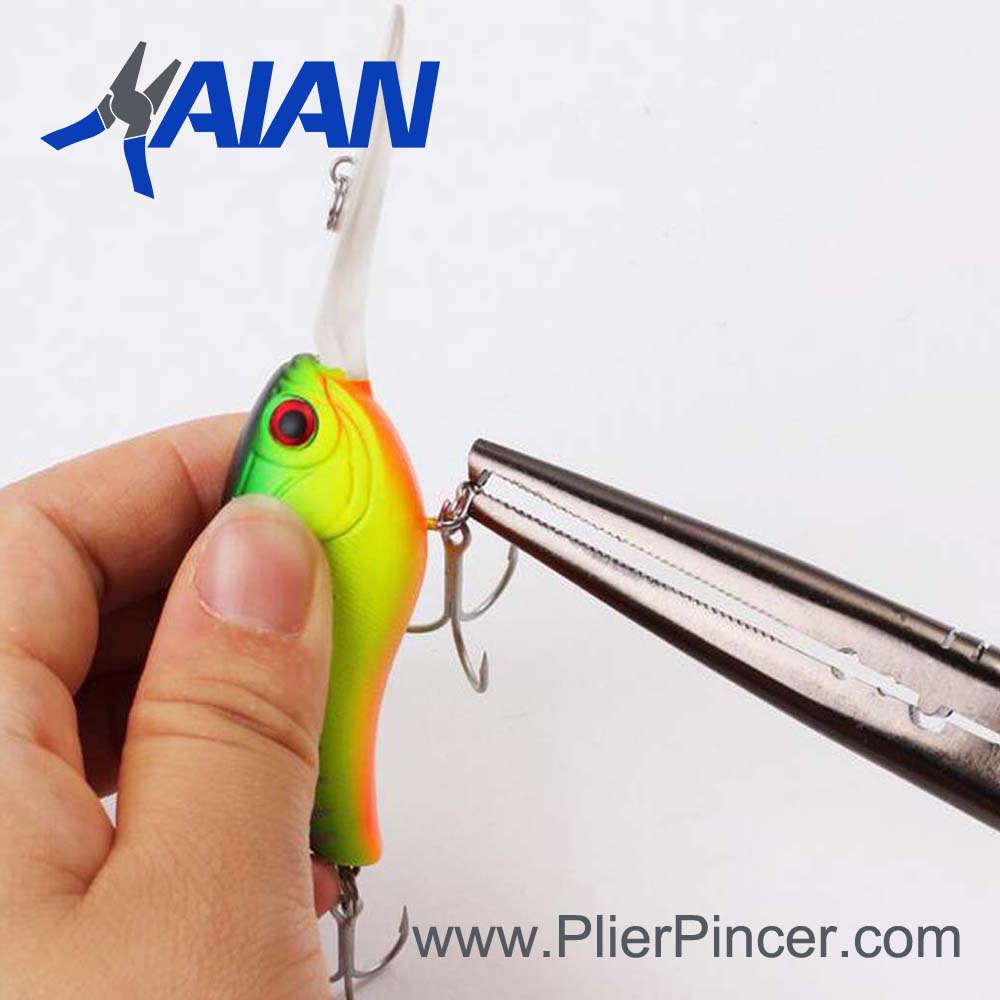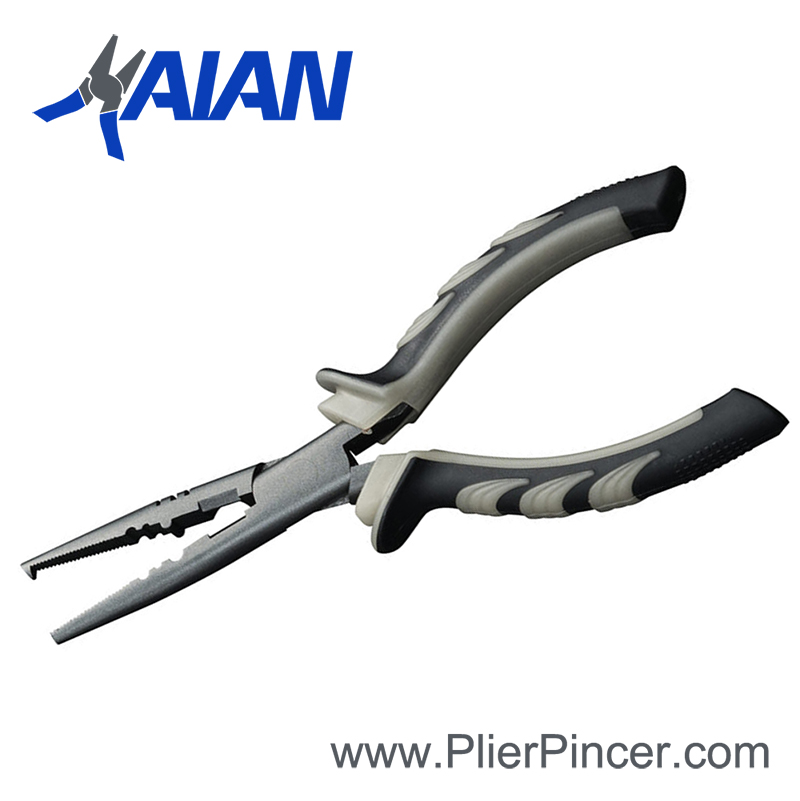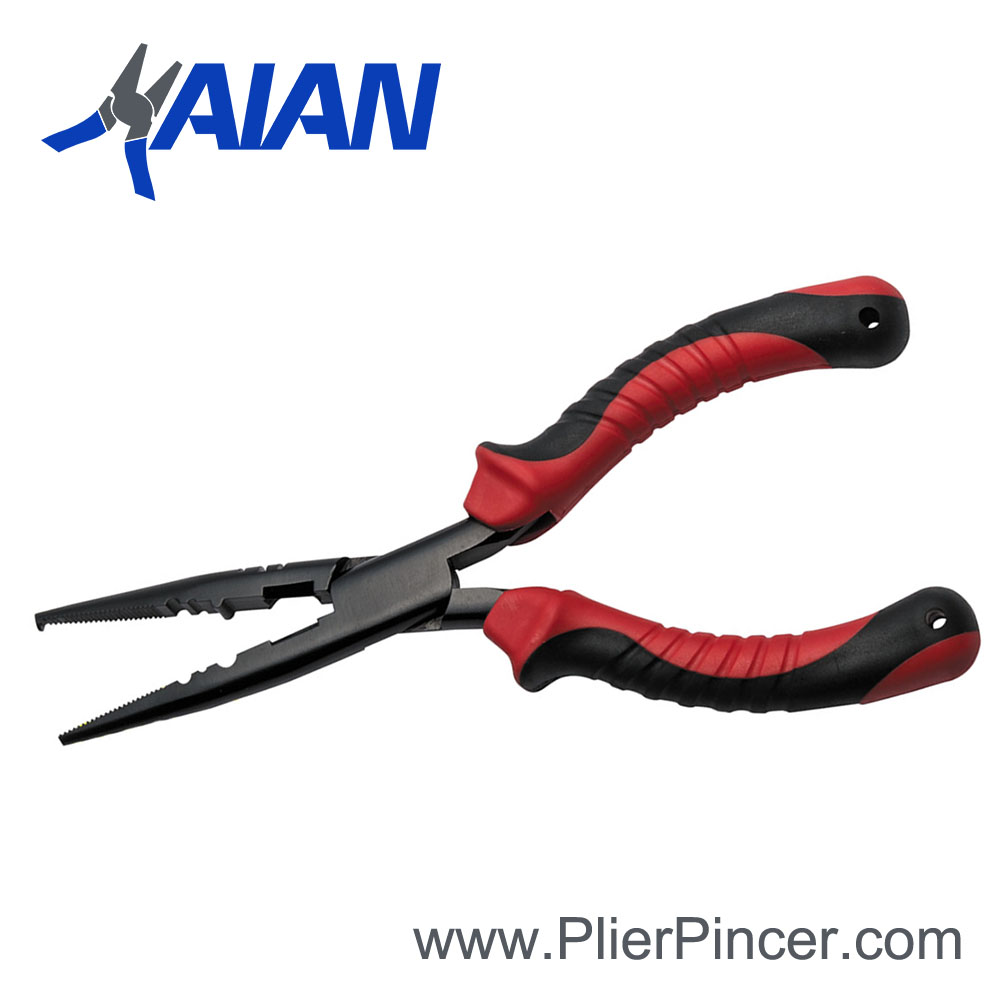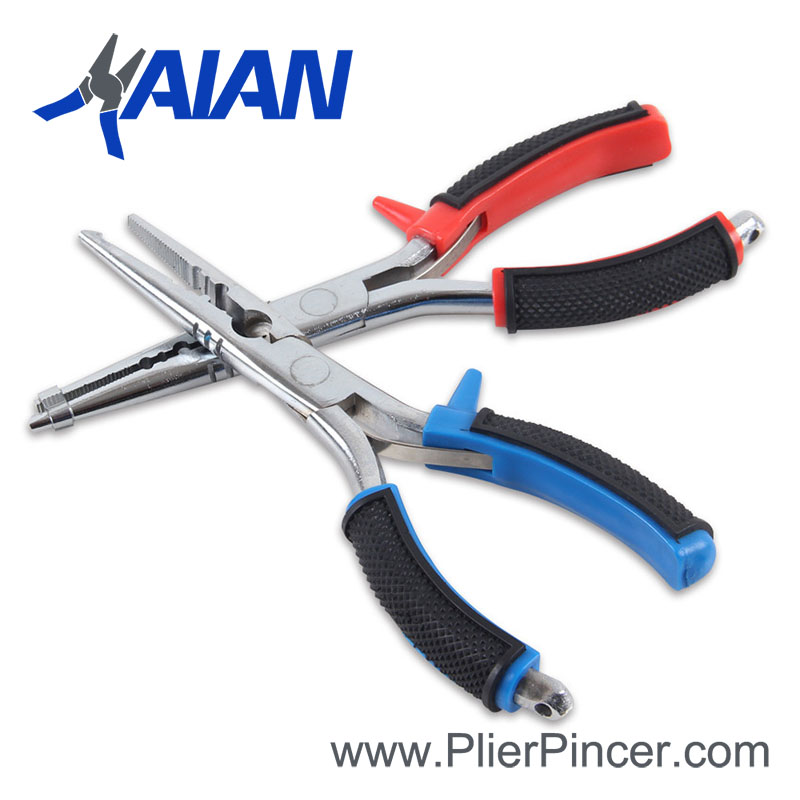 Fishing Pliers Hook Remove and Split Rings forged fishing pliers Frichy Crimping sleeves Cutting
Drop forged high carbon steel or stainless steel
With functions of opening split ring, wire cutter, crimping leads and sleeves,Straight or bent nose are available.
Self luminous molded handles,Comfortable nonslip grips keep pliers steady,Size:7″/9″
Needle Nose Fishing Pliers Heavy Duty Stainless Steel w/ Cutter
Durable and functional, these heavy-duty pliers are built to perform. Constructed with stainless steel, the pliers are coated with black titanium nitride for increased corrosion resistance. They feature textured jaws for a more secure hold, built-in crimper, split-ring tool, lure tuner grooves and a mono/wire cutter. They also feature durable, soft-grip handles for comfort and nylon sheath with Velcro closure and belt loop.
• Soft-grip handles
• Black nickel finish
• Corrosion resistant
• Wire cutters
• 3 crimper sizes
High-grade carbon steel fishing pliers help you handle a variety of on-the-water situations. Soft grip, multi-textured handles on all models provide comfortable, easy gripping. Black nickel finish for extra corrosion resistance. Pliers feature wire cutters and three crimper sizes for sleeves, stops, or split shot.
Features:
High carbon steel blade, corrosion-resistant and long lasting.
Ergonomic nonslip rubber handle for comfortable grip.
Serrated jaws can clamp fishing line or fishing weight steadily and firmly.
Good for cutting fishing line, wire, rings or other accessories.
The fishing pliers are multi-functional, great fishing tool for anglers.
Portable Fishing Pliers Fish Lure Hook Remover Line Cutter Scissors Fishing Tackle Accessories
Specifications:
Material: High carbon steel
Size: 7″ 8″ 9″
High carbon steel blade, corrosion-resistant and long lasting.
Ergonomic nonslip rubber handle for comfortable grip.
Serrated jaws can clamp fishing line or fishing weight steadily and firmly.
Fishing Pliers Split Ring Pliers Saltwater, Resistant Fishing Gear Corrosion Rust Resistant Nickle Finish, Rubber Handle with Sheath and Lanyard Sports & Outdoors
Mustad Large 9 Inch Stainless Steel Split Ring Fishing Pliers – Multi Functional
These 9 inch split ring pliers feature a split ring opener, wire cutter and a crimper designed for lead and sleeves.
The pearl nickel finish on top of the grad 420 stainless steel give the pliers the corrosion resistance expected by anglers.
Safety and comfort are important when rigging, so the handles have been designed with non-slip grip and ergonomics in mind.
Stainless steel 420
Pearl nickel finish
"Golf Grip" handles
Drop forged high carbon steel or stainless steel, with functions of opening split ring, wire cutter, crimping leads and sleeves.
Teflon finished jaws in black.
Comfortable nonslip grips keep pliers steady.
Fishing Pliers Specifications
| | |
| --- | --- |
| overall length | 7″ & 8″ & 9″ (3 options) |
| material | Stainless Steel or Carbon Steel |
| weight | 5.3oz (6 1/2″) |
| additional features | split ring tip, lanyard hole, crimp ridge. line cutter, ergonomic grip, center mounted leaf spring, nickel/zinc corrosion resistant coating |
| | |
Slicker than ever, New Type Stainless Steel pliers
Introduction: It doesn't matter if you fish for trout, bass, or big game, chances are you not only know the Rapala brand, but you already own a couple of their lures. While not yet as prevalent as their immense lineup of lures, Rapala accessories and tools certainly have become popular among anglers over the last few years. Their previous generation pliers were among the best values on the market, and Rapala follows up on their Pro-Guide series with a new set of stainless steel pliers that boast more features and still manage the same great price point.
Impressions: How many of you pulled out pliers from your tool box at home and employ them for double duty as your fishing pliers? That is exactly what I did when I started fishing, but quickly changed over to actual fishing specific pliers once I started routinely fishing artificial baits. I soon found fishing pliers worth their weight in gold when it came to improved ergonomics when trying to dehook fish hurriedly, and features like a split shot crimper and the split ring nose made it easier than ever to properly configure and tune lures on the fly. Overall the new pliers not only look a lot slicker with the fresh dark gunmetal finish, but sport many subtle improvements over the previous generation model.
Real World Test: This review will be focused more on the features and operation of the new Rapala Stainless Steel pliers, as the long term tests really will come after a full season of use. I have come to rely on the previous generation Pro-Guide pliers for three seasons now, and they have held up to plenty of abuse both in fresh and saltwater applications. To test this new pair in the field we head straight for the California Delta, with hopes of "unhooking" some fish.
Operation: In general pliers are relatively simple to operate, and Rapala's pliers are not simply re-branded pliers but incorporate fishing specific features. The new Stainless Steel pliers take fish friendly design to the next level. I found the new spring far better than the old design. The SS pliers always rest in an open position and the spring makes it easier than ever to do everything from dehook fish to tune crankbaits.
Like the previous generation pliers the Rapala SS pliers feature a thick pair of jaws, this makes it easy to apply firm pressure on objects. But unlike its older sibling the new pair of pliers feels more precise. With the spring applying low levels of counter pressure I found it was easier to grab small objects like split shot. With the previous generation I had to use my other fingers to gently apply some amount of counter pressure, they always felt as if they were either open or closed, while the new pair makes it easy to address a wider range of objects simply by closing in on the spring.
The side cutter was sharp enough to cut through any mono and fluorocarbon lines, but we really did have to clamp down on the pliers to cut through heavier braded lines. The biggest improvements to the pliers are the spring and redesigned ergonomic handle grips, which are not only more comfortable, but help anglers achieve a firmer grip when working out deeply hooked lures. A loop at the end of the grip makes it possible to apply a wrist lanyard, though one is not currently provided.
Durability: Time will tell, but from what we can see the new Rapala pliers are built with the same high quality materials as the previous model and has some extra features which will help it last longer. These include the new leaf spring which will better maintain resistance over time than the original single sided spring.
The handles have been vastly improved over the previous pliers both in terms or ergonomics and durability. Any decent pair of freshwater pliers should last a long time under normal operation. In fact more anglers lose their pliers by dropping them in the lake than actually breaking them in actual fishing applications. With that said every pair of pliers is subject to some wear and tear. The biggest problem areas are the spring, the handles, and damage to the cutter (mostly due to anglers attempting to cut through metal split rings, hooks, or heavy gauge wire.)