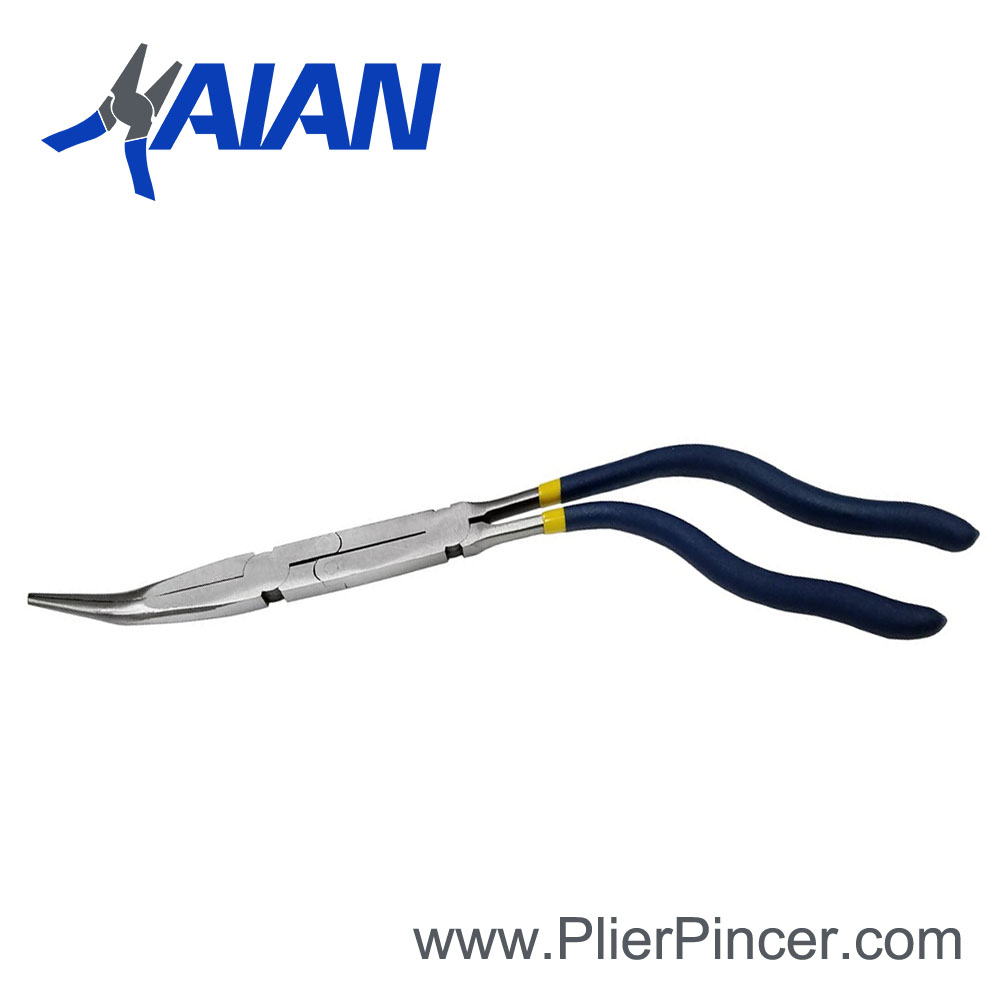 Pistol Grip XL Dual Pivot 45 Degree Curved Nose Pliers | Angled Nose Pliers | Offset Handle
Item No.: HA210532
Size: 13″
Mterial: Carbon Steel
Surface Treatment: Polished
Handles: PVC Coated Handles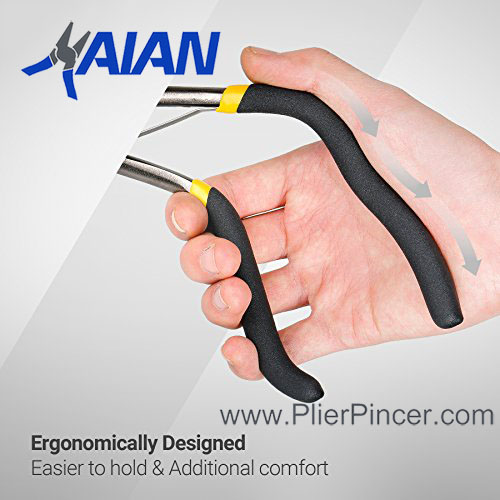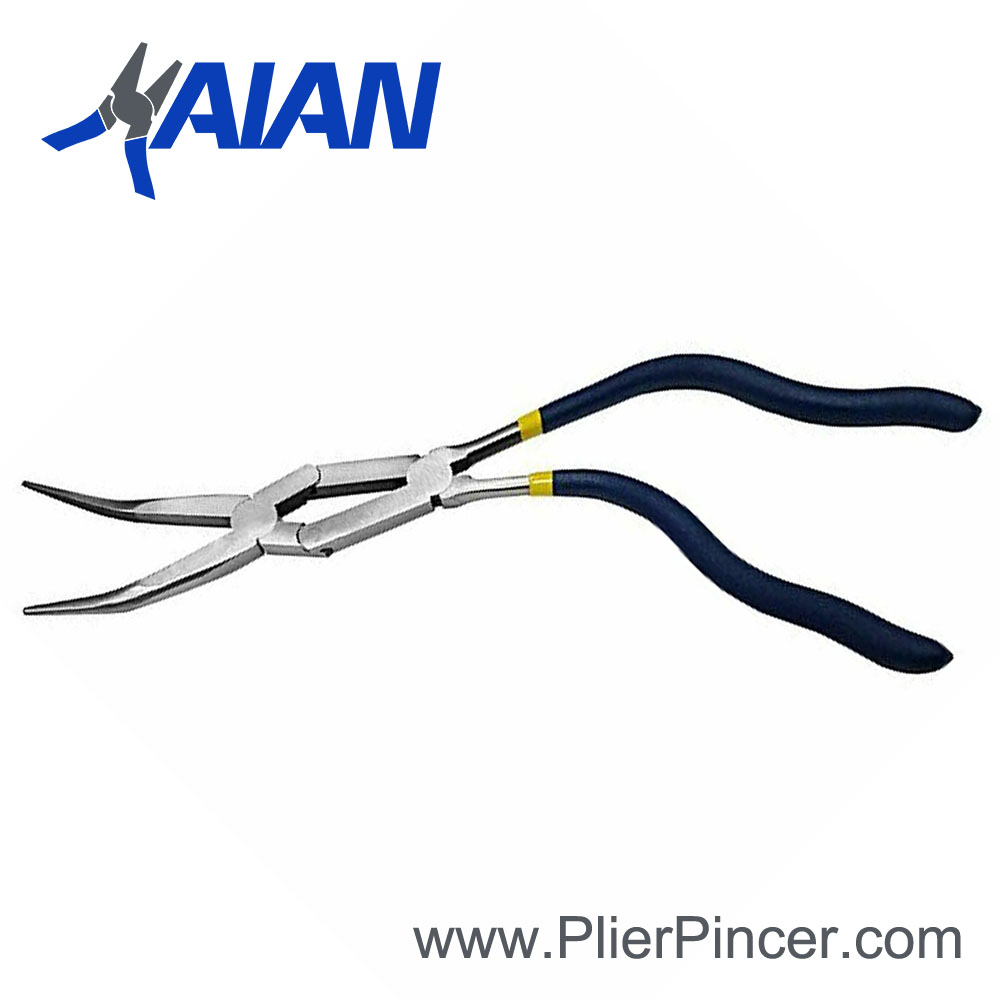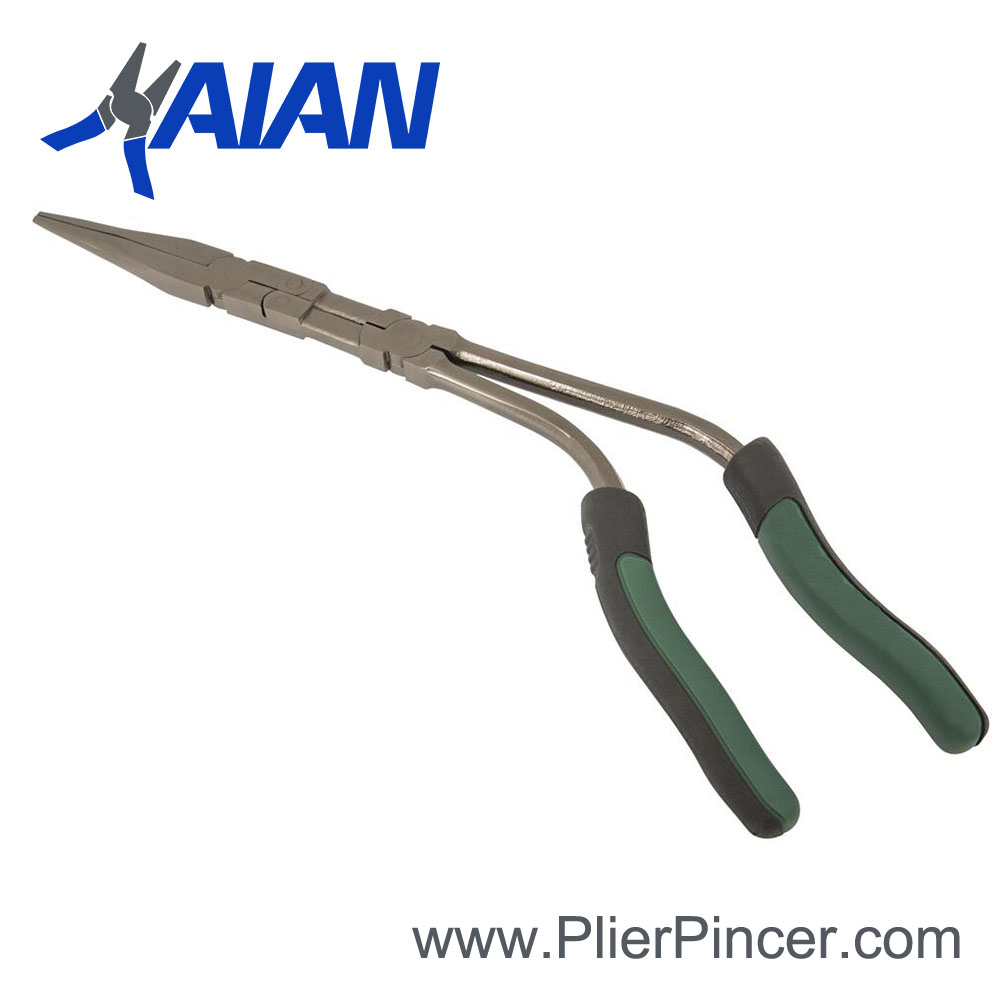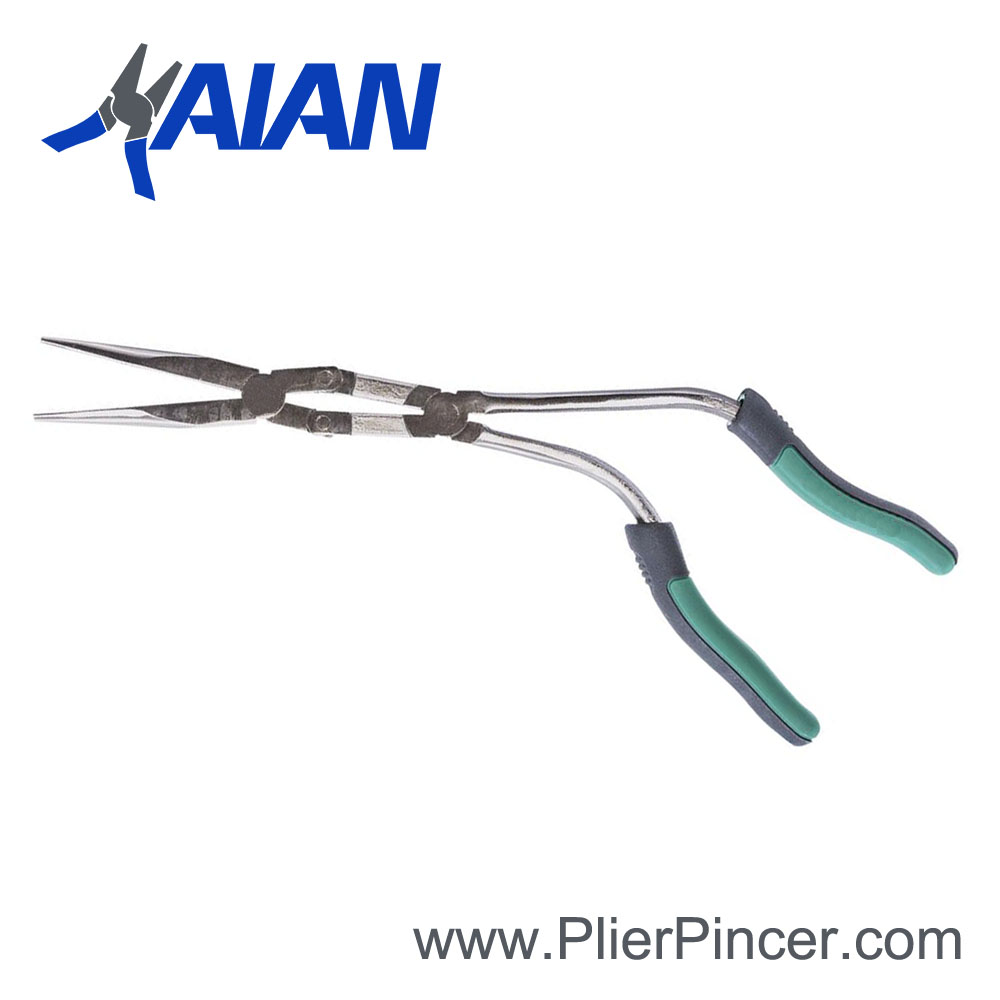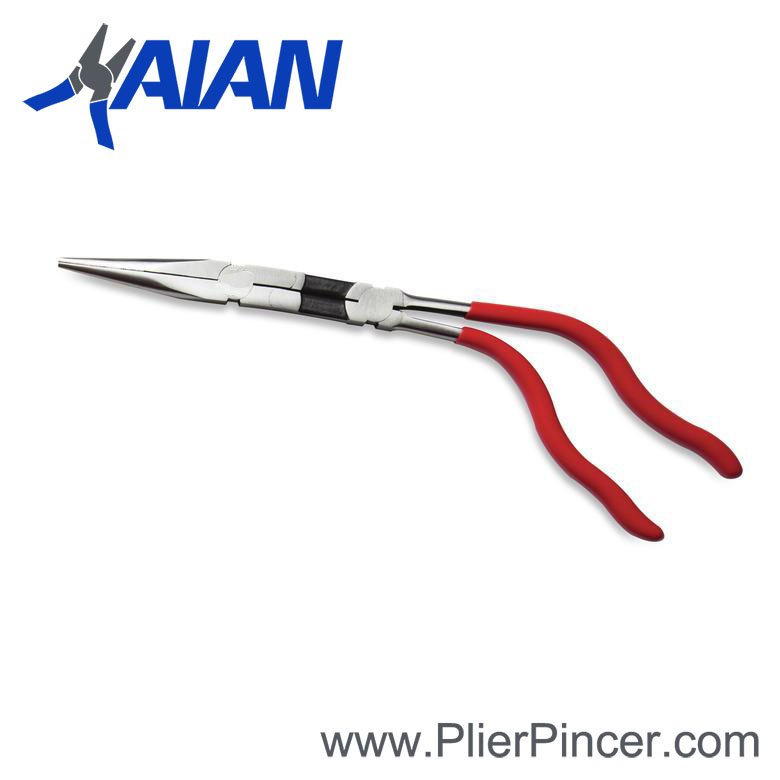 Dual pivot design allows for increased jaw opening in tight spaces
Made from high quality chrome-vanadium tool steel
Slip resistant fort grip handle
Pistol grip handles provide better control for accessing and gripping hard to reach items
These pistol grip 45 degree needle nose pliers feature a dual-pivot design that proved increased jaw opening in tight spaces pared to regular long reach pliers. They are made from durable chrome-vanadium tool steel hand have a fort grip, slip resistant handle. Pistol grip handles provide better control for accessing and gripping hard to reach items. Length 13″.
Drop forged and heat-treated steel body for strength and durability
Through a specialized finishing process, Nickel Plated finishing offers a reflective bronze coating that provides superior corrosion resistance
Molded grips provide maximum comfort and better control
Double hinge construction for reaching into tight spots
Pistol grip design minimizes wrist bending
Long nose pliers easily grip small objects to assist in tightening, twisting, and turning
Double-Jointed Pistol-Grip Long-Reach Long-Nose Pliers 13″
Double-joint long-reach design allows for minimal handle opening to access into deep and narrow spaces
Drop-forged high-carbon steel plus heat treatment maintains tool strength and durability.
Product Name: Pliers, Double Jointed Long Reach
Jaw Length [inch]: 3″
Jaw Length [mm]: 76mm
Locking: Non-Locking
Max. Jaw Capacity [inch]: 1-7/8″
Overall Length [inch]: 13″
Overall Length [mm]: 330mm
Style : Bent-Nose | Curved Nose | Angled Nose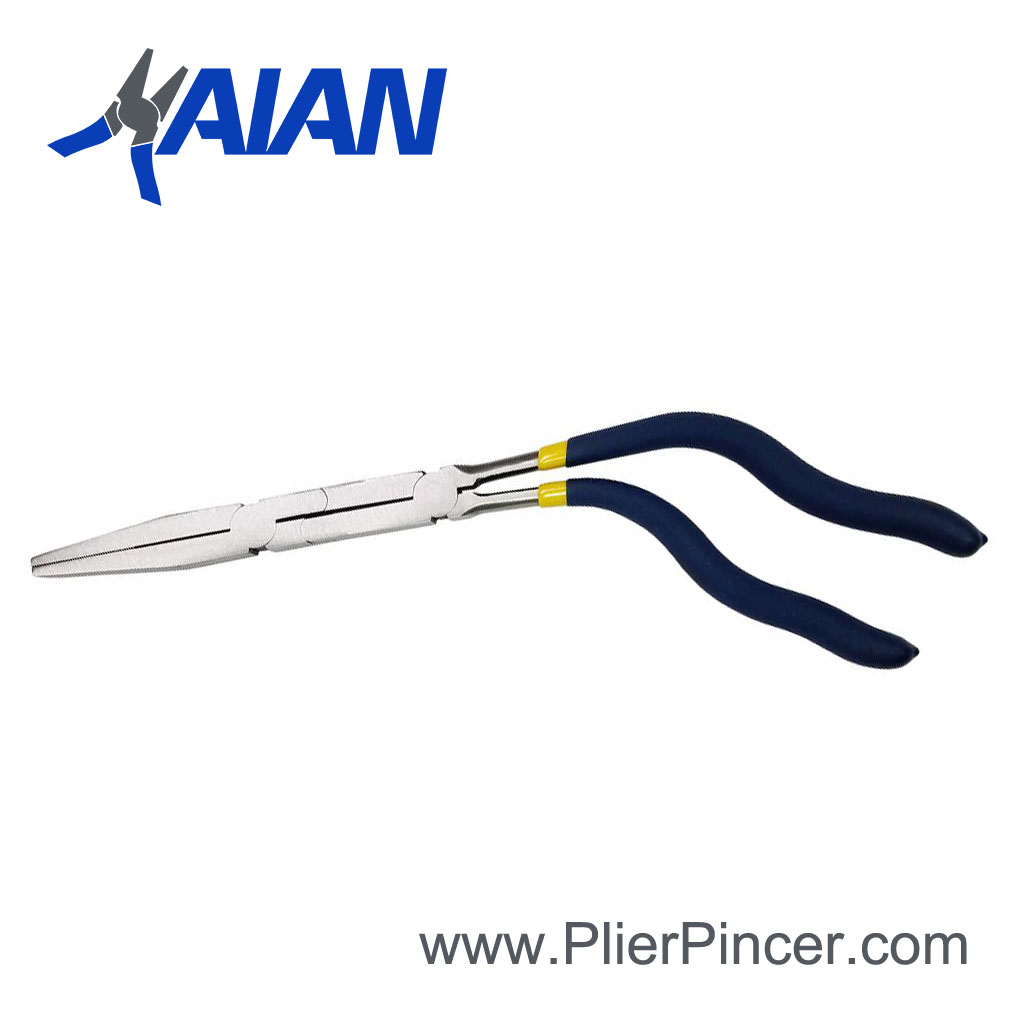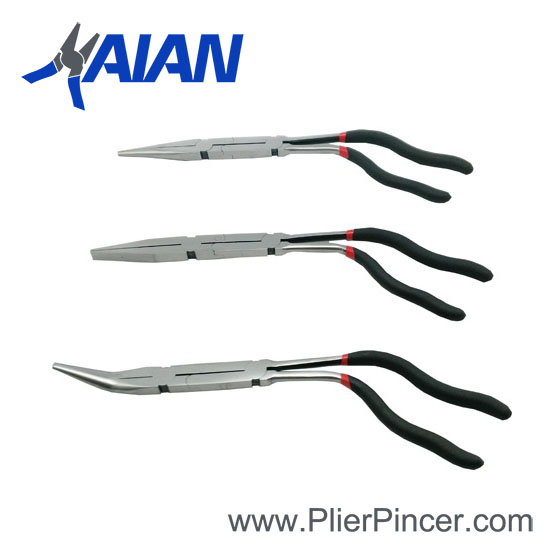 3 Pcs Pistol Grip XL Dual Pivot Pliers Set
Long nose straight pliers
Flat nose pliers
45 degree long nose pliers
Drop forged, heat-treated steel
Fully polished
Double dipped soft handle
excellent for hard-to-reach tight areas
Hardened teeth- for longer life & firmer holding
• Provides long reach and a strong grip
• Dual-pivoting points minimizes handle opening and maximizes jaw opening while maintaining a slender prole
• Forged, quenched & tempered chrome-vanadium tool steel for optimum toughness
and strength
• Finished with a fine and uniform satin finish
• Rubber sleeved handles provide a slip-resistant grip
• Ergonomic design: reduces repetitive motions, awkward positions and use of excessive force