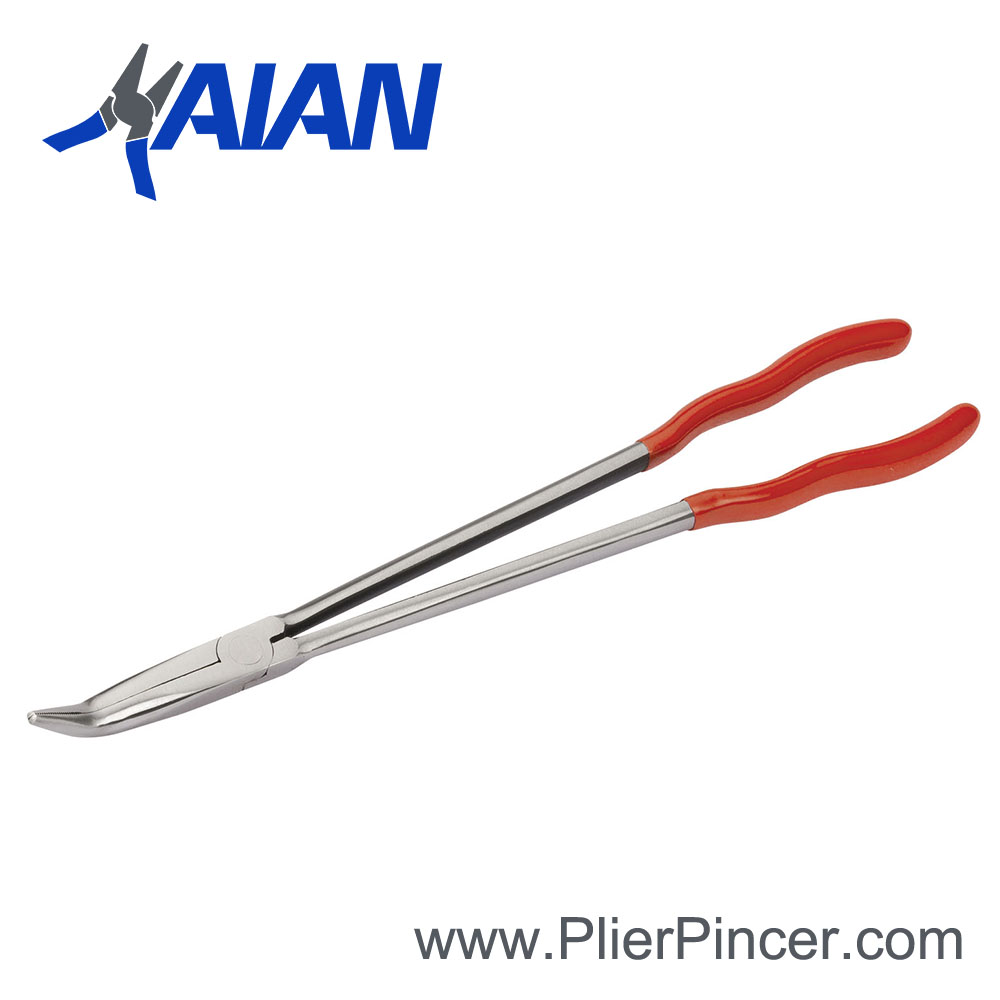 16 inch Long Pliers, 90 Degree Nose | Curved Nose
Item No.: HA210831
Mterial: Carbon Steel
Surface Treatment: Polished
Handles: PVC Coated Handles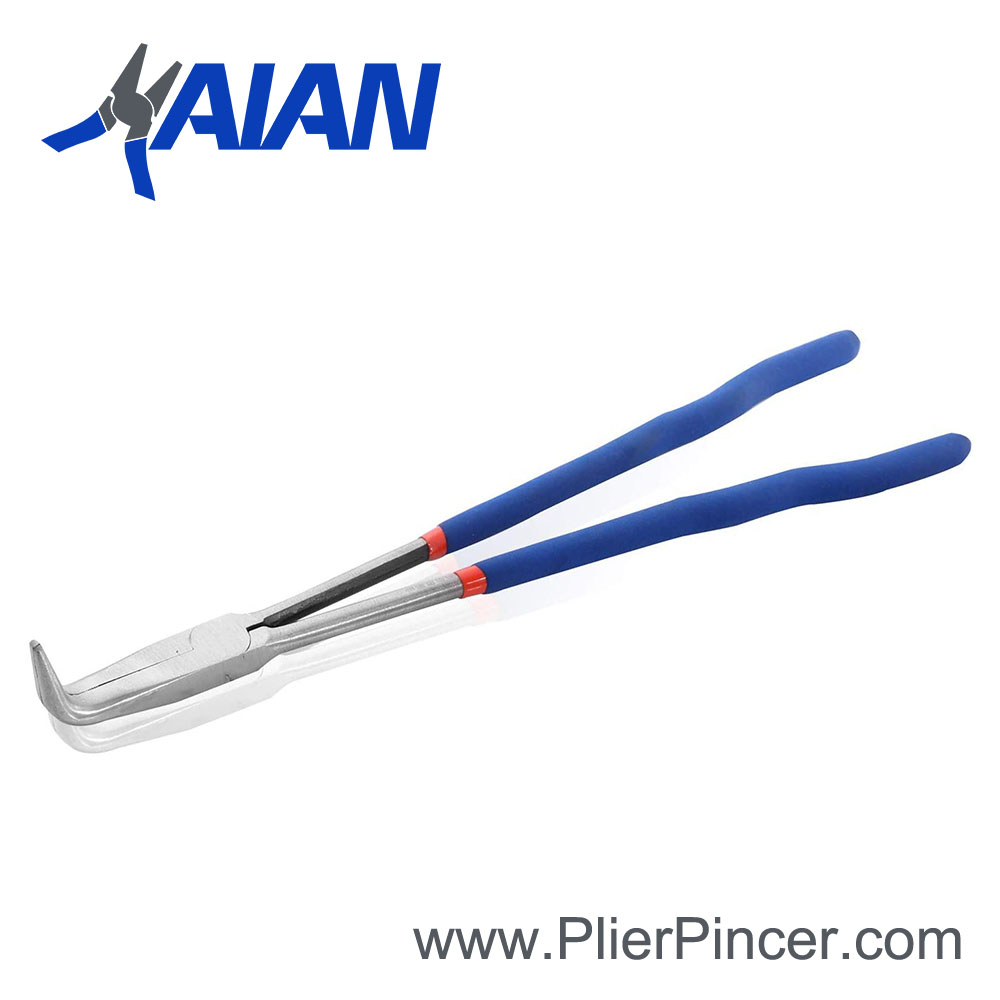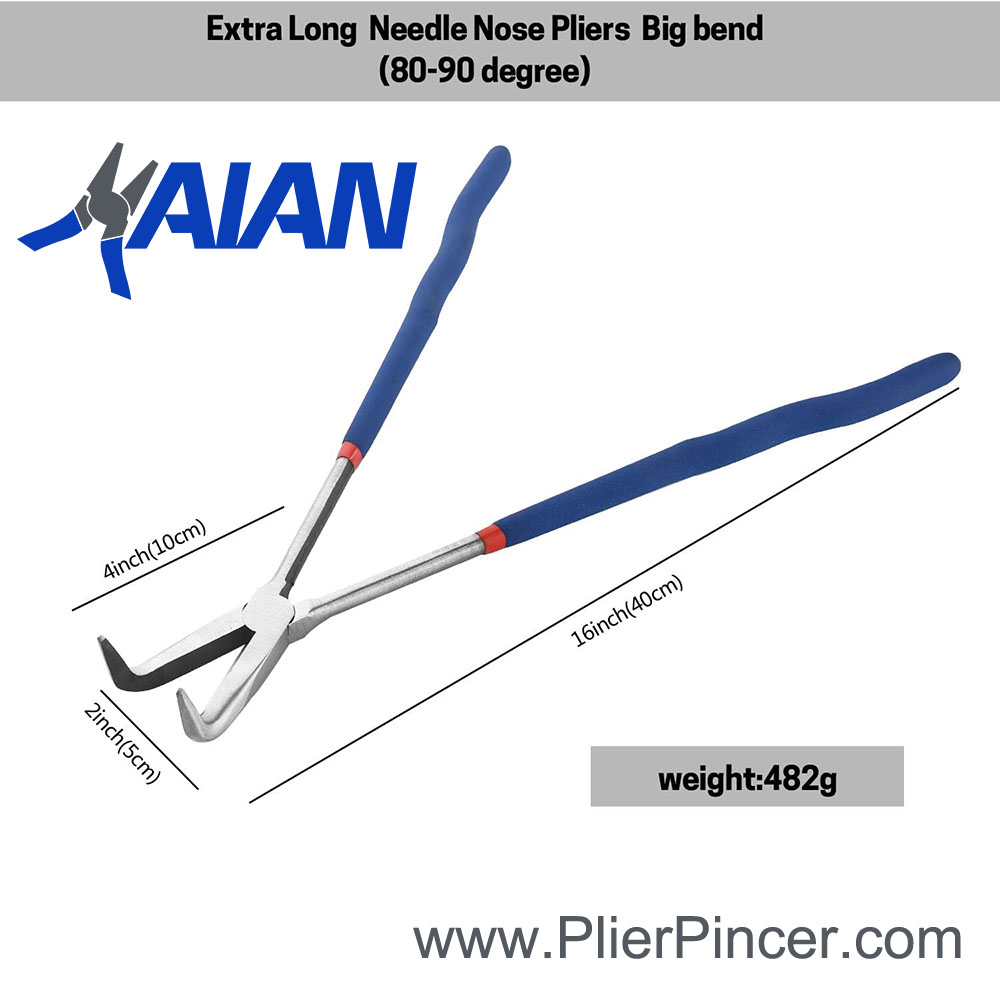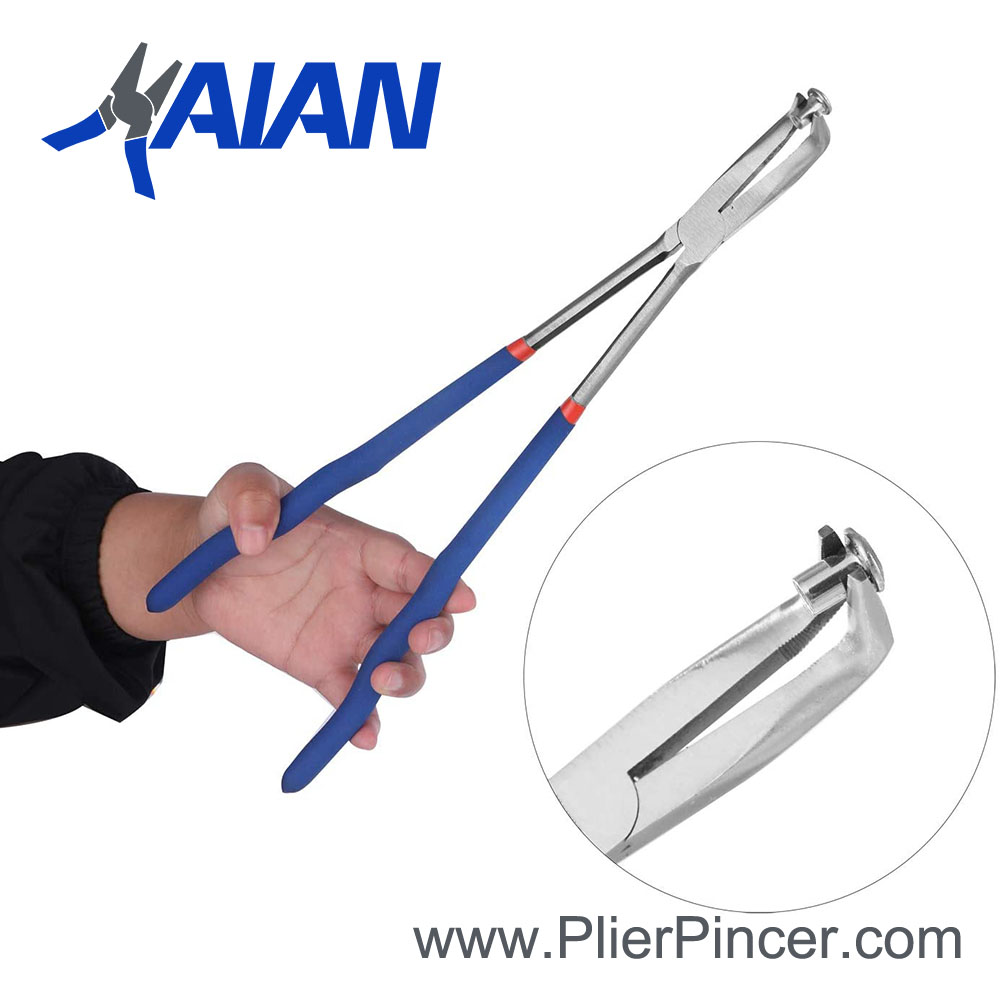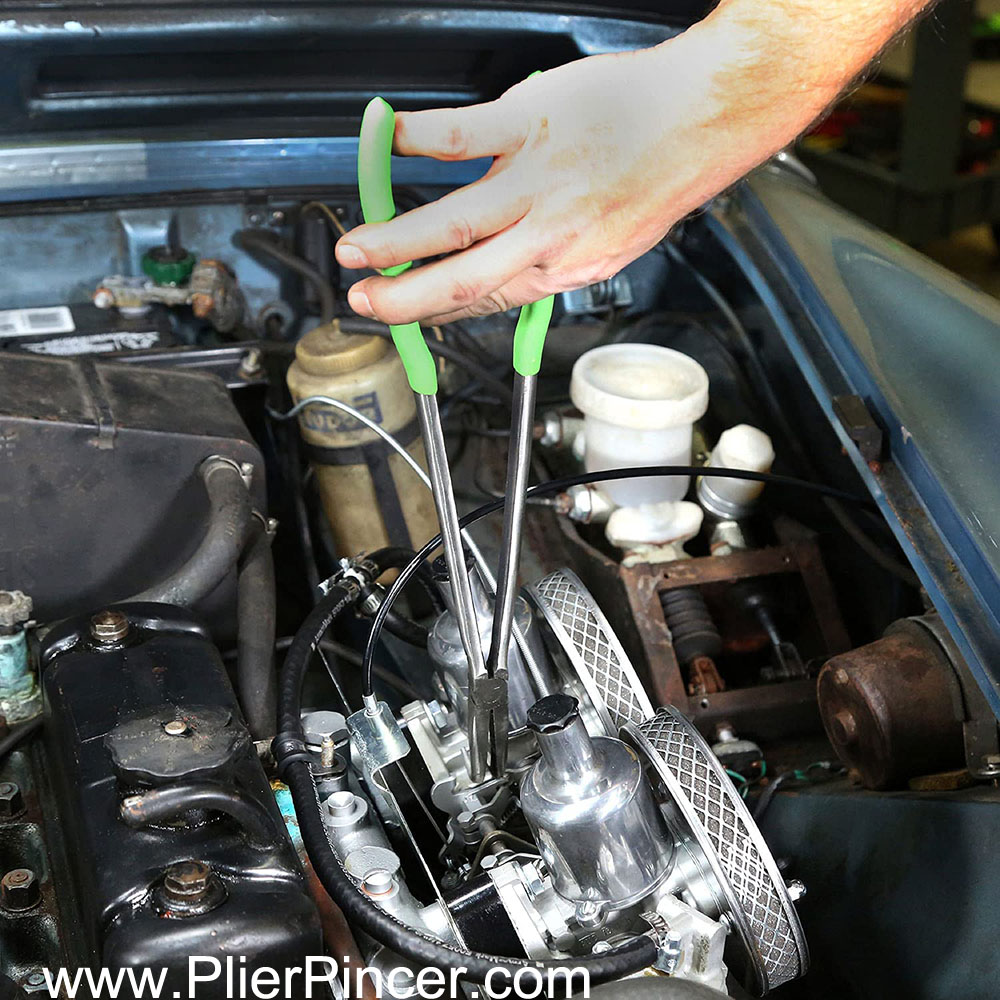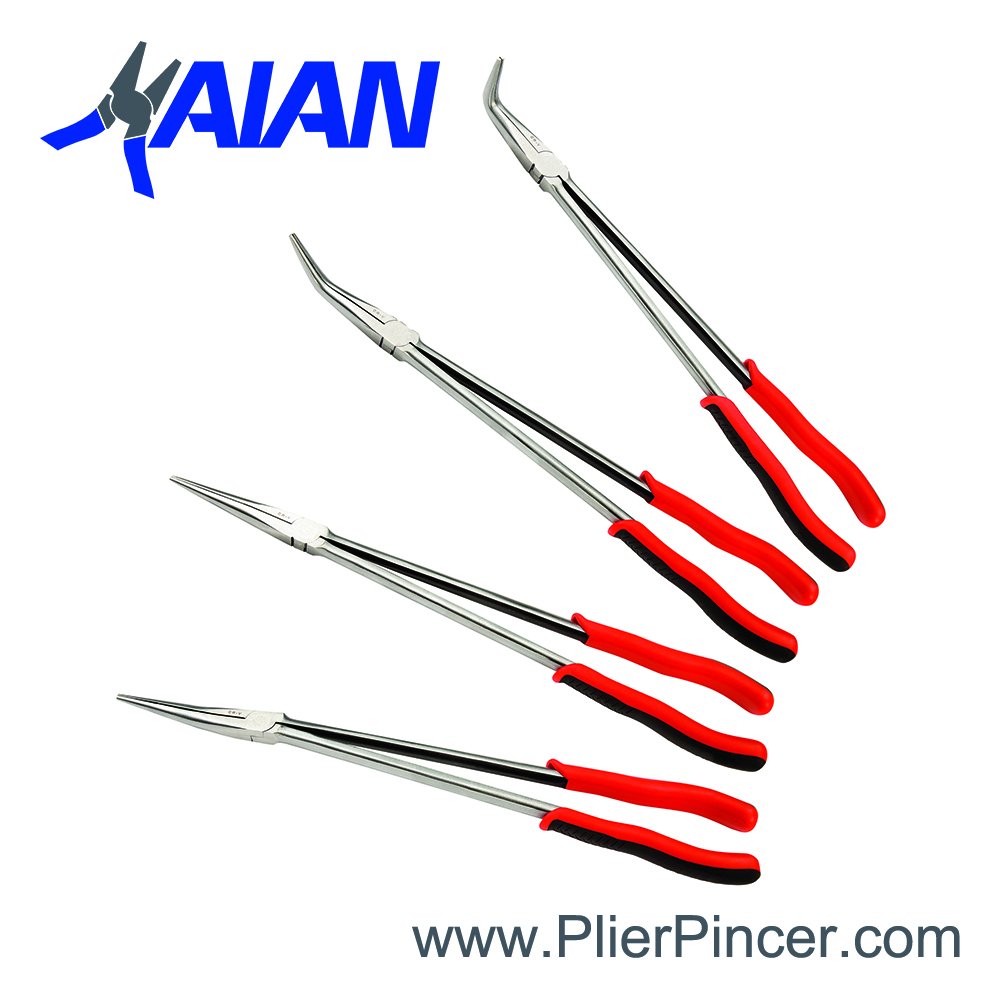 16″ Extra Long Reach 90 Degree Needle Nose Pliers
16″ Extra Long Reach 45 Degree Needle Nose Pliers
16″ Extra Long Reach Needle Nose Pliers
16″ Extra Long Reach 20 Degree Offse
Reach Gripper Pliers..16″ Long, Different Hose Sizes
16″ Long Reach Long Nose Pliers,  Get into even tighter spaces.
Constructed with heat-treated and drop-forged steel for strength and durability.
Features strong flush rivets that won't get caught when working in tight spaces.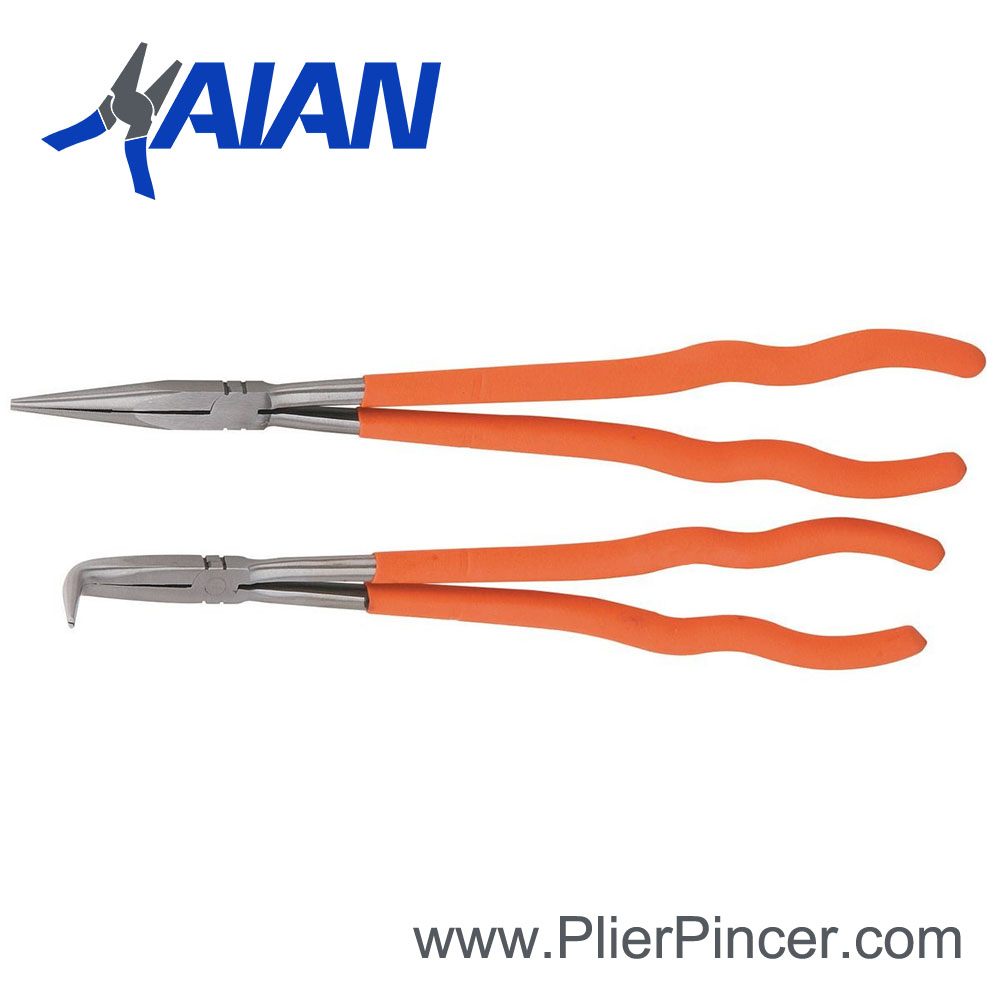 Extra long reach for narrow spaces.
Non-slip, comfort grip handles for user comfort.
Roll pouch included for storage.
Machined jaw provides a reliable and secure grip
Cr-V Steel prevents rust and provides added strength
Non-slip, comfort grip handles lessen user fatigue.
[EXTRA LONG REACH] Designed for working in the most confined areas with long tapered noses and 16″ long handles.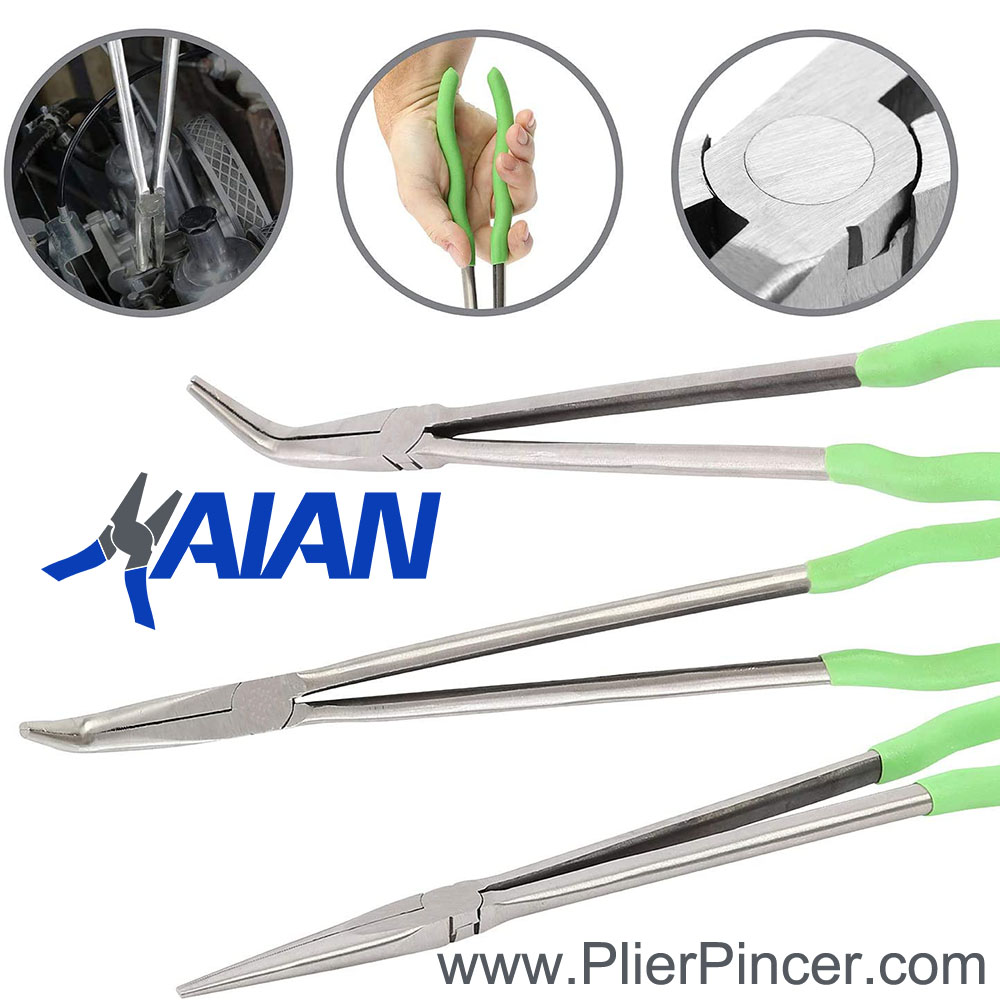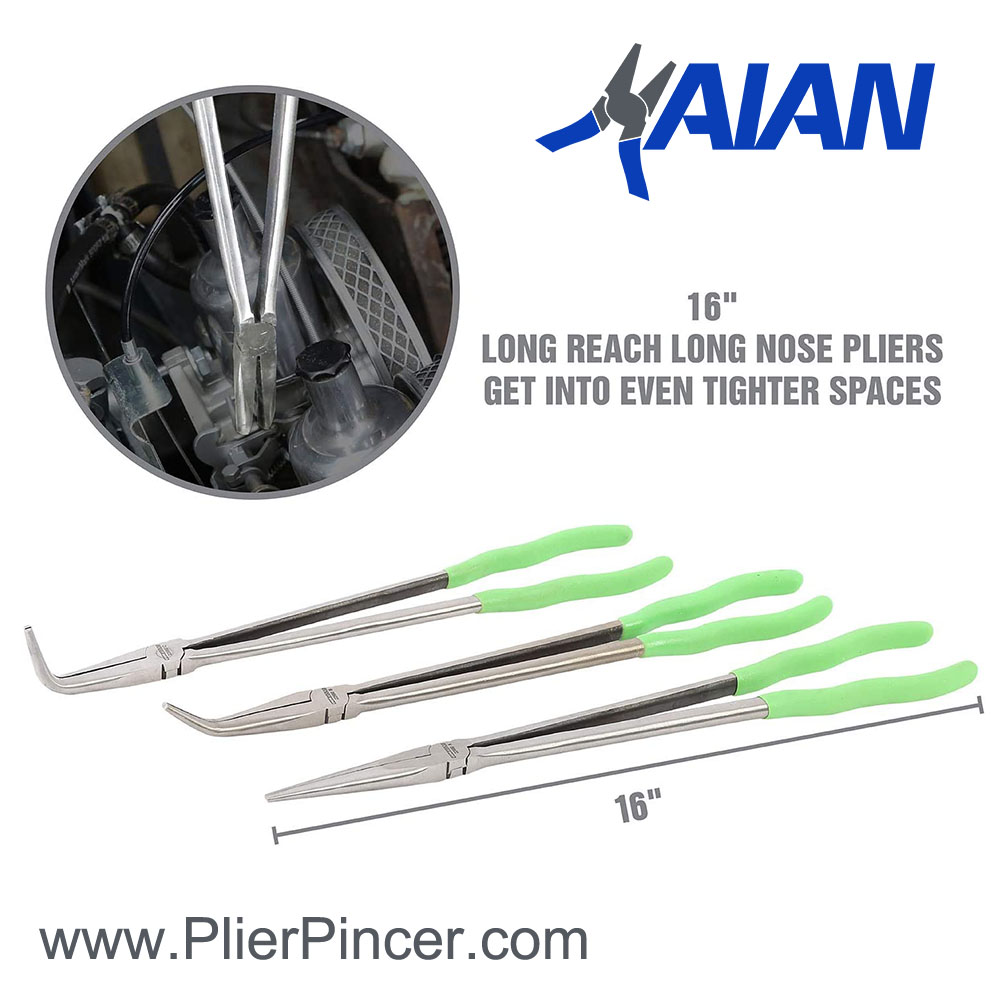 Extra long nose pliers are forged from a solid piece if chrome vanadium steel with fine polishing, according to hardening, temper and anneal to confirm stronger.
Work around obstructions, grip small parts, and bend wires, using this 16 inch Long Needle Nose Pliers Set; Each set includes a straight needle nose pliers, a 45-degree angle needle nose pliers and a 90-degree bent needle nose pliers .
3 piece long reach pliers set allows you to access limited clearance areas while keeping your hands safe from sharp and hot surfaces; Bend, shape, and twist wire, hold and pull tiny fasteners, and work with objects that are just too small for your fingers.
Comfortable handle with concave-convex feeling design, reduce friction, anti-slip.
Forging Process
Extra long pliers are forged and hardened high CRV steel with hardness can cut up to 18 gauge cold-rolled steel or 22 gauge stainless steel.
Great Design
Exquisite forging technology, comfortable non-slip handle and lengthened pliers keep users away from being stabbed by sharp objects or scalded by hot objects.
Suitable for Many Occasions
Great choice for doing fiddly jobs on car, if you work on cars often, these need to be in your toolbox. It can also fit clevis pins into brake cable and rod yokes.
16in/40cm 45 Degree Curved Nose Pliers Long Reach Handle Stainless Steel Circle Pliers for Hard-To-Reach Narrow Spaces
STEEL MATERIAL: Long shank curved nose pliers are made of tool steel, the whole is quenched at high temperature, and the lead is quenched twice, so it is more robust and durable. The handle is made of plastic technology, the surface is grainy, and the anti-skid and oil-resistant effect is good.
HIGH PRECISION: The forging process of this product is extremely delicate, and the two sides of the pliers are very tightly combined, so there will be no frustration when using it. It will bring an extremely smooth and comfortable experience. It will be better if you add some oil.
WIDELY APPLICABLE: Long-nosed pliers can be used to pull, fix and pick up objects in narrow positions. It is not only designed for wire processing, electronics, electrical appliances, and jewelry repairs, but also has an extremely wide range of uses.
INDISPENSABLE TOOL: A long-handled curved nose pliers is a practical, wonderful and indispensable tool for craftsmen and amateurs. It will bring you great convenience and help you achieve many difficult tasks.
Specification:
Item Type: Curved Nose Pliers
Material: Tool Steel + Plastic
Size: Approx.400mm/16in
Application: The combination of lathe and turning tool can create various works
[Practical] – Use Long Reach 16Inch Pliers 3-Piece Set – 45-Degree Angle, 90-Degree Angle, Straight Needle Nose Long Reach Pliers
[Special Material] – Lengthened 11inch handle, In-depth gripping, Ergonomic non – slip molded grips for improved comfort and control, tool steel manufacturing is more sturdy and durable
[Humanized design] – Effortlessly work around obstructions, grip small parts, and bend wiresLong handles reach deep into tight spaces. Can better operate various parts
[Best Value] – These chain nose pliers feature a high-quality grip for comfortable use every time. Chain nose pliers are typically used to create angled bends in wire, close bead tips, open and close jump rings, and form loops
[More Applications] – Suitable for a home garage, professional auto body shop, construction site, or carpenter's tool box, Use for a variety of jewelry making projects or other small, detail intensive hobby projects